Within the ranks of Thurston County law enforcement and fire jurisdictions is a team of volunteer chaplains trained to serve not only the needs of first responders, but the needs of individuals and families as well who find themselves, unexpectedly, in crisis. This sacred space is where chaplains serve us best. Because they are equipped to balance both the emotional and practical necessity of first responder work, fire and law enforcement teams are able to return to service faster and families are able to be supported longer.
"Whether you are a community member or a first responder," observes Lacey Fire Department Chaplain Chris Gorman, "everyone feels lost in trauma. None of us know where to go or what to do, even if we tell others how to do it all the time."
A common misconception is that chaplains work only to serve our spiritual needs.
"I wish people knew chaplaincy was for whatever they needed, at their most difficult times," shares Jordyn Craig, chaplain with the Lacey Fire Department. "The stigma that a chaplain is there to preach is something I wish as a community we could move away from. We are there for their needs, whatever that be at the time. A lot of times, people don't know what they need. They cannot process things easily, and this is where a chaplain comes in; to help with the next steps, preparing and healing."
Volunteer chaplains across Thurston County respond to hundreds of service calls each year. While chaplains may be affiliated or connected with a specific department, they work together to show up and fill the needs of the county so that none of us have to sit alone in our darkest hour. For many years, this coordinated work required already busy dispatchers to find moments between calls to track chaplains down individually and chaplains would arrive on scene with effective, but varied knowledge, experience and methods of practice.
Pastor Bruce Sanders of Capital Vision Christian Church has served as a volunteer chaplain in Thurston County for over 30 years and was recently inspired and called upon to bring his colleagues together to create a more efficient model of providing support to our First Responders. From this vision emerged the Chaplains Association for Public Safety – Thurston County or CAPS-TC.
"God has used me recently to spark the vision and the creation of CAPS-TC," explains Bruce. "We have seen an amazing response as we have recruited the nine members of our nonprofit board as well as 14 chaplains serving First Responders in various ways in our community."
CAPS-TC offers training to chaplains across skill sets so that they are equipped to make a positive impact both on scene and off. Not only does this benefit the chaplains as they fine tune and expand current knowledge, but it also supports our First Responders who benefit from having a consistent support system to lean into.
"The work we do with the first responders is rooted in trust," explains Chris. "The value of CAPS-TC lies in the understanding that even when a team's regular chaplain isn't available, the next-best replacement will be."
Where do chaplains come from? Some, like Bruce, emerge from our church communities, others, like Rob Bradley, chaplain at Olympia Fire Department, come from the departments themselves.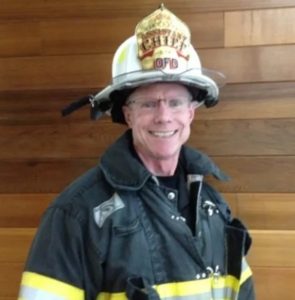 "My journey to becoming a chaplain," shares Rob, "began after retiring from a 42-year career as a firefighter. I had talked to our current chaplain at the time, wondering if I might be a good fit and he responded with, 'I've been waiting for you to ask.' It is not a role someone just steps into. It is a journey and a long, but worthwhile, process."
In addition to supporting Olympia Fire Department, Rob is also beginning a new journey with the Tumwater Police Department.
"Right now, my work is all about building relationships, participating in ride-alongs, just finding opportunities to be part of the team," explains Rob. "Law enforcement face a unique challenge compared to other first responders because their work is more individualized. After a traumatic call, a firefighter heads back to the firehouse with access to his peers, leaders and other support systems. Officers often leave these calls alone to continue their shift, working through the experience on their own until their attention is pulled to the next call. It is a culture shift for these men and women to feel like it is okay to ask for help."
Just like any first responder, a spiritual first responder's work hours are late, early and unpredictable. And still, they volunteer to be available.
"Sometimes," Chris admits, "the firefighters will ask, 'We have to be here. Why are you still here?' Why not me? Why not us? Somebody has to meet us in our worst moments. Even just making a tiny difference, helping someone feel a tiny bit better makes it all worth it. It is so common for all of us to close ourselves off, to tell ourselves this stress, these are experiences, they are just the way it is. Research tells us that having a space to talk about our struggles really does make a difference in minimizing the effects of trauma and exposure to trauma."
"Volunteering alongside our great first responders is the greatest privilege and honor," adds Bruce. "There are some of our most courageous and amazing people in public service and it is a delight to be able to come beside them and support them in prayer and encouragement. We would love for the community to see us as a team of partners dedicated to giving back to those that give so much every day."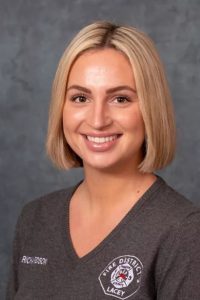 The chaplains make space in their days and hearts to care for us and to care for the first responders so they too can care for us. but who cares for the chaplains? it turns out we do. These men and women are our pastors, our friends and our neighbors. We nurture them by lending our own ears and hearts.
"I started chaplaincy because I love to help," shares Jordyn. "I have been through a few traumatic incidents in my life and every time someone was there to help me and I attribute that to my healing tenfold. I have a calling, and my goal is to fulfill that calling and give every ounce I have to give."
"When you sit in this space with these people," says Rob, "the moment and life become deeply human again. It is an honor to share this sacred space with individuals and families."
To learn more about CAPS-TC, the chaplains serving Thurston County and how you might contribute to their powerful work visit the CAPS-TC website.