We all love the summer sun, but sometimes we just need to beat the heat and find something fun to do inside. This July, that fun can be found at the Olympia Board and Brush! They are celebrating Christmas in July with special deals on their fun craft projects the whole family will love.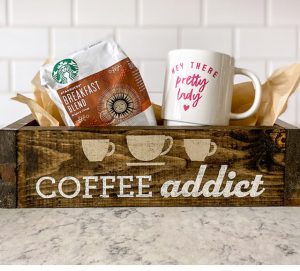 Board and Brush is a unique make-and-take business that offers over 600 projects for you to choose from, including shabby chic signs, home décor, doormats, glass etchings, porch planters and more. This is not your average make-and-take business! You won't find a wider variety of items that are great for your home or as a gift!
Christmas in July Specials at Board and Brush
Christmas in July means special gifts at Board and Brush workshops! "We love giving 'gifts' as a thank you for coming in," shares Dr. Mike Murphy, owner of Board and Brush. During July, each workshop has a different deal associated with it. Gifts range from $15 gift cards for a future project, free kids crafts, complimentary charcuterie boards, or a free home kit or bons sign.
Plus, any guest who attends a workshop in July will be automatically entered into a drawing for six free Pick Your Project workshops, one a month from August 2022 to January 2023.
What's a Pick Your Project workshop? It's one of the most popular workshops offered by Board and Brush. The three-hour workshop takes a raw piece of wood and turns into a gorgeous finished product. Each guest gets to pick their own sign, it doesn't have to be the same for everyone in the class. And don't worry, you don't have to know how to handle a saw or be Picasso with a brush, their talented teachers will help you each step of the process. "We love to empower guests that may not have a lot of experience working with wood, drills, stains, etc.," says Murphy. "We guide the customers through the entire process. The beauty of Board and Brush is that we specialize in creating wood projects specifically for those who have no experience, are self-proclaimed 'not-artistic,' or who are brand new to the process."
Christmas in July at Board and Brush has something for everyone, from free kids crafts including ornaments to really get you in the holiday spirit, to Mats and Mimosas, where adults can make a fun doormat while sipping on a cocktail. "We are also working with The Sugar Canvas Bakery Boutique for a Christmas Cookie decorating class on July 17," adds Murphy, "and Michelle from Uncork and Unwind will be here on July 16 for a wine flight tasting and on July 25 for a charcuterie board tutorial, where each guest will receive a complimentary charcuterie plate."
Short on time? Check out the Board and Brush mini and time crunch workshops, which take just two hours to complete. "Make and Take events are much simpler and a much faster experience," explains Murphy. "Customers come in and pick out a stencil, pick out a stained piece of wood, and do a 'quick paint' for a finished product."
To secure your spot in their Christmas in July workshops, head to the Board and Brush website calendar. Simply choose your project and then click on it to go through the check out process. Choosing is the hardest part, it's okay if you decide to do them all!
Board and Brush Reopens Under New Owner, Same Great Projects
The community was sad when, in April 2021, Jill Kindle announced she was closing her Board and Brush franchise. Dr. Mike Murphy, who owns the Steamboat Square buildings where Board and Brush was, decided to purchase the franchise from her and reopened it in November 2021, to the delight of Thurston County residents.
Murphy, a DVM who opened his first veterinary hospital—Steamboat Animal Hospital—in Olympia in 1992, has always been an active member of the community. "I was founding father at the Griffin School Foundation, where my daughters went to school," he shares, "and served on the board of the Humane Society as well as being the international services committee co-chair for the South Puget Sound Rotary Club." Through the Rotary, Murphy has worked tirelessly for clean water, goat and sheep projects in Uganda, including taking two mission trips there. He has also served as a member and term President of the St. Peter Hospital Foundation since 2006.
Have a summer birthday or celebration coming up? Board and Brush workshops are perfect, whether it's a family reunion or a business event! They offer teen and kid parties; corporate, community and private events; and even virtual events. So no matter what, Board and Brush can provide you with fun entertainment that ends with a lasting memento.
Check out the Board and Brush website for more information and to book your Christmas in July workshops now!
Sponsored