The Pacific Northwest is known for many things, from sweet cherries to prime seafood. One of the most popular niche markets in this region is oyster farming, which has been a longstanding element of our local economy. Shina Wysocki is the proud, second-generation owner of Chelsea Farms, a local oyster, clam, and geoduck farm, and has loved bringing quality, delicious shellfish to the surrounding areas. She recently joined the Thurston Economic Development Council (EDC) Board of Directors as a board member and is eager to continue to connect with her local community.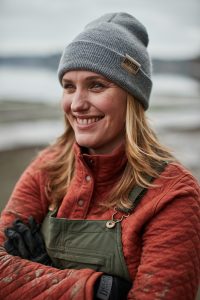 History of Chelsea Farms
Back in 1987, Shina's parents John and Linda Lentz embarked on a new venture in oyster farming. They established Chelsea Farms right here in the South Sound and successfully grew their family business with top-notch farming strategies and a commitment to preserving the quality of these natural and local ecosystems. "Shellfish has a long history here, and that coincides with us having high-water quality since shellfish farmers have been so active in water protection here," shares Shina. "Shellfish actually contribute to water quality since they are bivalve filter feeders, so they are their own best advocates to keep water cleaner." Through years of eco-friendly shellfish farming, farms like Chelsea Farms have preserved an integral part of our local environment, all while bringing quality food to our community.
Shina has been involved in the farm for most of her life and has been exposed to every element of successfully operating and managing the business. "I have done almost everything, except digging geoducks," she says." Now I work mostly with our managers to make sure the vision of our farm goes on and that we keep planting, doing our crop rotations, working with our customers."
Today, they farm for about 35 families on their privately owned tidelands and after many years were finally able to begin selling to the local community. When the business began, shellfish farmers were not permitted to sell their products locally, so Chelsea Farms originally sold primarily out of state and out of country. "We always wanted the opportunity to feed people here," says Shina.
Chelsea Farms Oyster Bar
As legislation changed, shellfish farmers were able to expand their businesses to their backyard and sell shellfish in the local community. Shina's family was always big on food, and the logical next step for the business was to grow into the food service sector. "While opening a restaurant seemed like a crazy idea at times, it actually ended up being very good," Shina says. Five and a half years ago they opened Chelsea Farms Oyster Bar in downtown Olympia at 222 Market and it has become a great success. Not only do they feature their own oysters and shellfish, Chelsea Farms Oyster Bar also boasts and sources from other great local farms such as Perkins Family Farms and Hama Hama. "There is always a combination of different farms since oysters taste different depending on where you grow them," shares Shina. "We really want to give people variety."
For Chelsea Farms, the support and love from the local community has been hugely motivating through every up and down over the years. "We are so thankful for the way Olympia has embraced us and let us continue to grow and try new things," Shina says. "We opened our restaurant so people could enjoy shellfish farming in a community that has that history, and is has been so fun to cultivate and carry on that appreciation." Being a native Olympian herself, she truly sees the importance of staying connected to the foundations that built our local community and is always looking for ways to learn and grow.
From Oysters to the Thurston Economic Development Council
In her effort to stay connected to the community, Shina recently joined the Thurston EDC Board of Directors and has been serving as a board member since winter of 2021. "I was in some other groups with Aslan Meade of the EDC, and I found a lot of cross-over in those things with this board," Shina explains. "I find a lot of satisfaction in my community, and I feel like there is real value in remaining active in that." So far, Shina has really loved being able to learn about different industries in the area and hear about all of the new things being created and promoted in the community. Together, the board members help support both large and small businesses by bringing their unique professional perspectives, which really ignites innovation and creativity in building connection throughout the community.
For Shina, her home and heart have always been right here in Olympia, and she is thrilled to have thriving businesses and connections in the local community. As she looks toward the future, she is eager to carry on her parents' dream in shellfish farming and bring exciting new products to Olympia for many years to come. If you're looking for quality shellfish you can't get anywhere else, stop into Chelsea Farms Oyster Bar and experience the quality of Chelsea Farms for yourself!