Pints of beer, firing cannons, treasures galore, tricorn-hatted pirates and corseted damsels await your company at the Northwest Pirate Festival in Lacey on July 9 and 10. Get dressed in your pirate best or come as you are—there are plenty of shops to properly outfit you if you feel underdressed—for a weekend of family-friendly fun! Black Sand Bay is a pirate's haven that King George II and Queen Caroline of Great Britain wants control over. See battles and more as each side invites you to join—are you a pirate or royal at heart?
"There is nonstop entertainment at this year's Pirate Festival," shares Shana Casey, marketer for Washington Renaissance Arts & Education Society. "So much fun to be had this year!" Entertainers for all ages include comedy, music and more.
This immersive festival is unlike any other you've been to, with pirate battles involving real firing cannons! "King George II amd Queen Caroline will be visiting Black Sand Bay to convince folks to forego a life of piracy and join the Royal Navy instead," adds Shana.
New for this year is even more entertainment, including musical group Sirena that will enchant all to their circle as they sing, dance and drum while Baksana entertains with Eastern music and dance. Grab a drink and sit a while for Chaste Treasures, another new addition to Black Sand Bay that will have you laughing with their songs, shenanigans and double entendre. Be wowed by Wings Aerial Acrobats and laugh with The Buckle and Swash Show.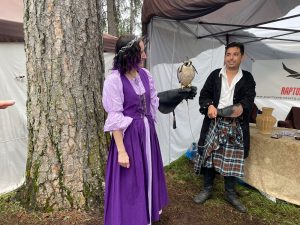 Your whole family won't want to miss the new raptor show by Raptor Events, where you will meet some amazing birds of prey. Get your photo taken with them at their booth and even pet a bird after the show. Your kids will find the show entertaining as well as educational. Education is at the core of the nonprofit Washington Renaissance Arts & Education Society (WRAES) that puts on the Northwest Pirate Festival each year, along with the Oregon Renaissance Faire in June in Canby, Oregon and the Washington Midsummer Renaissance Faire in August at Bonney Lake. WRAES makes sure education is never boring with their fun-filled summer fairs.
"There is so much for the kids!" shares Shana. "There are mermaids to visit and shows to see, like Fowl Tales, a falconer, Punch & Judy puppet show and more! Interactive things like hanging on a pirate ship with Under the Black Flag and learning about the life of pirates, and visiting with the children of The Lost Company. There are Castle Games and face painting too!"
The whole family will also like the "Escape from Davey Jones' Locker" Escape room, so be sure that's on your pirate bucket list!
Dress and Drink Like a Pirate at The Northwest Pirate Festival
In-between your favorite shows, take the time to browse the pirates selling their wares at Black Sand Bay. Whether you need some new pantaloons, a different colored skirt, a new hat or a complete ensemble, you'll find it! And since all pirates love treasure, you'll find a lot of jewelry, belts and other accessories perfect for wearing anytime. "All of our merchants are special," says Shana. "A crowd favorite is getting hair or beards braided at Five Stranded Fairy Tails, purchasing new garb or leather at Whimsy Fyne Attire or Wolf Den Emporium, grabbing unique drinkware from The Clay Goddess, or getting a beautiful henna design at Roving Horse Henna." You'll find plenty of treasures of all kinds here!
After you're outfitted, it's time to eat and drink like a pirate! It's easy to do at the Northwest Pirate Festival, where all your favorite fair foods are waiting for you. Grab some grog at the Crow's Nest Inn for those 21 and over. The entire family can have the traditional turkey leg, some kettle corn and the amazing McGilly Sassparilly that has the best homebrewed sarsaparilla you will ever have. If you're looking for something more, try a meal from the Gyros and Crepe booth or the Hungry Hog. And don't forget those giant pickles! A must at any WRAES fair.
Check out the schedule and then buy your tickets for the Northwest Pirate Festival online! There is so much to see and do, you're going to want to go both days, so you might as well buy your tickets for the weekend now. Children under 12 are free and there are senior and military discounts. Want a real party? Get tickets to the 21 and over After Hours Party July 9 from 7 p.m. to 12 a.m. featuring DJ Rich Nice and the IGNITION Fire Troupe.
For more information, visit the Northwest Pirate Festival website or follow them on Facebook.
Sponsored