Centennials are a perfect time to celebrate and reminisce about shared history. Locally, Olympia's KGY 95.3 FM has been a staple of news, music and entertainment over the airwaves since 1922. First licensed with the FCC by Father Sebastian Ruth OSB at nearby St. Martin's, over the years, radio personalities, hosts and news staffers have come and gone but the beloved station's still going strong.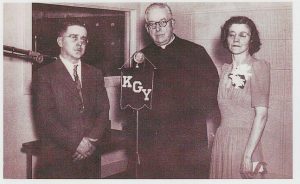 In 1939 the station was purchased by Olympia native Tom Olsen and his wife Theresa and in 1960 the station moved from the Rockway Leland Building where it had been throughout the 1940s and 1950s, to their modern waterfront studio at 1240 North Washington Street, jutting over the water on Port of Olympia property.
When Tom Olsen died in 1976, KGY passed to the second generation with his daughter, Barbara O. Kerry, serving as station manager, president and CEO of KGY INC. Barbara's mom, Theresa Olsen, was instrumental in KGY's financial management, maintaining the books from her Butler Cove home until her passing in 1984.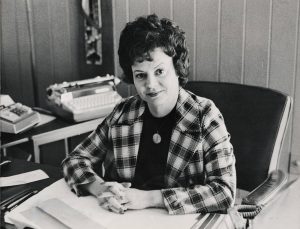 In the mid-2000s, Barbara battled cancer and after her death in 2006, her daughter, Jennifer Kerry assumed the role of president and CEO, and KGY ownership transitioned to the third generation of Tom Olsen's family. Then in 2014, KGY AM 1240 became Olympia's KGY on 95.3 FM, as we know it today. Currently, fourth-generation family member, Nick Kerry, serves as KGY's General Manager. Throughout the years, Tom Olsen's core-value of treating KGY employees and clients like family resulted in a tenured staff of broadcast and marketing professionals.
Dick Pust was a morning show host from 1967 to 2011 but started listening to the station as a teenager. "My broadcasting class at Olympia High School, taught by Miss Mary Ewen, gave me my first taste of being on the air when class members participated in KGY's High School Headlines and a record request night," he shares. He worked as a receptionist in 1959 and eventually wrote a local-history memoir entitled "AM 1240 Life at a Small Town Radio Station." "I'm probably best known for waking people up each day with my 6-days-a-week morning show, which ran for 43 years—the longest running radio show in the state," he adds.
During that same time, Bob O'Brian was on staff from 1969 to 1975. "As time went on, the station gave me free reign in creativity to add things like becoming music director to my duties, devising a format clock, adding programs like 'American Top 40' with Casey Kasem and station musical jingles along with inventing contests and games for our on the air listeners," shares O'Brian. "All in all, my time at KGY was a really valuable tool for me as I used my training at KGY in other broadcasting ventures throughout my career."
Sports broadcaster Dick Nichols worked at the station off and on from 1967 to 2017. "Radio was my big love, particularly as a sports broadcaster," he shares. "What a ride! Memories of young athletes, their families, their championship triumphs and frustrating losses will linger forever, along with the great relationships that developed over the years. KGY and I, along with my broadcasting partner the late Larry MacMillan, made a difference in many lives and in the community that we loved to serve. I'm proud of that legacy and forever grateful to KGY for giving me the chance."
Papa John Price was on air from 1977 to 1979. He came to Washington to interview for two similar positions, chief engineer and on-air DJ, at both KGY and KRKO, which is in Everett. "Incidentally, KRKO is also celebrating its 100th anniversary!" he shares. "I chose KGY and I'm glad I did."
KGY's current Afternoon Drive host Michael Stein is another on-air talent who started at KGY in the late 1970s. Michael moved-on from KGY to pursue his radio career in Seattle, notably at station Star 101.5 KPLZ, but ultimately returned to KGY when he moved back to the Olympia area. "I grew up listening to the station, and always enjoyed how they got a little more rockin' at night," he shares. "I learned a bunch about how radio works after school as an intern at KGY for several years and started working there with my first Sunday afternoon DJ shifts when I was 15—Mom used to drive me there. We've all got a million entertainment options, so the fact that folks choose to spend time listening to KGY means a lot to me. Getting to share some music and information, a few laughs and ideas, a bit of companionship, that's the best of what radio can do, and it's something I am working hard on every time I get to be on KGY."
Doug Adamson was a part of KGY's news department. During the '90s, Adamson covered everything from crime to courts. "We covered the city hall beats, breaking news and human-interest stories." Adamson said. "We broke the story of the largest fire in the history of Olympia, the Hardel Mill Fire" he added. "Once we did a story about a terminally ill child and the mother just wanted someone to play Santa and we got a call shortly after the story aired that seven people wanted to help." Adamson added "that's what local radio is all about."
A devoted member of the station family, Ken Balsley attended high school with Dick Pust and grew up along with the station. As much a local historian as radio commentator, he turned his knowledge of political commentary into radio work. What started as a three days per week "Ken's Corner Commentary" programming feature in the 1990s and 2000s turned into a weekly hour-long show now known as Coffee with Ken, which currently airs every Sunday morning at 8am. "I was always going to be part of the media, I'm a news guy," Balsley says. "Not a DJ so much as a guy that interviews people."
On the other side of the mic, so to speak, was Ron Walters. As part of the sales department from the 1980s to early 2000s, he loves remembering when the station was a bustling hub for weather, school reports, hyper-local news and high school sports. "KGY was the community connection," he remembers. Ron, along with many other members of the dedicated sales team developed lasting relationships with local advertisers, allowing KGY to remain steadfast among local media, surviving both changing economic conditions and the competitive nature of the advertising business.
KGY's President and CEO Jennifer Kerry is granddaughter of Tom and Theresa Olsen, and daughter of Barbara O. Kerry. She grew up in and around the station. "We learned early and were reminded often that the radio station was our bread and butter," she recalls.
"I remember realizing in the late 60s and early 70s just how central KGY was to the community," says Kerry. "The programming—The Bulletin Board and Dog Gone News—and the lunchtime KGY News Bulletin that we delivered to local restaurants to put on their tables, Capital Lakefair events, and the list goes on. We were fortunate to know the DJs and regardless of the family connection, I always thought it was cool to know the guys on the radio!"
Kerry is proud that throughout its 100 years, KGY has remained of service to the community. "The attitude that as long as KGY put the community first, our family business would weather all storms has sustained us all these many years," she adds.
Do you have a memory of listening to—or working for—KGY over the past 100 years? If so, submit it through their 100th Birthday Celebration link today. Reading through so many fun, funny, nostalgic and poignant memories is the perfect example of how they have touched our lives for many generations.
Sponsored