The southern edge of Puget Sound is something we see all the time but more often than not we don't give it more than a glance as we drive by. Few know of the amazing plants, animals and sights that exist under the surface. From kelp forests and massive octopuses to sunken boats, you don't know what you're missing. The only way to truly experience its wonder is to go scuba diving in South Puget Sound. In fact, our area is a great place for divers to get their feet wet, according to Mary Nolan. She should know, given that she's a co-owner of Off The Hook Diving in Lacey.

"It's amazing, it is a whole other world," she explains. "So much of our planet is covered by water and so few people get to see what's under there. And it is just peaceful and gorgeous and there is tons of life." Mary and her husband started Off the Hook Diving in August 2020.
See Amazing Sights Scuba Diving in The Sound
The underwater world is a place where even things we take for granted can be drastically important. A good example is kelp, that stuff that stinks when you go to the beach at low tide. Kelp provides shelter and food for thousands of creatures including prawns, crabs and jellyfish.
With a little looking, scuba divers will encounter many other animals, such as small nudibranchs and wolf eels. However, it's often the big ones that bring home the memories. One such creature is the bluntnose sixgill shark, which can grow up to 14 feet long, making it one of the largest predatory sharks in the world. The sixgill lives in deep waters but does visit Puget Sound's shallower areas on occasion. Off The Hook Diving instructor Jay Schick recalls watching in awe the first time he saw one. "My dive buddy had a GoPro and was able to get some video of the encounter," he says. "And the most entertaining part of it was as we were watching the video on his phone from the GoPro, we could hear him shriek with excitement through his regulator as the shark turned and came towards his direction. We had a great laugh that evening."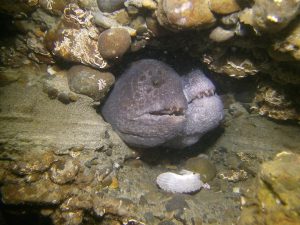 Another animal scuba divers love to encounter is the giant Pacific octopus. The largest species of octopus, they can grow up to 30 feet across. Despite their large size, these creatures offer tender moments that can melt a diver's heart. "We can often see the females on eggs, so they'll be in their den and there will be eggs hanging down and they stay in their den and guard their eggs," Mary says. "They just kind of swish their tentacles back and forth over [the eggs] to keep them kind of moving. If it's late in the season when they're getting ready to hatch, you can actually see the little babies inside the eggs squiggling around."
Where To Go Scuba Diving in South Puget Sound
While there are plenty of spots to go diving, the staff at Off The Hook has a few suggestions. The closest spot you'll find is Tolmie State Park, just north of Lacey. Some divers say it is a safe place for a dive, even in bad weather.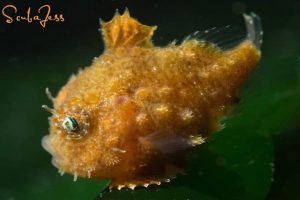 "Tolmie has a couple of sunken barges that are really cool and they're full of life," Mary says. "It is that better done from a boat because it's really, really far out."
Mary says a better spot, particularly for beginners, is Sunnyside Beach in Steilacoom. "That's an easy place to dive," she explains. "There's not a lot of current, there's a pipeline." She adds that this is often a place to see great Pacific octopi as well.
Jay recommends Saltwater State Park, near Des Moines, as a good spot for intermediate-level diving. "It opens to three massive rock piles which are teaming with life" he says. "You will see plenty of rockfish, schooling baitfish, ling cod, scallops, nudibranchs (and) seals from time to time."
Don Pierce, a co-owner and instructor, says more experienced scuba divers should head to the Day Island Wall in Tacoma, noting that its sandstone surface is home to numerous fascinating creatures. "It is a spectacular site, dense with life and striking features that provide amazing encounters with the giant Pacific octopus. The currents are strong there so the dives need to be timed well, but the encounters never disappoint."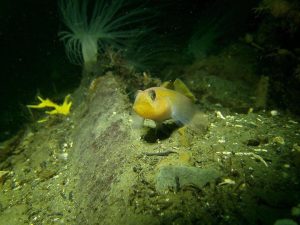 Everyone put the Sund Rock Marine Preserve in Hood Canal as a top pick. This is a privately-owned conservation area and Jay says it's worth the money because this is where you'll see the greatest variety of creatures. "This site has something for everyone. Lots of life in the shallows, some shear walls that fall from 60 feet deep to 120 feet deep [and[ a sunken fishing barge."
Other Places to go Scuba Diving in Washington
Very advanced divers who are willing to drive a bit should consider looking for sunken vehicles in Washington's lakes. "Lake Washington is home to several World War II planes," he explains. "Lake Crescent is home to two cars that careened off Highway 101. One being a 1927 Chevy which requires a national park permit to dive, the other being a 1960s Dodge. The clear lake is amazing but the depths are well past recreational limits."
Get Started With Scuba Diving in Lacey
Ready to try scuba diving? Your first stop should be Off The Hook Diving, which offers lessons and equipment. Mary is a former massage therapist from Oregon. She and her husband, both scuba divers, had talked about running a diving business and decided that was the time to take the figurative–and literal–plunge with a couple they knew in Thurston County.
The business has quickly grown, and they are now including world scuba diving trips and classes at their shop in Lacey. But it's not all about the bottom line. There is a pair of couches in the 1,600—square—foot store that is appreciated by customers. "All of my sales reps tell me, 'You've got to get rid of those couches, that's retail space.' And I say, 'No, that's family space,'" Mary explains. "That's where divers can come and sit and look at the books we have and visit and it's just too important to me. It's just a community and we're so lucky to be a part of it and to help facilitate it."
Off The Hook Diving
8300 28th Court NE, Suite 200, Lacey
360.918.8674