An appreciation for wine is a journey that Ed Schlich knows well. He is an industry veteran. At 61, he has studied under and worked alongside some of the industry's biggest names, spent years pruning vines and exporting French wine while living in France as well as selling wine for U.S. distributors. It's an adventure that always offers more to learn, he says, which is one of the things he loves about it. Now, he is sharing that love and passion with his beloved local community at his new store, Oly Wines.
Born in New York City, Ed has continually been on the move. His childhood took him from the Bronx to different parts of New Jersey. He went to college at Lynchburg College, now the University of Lynchburg, in Virginia, majoring in history. He began working at a Virgina vineyard the day after he graduated.
Ed has not sat still since then, racking up a work history long enough to make your head spin. One of his pivotal experiences came in the early 1980s, when he took classes at the former Windows on the World Wine School on the top floors of 1 World Trade Center. There he learned from Kevin Zraly, one of the foremost wine educators, or as Ed describes him, "the demigod of the American wine industry." Kevin later offered Ed a job, first helping with coursework and eventually as the acting Cellarmaster, their term for the sommelier at the Windows on the World restaurant. Ed says the two recently spoke about their time together.
"He reminded me yesterday that when he invited me to go out onto the restaurant floor as the Cellarmaster, or sommelier, that his number two came into the wine cellar a few hours afterward and said, 'If you don't cut your hair, you're not going out onto the floor,'" Ed recalls with a chuckle. "I had long hair with curls and he said, 'no haircut, no floor.' I was not going to be allowed out in the restaurant with the long hair, so I cut my hair."
Ed also helped open the Sea Grill in Rockefeller Center, a luxurious restaurant popular among movers and shakers before he headed off to France. The plan had been to stay there for a year. Instead, 17 years passed as he worked in all aspects of the industry, everything from working in the winery, cellar and pruning the vines, to selling the product in different parts of Europe. Ed even received a permanent resident permit, France's green card. Ed was in love with the French Republic, leading one to wonder why he left.
"Because if I hadn't come back in 2000, I never would have returned; I was really pretty far gone," he explains. "I was totally immersed in France and French, the language, and when it comes to wine, I was in pretty deep, exporting the best of France & its best wines."
Back in the States…Mostly
Nonetheless, Ed returned to the U.S.—Tumwater, to be precise—in 2000 to do national sales for Bordeaux Wine Locators for a few years. Ed continued doing sales and managed accounts for several other companies until 2008, when he decided to get out of the industry. He moved to the Association of Washington Business, selling memberships, which he called a grueling job. But even then, Ed couldn't leave his passion for wine. For six years he was president of the Olympia Wine League, the state's oldest wine club, teaching dozens of people about a drink that has been around for millennia.
Ed re-entered the wine industry in 2016 when he took a position managing sales in the northwest for Monsieur Touton Selections, a New York-based distributor. After a frustrating time there, Ed took a drastic shift two years later and became a long-term substitute teacher for Whitman Elementary School in Tacoma in 2018. Staff there were more than pleased with his performance. In a letter of recommendation, a fellow teacher said: "Ed stepped right into the position, leading with skill and enthusiasm. Ed was very willing to pitch in and do what needed to be done with a cheerful attitude."
After that, his shift away frow the wine industry became even more pronounced when he moved to Bogota, Columbia. Ed earned a license (TOEFL) to teach English to business leaders there but wrapped things up after courses went remote due to COVID-19.
Ed returned to Tumwater last fall, doing everything from landscaping to carpentry to working as a sommelier at local restaurants while organizing the store opening.
Of note is that despite having experiences in South America, France and the City That Never Sleeps, Ed continues to return to Thurston County. "I'm very comfortable here," Ed says, "with my Rotary group, with my peeps, and I'm in love with the Northwest, absolutely in love with it like everybody else, the weather, the green, the mountains. I scuba dive so I get to go down and play with octopi."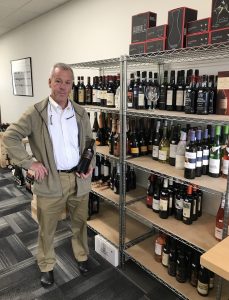 His passion for wine and educating people about a drink that is produced on every continent except for Antarctica is visible in his newest venture, Oly Wines. The Tumwater business, which opened its doors on April 14, offers much more than samples and sales. The shop offers a chance to learn about the varieties and the regions they come from. Ed puts it simply as, "I love to talk about wine and my customers' wine journeys."
"Americans have built the country, it's done, there's no more pioneering to be done," he says. "The country is built and now many Americans are finding they have time to enjoy life, and one of life's great pleasures is food and then there's the wine that goes with it if they're interested in the alcoholic side of the food bearing. So, Americans, I feel, are ready to step off and onto a wine adventure, a wine journey."
While Ed's own journey includes decades in the business world, he is also a family man and a someone who looks out for his community. He has an adopted Nepalese son who is a member of the nuclear Navy, the term for ships powered with nuclear reactors. The 28-year-old is stationed in Norfolk, Virginia with his family.
Ready to talk wine? Head over to Oly Wines. Ed is waiting and eager to share his knowledge. Who knows, you may find a new favorite or even find yourself booking a trip to France to see the vineyards. Ed's full of knowledge on that subject too.
Oly Wines
321 Cleveland Ave., Suite 309, Tumwater
Sponsored