It was exactly the play South Puget Sound Community College (SPSCC) men's basketball coach Jonathan Willis was wanting out of freshman forward Justin Hicks.
During the Clippers' third game of the season, Hicks, who had been quiet during his first two career contests in the collegiate ranks, effortlessly stole the ball, glided down the court and threw down an emphatic dunk. "It was a thing of beauty," Willis said about Hicks' athletic prowess on the play. "We try to encourage him to be a player out there without any restraint and he finally showed it."
That he did, but it wasn't the only big play Hicks made during the game as he came off the bench to score 13 points, helping SPSCC notch its first win of the season, a 97-93 triumph over Whatcom Community College.
The Black Hills High School product hasn't slowed down since. "Justin is displaying more confidence in the classroom and on the court. We have challenged him to be great and he knows we will not accept average from him," Willis said. "Justin has a desire to get things right. This can often times make him be hard on himself, but he is learning the value of being disciplined and executing at a high level."
The 6-foot-7 Hicks followed up his strong performance against Whatcom by registering his first double-double of his young career, scoring 21 points on 9-of-15 accuracy from the field and pulling down 10 rebounds against Edmonds College. "That was definitely (the game) where I proved to myself I could play at this level," Hicks said.
Hicks entered college with a strong high school resume. A multiple-time all-league selection at Black Hills, he was a key contributor in helping the Wolves advance to the state playoffs for the first time in school history, accomplishing the feat during his junior season as Black Hills placed fourth at the Class 2A state tournament.
The successful state run during his junior season featured a 21-point, 15-rebound performance in a game that knocked out crosstown-rival Tumwater, preventing the Thunderbirds from collecting a trophy and marking, arguably, the biggest win in program history.
A repeat trip to state, however, wasn't to be as postseason play was cancelled due to the COVID-19 pandemic during his senior season, but Hicks's reputation as one of the school's premier players was already well established.
Less than three months later, Hicks was participating in his first practice at SPSCC. It didn't take him long to see just how more advanced the game had become.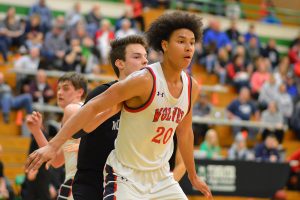 "I came in thinking I was just going to do my thing, but there were moments early during practices where I realized this was a completely different level of basketball," Hicks said. "Everyone on the team is really athletic. It doesn't matter who's on the court, everyone can play."
Sure, that Clippers' practice was eye-opening, but it simply made Hicks even more determined to put in the work and improve every day.
"The [college] game is so much faster," Hicks said. "I'm just trying to play at my own place. I just want to play hard and play smart all the time. I know I am capable of that."
Hicks has done just that. Playing his way into the starting lineup, he has scored double digits in five out of the last six games, highlighted by a career-high 23 points on the road against Whatcom.
He ranks second on the team in scoring (12.6 ppg) and rebounding (5.6 rpg) while shooting 58.6 percent from the field.
"Justin Hicks is an outstanding young man, and leader on our team and in his community," Willis said. "If you're looking for a long athletic guy to come in and compete, then don't look any further. I think Justin will continue to improve his footwork and become more comfortable on the wing. I think he will be paid to play basketball professionally one day."
Before that happens, Hicks and the Clippers will begin their quest towards another Northwest Athletic Conference tournament berth for the program when they open West Region play at home against Highline College on Wednesday, January 19.
"The season is becoming more fun," said Hicks, who is joined on the SPSCC roster by former Black Hills teammate Zach Crumbly. "We're learning. We are a very young team. Half of us our true freshmen, but things are coming along. We just need to lock in, buy in as a team, which I think we've been doing over the past few weeks."
Sponsored