As soon as Thanksgiving is past, time seems to race to the end of the year. The Olympia Farmers Market knows we could all use more time. The Holiday Shopping Delight Bonus Days will give you three extra shopping days on December 22, 23 and 24. Yes, that takes you right up to Christmas Eve, which may be cutting it a tad close, but magic is in the air. It's an exciting time to be out and about.
To fully enjoy these magical moments, it's probably a good idea when visiting the Olympia Farmers Market to bundle up against the damp days and frequently blustery afternoons. A cup of hot cider or a cinnamon mocha will make your insides toasty. Most of the Olympia Farmers Market is undercover and there are intermittent heaters, but it is wintery weather.
As the calendar turns to 2022, winter may be in full swing. Nevertheless, the Olympia Farmers Market will be open on Saturdays. Art and craft vendors are waiting for you, and winter produce, including things such as greens, squash, potatoes and carrots, are available. Spring and its lovely flavors may be a dim memory but take heart and check out the microgreens at Skipping Stone Garden. A rainbow of choices is there to tantalize your taste buds with sprouts from basil, buckwheat, radish, broccoli, sunflower, pea, cilantro, and a couple of mixed varieties.
What are microgreens? Descriptively, they are tiny leaves on threads of root-like stems. Scientifically, they are what is picked between the cotyledon stage of the plant and its first true leaf. Nutritionally, they are intensely powerful. Taste-wise, they are simply amazing. Ecologically, they are A+. Microgreens are rich in potassium, iron, zinc, magnesium and copper. Sarah and Gabriel Baisan, owners of Skipping Stone Garden, are growing them for your eating pleasure.
Sweet, spicy, nutty, grassy, and citrusy are a few of the ways microgreens will get you to love them. You can start off using any of the microgreens as a garnish. Pinch a miniature bouquet on the top of your salad or in a bowl of soup. A few in your sandwich or in your omelets are vibrant taste adds. You can put them in smoothies. You'll keep finding ways to add them in your daily menus. You can discover recipes on the Skipping Stone Garden website.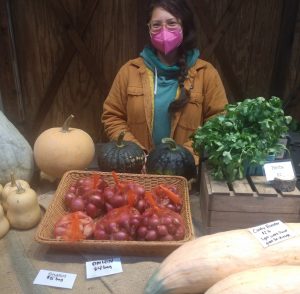 Emerieta Cobing works at Skokomish Valley Farms. She and her husband are the poultry managers and she told me there will be fresh eggs through the winter, a time when production usually slows down. The farm stand will have vegetables, too. "They have peak flavors in the new year," assures Emerieta about the carrots, radishes and napa cabbage. Check out their colorful squash, too.
What else is happening at the Olympia Farmers Market this winter?
You can shop at Stewarts fresh meats and find Rainbow Cloud's kombucha.
Cross Paws Bakery continues to bake cute, healthful treats for your dogs and cats. Your dog won't care so much that her treat is shaped like a squirrel, but you'll get a big smile from it. Your dog, will, however, be better off with the human food-grade ingredients.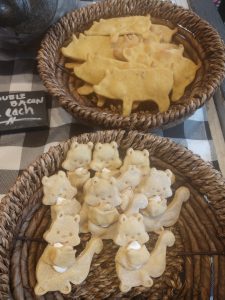 Humans have bakery options, too! I used to do more baking when our kids were home. I'm not so apt to make two dozen cookies now they are grown, although my husband might not mind. You can buy enticing goodies singly (or as many as you want) at The San Francisco Street Bakery, Blue Heron Bakery or Wagner's Market Place Bakery, Baker Potter, or from The Bread Peddler. A loaf of bread will be just right with your homemade soup from the carrots, potatoes and microgreens you bought!
This is my two cents about making soup. It's easy, it's tasty, it's just what your body needs. I'm far lazier than fancy when it comes to cooking. Check your refrigerator for the sad vegetables you were going to eat but forgot. Add all the nice ones you just bought from the Olympia Farmers Market. Simmer with broth. Add salsa from Olympia Salsa for a little zing. Add a can of refried beans to make the liquid thicker. One time we were making soup and took a bag from the freezer of fried beans that had been left over from a party. I don't like to throw things away. Later I realized it hadn't been frijoles but applesauce! The soup turned out just fine. Be brave. Add what you have/what you want. No need to tell everyone else.
The Olympia Farmers Market looks forward to seeing all of Santa's helpers for the Shopping Delight Bonus Days right before Christmas Day. When the calendar changes to the new year, come on back to freshen up your pantry. You can even order ahead to make sure you get what you want. The Olympia Farmers Market is a wonderful place to be outside, get fresh air, run into friends, and see what's new. For details of events, check out the Market Facebook page.
700 Capitol Way N. Olympia
360.352.9096
Sponsored