In the summer of 2020, the City of Lacey adopted a multi-step approach to help address homelessness within city limits. Leading this community-centered approach is the Lacey Community Workgroup on Homelessness. Through this workgroup, two dozen Lacey residents, including activists, advocates, business owners, and those who have experienced homelessness, are working together to find solutions that can help remedy homelessness within the city.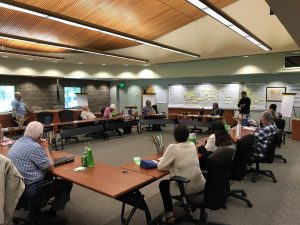 Before sharing their final recommendations to the Lacey City Council, the Workgroup is seeking further input and review from the general public. From now until January 7, 2022, the Lacey Community Workgroup on Homelessness invites Lacey community members to their second virtual Open House to review the Workgroup's findings and provide input on potential strategies before recommendations are finalized. Participants can visit the open house any time during the period.
Over a 14-month process, the Workgroup explored the many factors and facets of homelessness in Thurston County. Split into four phases, Workgroup members have participated in research and information gathering, including consultation with housed and unhoused community members, homeless advocates, shelter workers, social workers, mental health counselors, and addiction specialists before they convened for Workgroup discussions.
Through these Workgroup discussions, members formulated a set of goals and principles for addressing homelessness within the City. Now reaching its final phase, the Workgroup is soon set to present their final strategy recommendations to the Lacey City Council.
Deanna East, a member of the Lacey Workgroup on Homelessness, was initially recruited to the Workgroup because of her experience working as a student navigator within North Thurston Public Schools, helping families who are experiencing homelessness.
Through joining the Workgroup, East has been interested in exploring how the community can better support homeless students and families. East says this open house is an important step in the Workgroup's process, because it invites feedback from the community. "This is a piece of the puzzle where we need public ideas and feedback about what we've already been working on," explains East. "Before letting the City know our next steps."
The Workgroup hosted their first virtual open house in early 2021. During the first open house, the community was invited to view the Workgroup's progress and provide suggestions as the group was beginning to formulate goals. After the conclusion of the open house, the committee analyzed participant responses and incorporated that feedback into their potential solutions.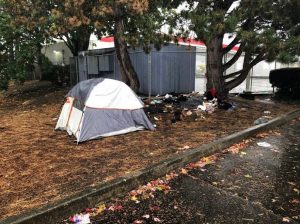 Since the initial open house, the Workgroup has continued their research efforts and have had regular meetings with community stakeholders to help guide their plans. The Workgroup has also been briefed on solutions that are already being implemented in the community, like the construction of tiny home villages, and promising practices underway locally and nationally.
Second Virtual Open House
The Workgroup also went through a process of "strategy sessions," where they reviewed all their preferred solutions and shaped them to work best in the City of Lacey, given the array of hopes and concerns in the community and given what's most feasible for the City to implement. The Workgroup voted on which solutions they would like to finalize. Before they present their final recommendations, though, the Workgroup welcomes community review through a second virtual open house.
"We need the public's input," says Bob Kagy, a member of the Lacey Workgroup on Homelessness. "This is an outreach effort to get public opinion, so we can see what happens when we have the tools to add up their comments and add up what people think, because we're merely representing the community. We aren't the decision makers. We're just trying to represent what people in Lacey think."
The virtual open house will be conducted through an interactive online platform,. Lacey residents and surrounding community members can register on the platform to view the Workgroup's findings, provide feedback, or even provide their own suggestions. The virtual open house will include stations, organized by goals for addressing homelessness. Each station will contain a summary of potential strategies that can help reach that goal.
Along the way, there will also be interactive surveys that record participant opinions. Results are updated as more participants record their answers. Lacey Workgroup members and staff will be monitoring responses daily, and staff will be available to answer questions asked by participants.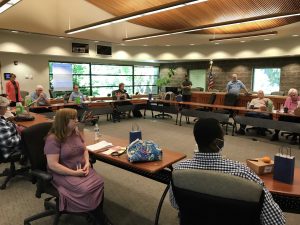 "We really want to have a breadth of perspective," says Kagy.
Following the open house, Kagy says Workgroup members will take time to reflect on the responses they received and will incorporate feedback into their final recommendations.
"Well, first, you need to think about it," explains Kagy. "That's the first thing, you just need to think about it and evaluate it and just put it in as part of the mix."
Similar to the first virtual open house, the Workgroup will collect participant responses and surveys and incorporate the feedback into their final report to the Lacey City Council. East is looking forward to the virtual open house, because she believes greater public involvement will lead to more effective solutions and a stronger community.
"I strongly believe this is an area our entire community needs to be involved in if we're going to see any success in moving forward," says East. "And so, I'm hoping that many people will come to the open house and get a better perspective about what we've learned so far, and maybe what we can we can do next."
The Lacey Workgroup on Homelessness Virtual Open House will take place from now through January 7, 2022. To learn more about the Workgroup or to participate in the open house, visit the City of Lacey website.