Sometimes you just crave wontons. It's never a bad time for Chinese. Like pizza, you can eat it at any time, even for breakfast the next day, and it's just so good. Whether your family likes to have Friday night dim sum, or the classic Christmas Eve Chinese dinner, you are in luck as we have plenty of delicious restaurants in our area. Whether you want to-go or dine-in, here is where to get locally-owned Chinese food in Olympia and throughout Thurston County.
Emperor's Palace
400 Cooper Point Road, Olympia
360.352.0777
7321 Martin Way East Olympia
360.923.2323
722 Lincoln Avenue E, Tenino
360.264.8989
For over 30 years, Emperor's Palace has been serving up delicious Chinese food in Olympia. They have two locations, one on Cooper Point and one on Martin Way East. They also own the Emperor's Express in Tenino, which is a smaller, deli-style Chinese restaurant with a reduced menu from their full-service locations in Olympia. You'll find your favorites at all three though, including wonton soup, egg rolls, orange chicken and Lo Mein noodles. Diners love their reasonable prices, food portions, and their willingness to work with dietary restrictions. They are open for lunch and dinner.
Tea Leaf 2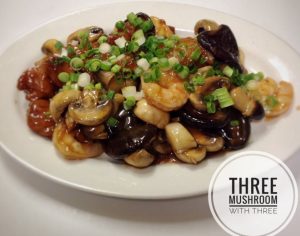 4646 Pacific Avenue SE, Lacey
360.459.3800
The Tea Leaf 2 is a favorite among many diners craving Chinese in Lacey. Their freshly-made menu items come in large portions, so come hungry or maybe save some for tomorrow's breakfast. Diners love their Kung Pao chicken. Like many "hole-in-the-wall" local diners, you won't find a menu or website online, so drop by and check them out, or give them a call for more information.
Main Chinese Buffet
5580 Martin Way E, Lacey
360.455.8899
If you like the buffet-style dining experience, check out Main Chinese Buffet in Lacey. They serve lunch and dinner, and have a host of choices including Chinese, sushi and Asian. Diners love the number of choices they have, especially the sushi if you are looking for some Japanese flavor to add to your Chinese food meal.
Bonsai Wok Teriyaki
408 Cleveland Avenue SE #107, Tumwater
360.753.0719
If part of your family wants Chinese and the other Korean, the Bonsai Wok Teriyaki is the place to go. Diners love their traditional teriyaki dishes as well as their spice. They are accommodating to changes of menu items. Bonsai Wok Teriyaki captures the flavors of China and is not too "Americanized" for those looking for authentic taste. Be sure to try their Korean bibimbap offering when you are ready to branch out from Chinese food, which is hard I know, but it the bibimbap is delicious!