On December 23, 1950 children packed Ed Zabel's Capitol Theater in Olympia. They had gathered for the theater's annual Christmas matinee. The young audience could enjoy the films "March of the Wooden Soldiers" (a re-release of the beloved 1934 Laurel and Hardy holiday film "Babes in Toyland") and "Father of the Bride" along with six cartoons. The children could also meet Santa Claus and receive a free candy cane.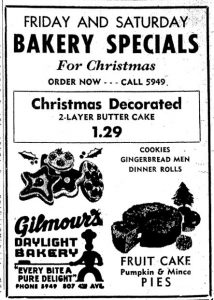 With the post-World War II "Baby Boom" in full swing, Christmas in 1950 was centered on children. With the economy prospering the holiday was becoming more commercial even as it kept a focus on family and helping others.
Local newspapers abounded with advertisements for the latest gadgets and toys. Adults could buy the new Polaroid camera and clothes. With so many children around, toys and games were popular items. Cowboy toys and costumes proved particularly popular that year.
Thankfully, one item that the Daily Olympian wrote about would not be under anyone's Christmas tree locally—the "Atomic Energy Lab." On shelves for only two years, the "world's most dangerous toy" contained uranium samples for children to experiment with and included a working Geiger counter. Costing $50, only 5,000 were ever sold and there is no evidence that it was available in Olympia.
Stores did their best to attract customers. Sav-Mor Food Center offered customers free candy canes on Saturday, December 23. Brown Motor Company offered a free holiday turkey with the purchase of a new or recent make of used car. Kids could visit Santa at Wards Department Store.
The holiday activities of local organizations (and even families) were faithfully recorded in the local newspaper's social pages. Clubs held their annual holiday parties. The Woman's Club of Olympia held a tea, collecting a silver offering for the Salvation Army. The Eagles Club  held a musical evening on December 21, complete with tap dancing and singing. The Kitchen Band, a female band, played music using everyday items—everything but the kitchen sink the newspaper joked.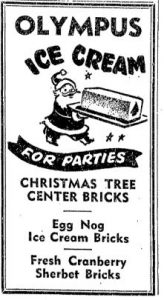 With the holiday's emphasis on children, Olympia's schools got into the swing of things. Garfield Elementary School held a family concert. Each grade sang carols by a tree in the hall but because of overcrowding, their parents had to listen outside via a PA system. Later the PTA served dessert to children during lunch. Local clubs sponsored Cub Scout parties. The Kiwanis entertained cub scouts at Lincoln Elementary School and the Rotary Club sponsored a party at Garfield Elementary School. Pack 31 at the Washington School held a family party with a gift exchange, caroling and skits along with a visit from Santa Claus.
The schools also held their annual holiday concerts. The Washington Junior High School Band debuted their new uniforms, paid for by a recent magazine subscription drive, at their annual Christmas cantata. The theme of the Olympia High School's music department's Christmas concert was "Reindeer Rhythms." The stage was flanked by twin trees covered in silver tinsel and bathed in blue light. The backdrop was Santa and his sleigh.
And there were plenty of delicious culinary choices to make. The Daily Olympian was packed with holiday recipe suggestions. Hostesses could serve up "Christmas morn chicken pie" and oyster bisque from the New Boston Inn in Sandisfield, Massachusetts. Or in a sweeter mood they could try making ice cream rings, angel food cakes, oatmeal macarons or coconut igloo cookies.
Or cooks could try their hand at one of the candy recipes from the newspaper. For more hands-on experience they could attend the second annual candy making school at the American Legion Hall sponsored by the Daily Olympian newspaper. Candy-maker Earl Remington Davenport, had trained with his father-in-law, who worked as a cook for the Hapsburgs. Earl's grandson later founded Seattle's Dilettante Chocolates. In Olympia he taught two classes, one at two o'clock and the other at eight o'clock, putting a special emphasis on Christmas candy. His book, "Elementary Course In Candymaking Book," was available for a dollar.
In the midst of all this celebration, those in need were not forgotten. Groups used the holidays to fundraise. The Elks Jingle Club, founded in the 1920s, continued to operate, holding its annual Turkey Trot. The Thurston County Welfare Department gave a call for bicycle donations for children in need. According to a pre-holiday survey it was their most popular requested gift. The Knox Tire Company volunteered to repair donated bikes.
Another project was the Olympia Active Club's Sunshine Kids' Underprivileged Children's Fund. The Club's goal was to make sure that no child went without during the holidays. They raised money from businesses and individuals to buy toys and other gifts.  The "Sunshine Kidder" listed the donors in the newspaper, praising some of the more prominent among them in verse.
The holidays in Olympia in 1950 were certainly a merry one for many people, creating festive memories that lasted a lifetime.