When the Yelm Arts Commission got together for its first meeting in August, the event was high energy. The all-volunteer group was a long time in the making, Yelm City Clerk and Community Services Manager Kathy Linnemeyer points out, and everyone was eager to get started. "They have great ideas and they're excited about collaborating," says Linnemeyer. "A lot of possibilities were flowing back and forth."
The Arts Commission is just one of 11 all-volunteer advisory boards and commissions the city relies on for input. Others groups include the Civil Services Commission, Planning Commission, Historic Preservation Commission, Parks Advisory Committee, Library Advisory Board, Salary Commission Committee, Lodging Tax Advisory Committee, Police Advisory Committee, Emergency Management Board and Tree Advisory Board. Currently, the City is seeking volunteers to fill one position on the Parks Advisory Board, one on the Historic Preservation Commission and three on the Tree Advisory Board.
Some groups meet quarterly while others host monthly meetings, depending on the need. Participants play a valuable role in keeping city staff and city council members informed and connected to their constituents. "They're an important resource," Linnemeyer explains. "They serve as small focus groups to provide advice to the mayor and the council from a citizen perspective."
They also submit input for significant public initiatives like the Yelm Prairie Line Trail. Over the past few years, members of the Parks Advisory Committee and Planning Commission played a central role in connecting with their counterparts in Pierce County to determine the best way to get the trail across the Nisqually River. In 2019, the Lodging Tax Advisory Committee voted to allocate legislative funds designated for activities that attract tourism toward the first annual Nisqually Valley BBQ Rally, an event that was canceled in 2020 but resumed in 2021.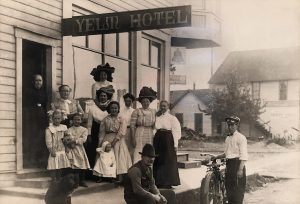 "Sometimes the council will ask a committee to review specific information," says Linnemeyer. "They'll do research and provide that input to the city. The city council and staff then work together to come up with the ultimate decision."
Volunteers who join now will benefit from a new, streamlined system. One of the city's priorities to improve operations and increase community involvement was to standardize the structure, process, and procedures for all of our boards and commissions. "We established a vision for success and needed the right person to take on this significant task to make it happen," said Michael Grayum, City Administrator. "We are lucky to have Kathy on our team! Thanks to her hard work we now have consistency across all boards and commissions for training, staffing, membership, term limits, roles and responsibilities. We also have a consistent way for each board and commission to establish work plans and report back to City Council and the public about what they are focused on, what help they need, and what they achieve."
Within the past year, Linnemeyer took on the role of overhauling all boards and commissions to ensure consistency. Previously, some had six-year terms while others had four-year terms. Now, all groups have four-year terms and five members, and the city provides a staff member as a support person, along with templates for minutes and agendas and clearly defined roles and responsibilities.
"They elect a chairperson among themselves, and that person works directly with the staff support person from the city," says Linnemeyer. "We're actively tracking all of the memberships so that when we have terms that are about to expire, we can advertise ahead of time to keep these committees full and active."
For volunteers, the groups are a chance to get involved in civic life, particularly if they live outside of the city limits and are therefore ineligible to participate in city governance in other ways. "Most of our boards and commissions don't require you to live inside the city limits," Linnemeyer notes. "This gives those people an opportunity to volunteer and serve in a specific area that interests them. They're glad to have a voice in issues that impact Yelm residents."
Sandi Hansen, owner of LNS Enterprises and a charter member and two-term president of the Yelm Rotary Club, is one such volunteer. She has served on the Parks Advisory Board for many years.
"I do not live inside the city limits, so I'm glad that I can contribute in this way and give back to the city," says Hansen. "I enjoy being able to hear what is going on and helping with the planning of our great park system.  It is great to be able to do some of the research into what we need and how it will be implemented.  We do have a couple of openings and I would hope that others will see that they can provide ideas and input."
During the pandemic, groups haven't been meeting as often, but with the creation of the new Arts Commission and the revamped committee structures, things are ramping up again. "Things are coming together now," says Linnemeyer. "It's exciting to see people with diverse backgrounds who bring different ideas to the table. I can't wait to see what they come up with."
Learn more by visiting the City of Yelm's website.
Sponsored