Festive finds, food, and fun are all integral to the changing season at the Olympia Farmers Market. Temperatures are dropping like the leaves and sugar plums are beginning to dance in the heads of holiday dreamers. You can trust that your downtown Olympia Farmers Market is geared up to be your place for holiday groceries, gifts and decorations. November and December mean the Market is open on Saturday and Sundays only, but with the same hours, 10 a.m. to 3 p.m. Santa and helpers will get Shopping Delight Bonus Days on December 22, 23 and 24 (yes, Christmas Eve!). But why wait?!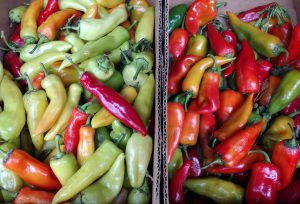 The Market still has fresh produce for your wintery, comfort-driven choices. Roast a pan of carrots, potatoes and other root vegetables as a base for meals throughout the week. Soups and stews are quick to make, providing satisfying meals for family, friends and drop-in guests. There are fewer stalls dedicated to vegetables, but the vendor options expand to include a wide range of arts, crafts, personal care products and quite a bit more!
If you are preparing to deck the halls, three vendors will be selling wreaths and greens, including The Perennial Gardener, Nisqually Farm, and Lynch Creek Farm. Outdoor garlands announce winter is upon us, but we are celebrating. Aromatic centerpieces turn a table into a party and bring a smile to any hostess. I have one on my table and admire it throughout the day. I used to be a single wreath per house person, but now prefer several – one on the garage, one on the front door and another on the fence around our patio.
Many of us are accustomed to shopping online, which is wildly convenient at odd hours of the night or day. Yet, going to the Market offers a sensory experience of sight, sound, smell and taste. There's something to say about touching the head band before you buy it. Pieces to Peaces hosts a montage of scrunchies, masks, head bands and more that are fun to see in person. You get to take your picks home immediately and know exactly what you got. That's just one reason to visit the Market.
Person to person connections also happen at the Market. "I want skin care to be self-care," says Chelsea Rain Chase, owner of Rainchild Apothecary. She uses all natural ingredients including plant-based botanicals, nourishing oils and butters, powerful extracts, and essential oils. She's been mixing potions for years and launched a business three years ago. Chelsea is happy to talk about your particular skin care needs and intends for her customers to nourish their skin as they nourish their souls.
When you are looking for beautiful as well as functional pottery, stop to admire Alan Perillo's pottery. "Design is driven by everyday use," he explains. He has a home studio in Tenino where all the work is done. "I make everything, and I make my own glazes," he adds. With designs inspired by nature and classic designs and patterns, Alan's pieces are lovely. Each is personally created with minute attention to visual and tactile points of interest.
It's the season for candles, and the woven beeswax candles by eco-artists Deena Manis and Talbot Uehlinger are remarkable. Owners of Long Life Beeswax Candles, the couple dip, twist, weave and braid, forming elegant light-giving sculptures that will astonish you as the candles burn. You might be tempted to keep them as decorations, which is fine, but you'll be missing a great show.
There's a lot of holiday spirit throughout the aisles of the Market. Take the time to be drawn in by jewelry, handmade purses, fabulous chocolate, plants and ornaments. Everything has a story, and you can engage the artists and vendors to learn more. When you get hungry or thirsty, there are international eateries to make many moods gleeful. I've been to the Market a zillion times (well, a lot) and there is always something and/or someone that makes the visit surprisingly delightful.
Remember that through the rest of the calendar year, The Olympia Farmers Market is open on Saturdays and Sundays only. Downtown parking is free on the weekends and always free behind the Market. Walk through the stalls to appreciate the atmosphere of the season. Pick up fresh produce and visit the artists. It's fun to meet newer arts and crafts vendors or meet up with old friends. Check out the latest news and upcoming activities on the Olympia Farmers Market website. Please note the Farmers Market is closed December 25 and 26.
Sponsored