Businesses of every type and size were impacted by COVID-19. Even today, as 2021 winds to a close, they're facing supply chain disruptions, staffing shortages and our country's slow return to some degree of normalcy. But thanks to tireless work in and around our community, there will be resources and networking galore at this year's annual South Sound Business & Career EXPO.
This year's EXPO will take place on Wednesday, October 27 from 12 p.m. until 6 p.m. Things kick off at the Olympia Hotel at Capitol Lake, formerly Hotel RL. Organizers Alan and Louisa Shimamoto of Accelerate Growth Coaching are excited to provide a format because, "local businesses are needing opportunities to connect with the community during these times." They admit that upcoming attendees they've spoken with are 100% excited for the marketplace to regain steadiness and growth.
"South Sound EXPO is the premier business and career trade show of Thurston County, with business profit accelerator sessions and networking events," says Alan. "This event is perfect for any small business or entrepreneur looking for exposure in one of the fastest-growing business markets in the U.S. The EXPO is now in its fourth year and has expanded every year. For this free event, attendees will discover the incredible offerings of the South Sound business community. Don't miss out."
The afternoon starts with their Profit Accelerator sessions from 12 p.m. until 2 p.m. This array of speakers with unique, specialized and successful business training will offer sessions on a variety of topics. Then from 2 p.m. until 6 p.m., guests are welcome to wander the bustling EXPO floor.
Alan explains that through Wednesday, October 20, organizers will continue taking applications for South Sound Business & Career EXPO exhibitors. They welcome businesses, nonprofits and career exhibitors to reserve booth space and mingle with South Sound's business-minded professionals. Booths sell out every year so don't wait. Simply email info@southsoundexpo.com to save your table today.
"If you are looking to make connections, get resources, and develop relationships with amazing local businesses, then this is the premier event to do so," says Alan. "Our show hosts dozens of exhibitors who represent all aspects of our business community. Since the beginning, our exhibitors have been at the core of our show, always committed to the highest professional standards."
Though the South Sound Business & Career EXPO is free, organizers recommend reserving your ticket in advance to guarantee seating at the Profit Accelerator sessions. Space is limited and early bird registration makes sure there's plenty of room.
This afternoon of information, networking, mingling and strategizing is made possible by presenting sponsors, who believe strongly in the EXPO's work and outreach. These include Accelerate Growth Coaching, who offer business, team and personal coaching.
They are joined by the IN TEAM. This group of business professionals meets to network on a weekly basis and maintains a website of trusted members offering more than 25 categories of products and services.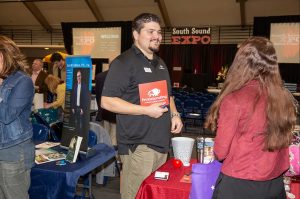 Presenting sponsors 96.9 KAYO and 95.3 KGY radio stations keep your day moving with music, event listings and local activities. If you're hosting, consider calling American Maid to clean before, after or just so you don't have to.
ThurstonTalk, Creative24 and JJSponton Designs can handle advertising through blogs, business profiles, features, professional video advertising and website design. All three companies are willing to work with you from day one or jump in to assist with expansion, growth and revitalization.
For guidance through buying and selling a business, commercial property leases, debt collection, estate planning and more, consider working with SMG Law. They will create custom plans that keep your values and goals in mind.
In a recent September 2021 survey, 23.4% of surveyed small businesses in the United States claimed that the COVID-19 pandemic had a large negative effect on business and 43.8% cited a moderate negative effect. But business optimism is slowing rising and events like the EXPO are a great way to maximize reach through community engagement, networking and brainstorming. You can follow the South Sound Business & Career EXPO Facebook page for updates, additions and a sharable event invitation link. Everyone is welcome because when Thurston County businesses succeed, we all share in their future success.