Keeping up with the news—even in your hometown—can feel overwhelming. Media channels upload what's new and notable around the clock, and staying up to date requires picking a trusted source and sticking with them. Dan Jones, founder of NorthAmericaTalk and its regional offshoots including ThurstonTalk, created localized portals that provide the news where you live, tailored to community, family, small businesses, events and activities. To keep abreast of business trends and share his experience and contacts, he also serves on the board of the Thurston Economic Development Council (EDC).
"When we first launched ThurstonTalk, Renée Sunde, who was at the EDC and is now the CEO of the Washington Retail Association, had a few conversations with me focused on mission, vision and community," explains Jones. "Shortly thereafter ThurstonTalk won New Business of the Year awarded by the EDC. This was an exciting time in our growth as we saw an upward trend in revenue tied to the award."
With a platform where he's introduced to many local business owners, Jones was a perfect fit for the EDC's Board and was later invited to join by Executive Director Michael Cade. Jones has come to find that his time living and working in the area meshes beautifully. "Over the last three years I have learned a great deal of what makes the community we live in great," he explains. "Some of the push comes from the EDC. The EDC is full of people that care about our community and are leaders making things happen in our community. I look forward to continuing the forward movement of economic prosperity in the Thurston County region."
The Talk platform believes in community marketing and media. Since 2010, Jones and his team have launched hubs in and around the Pacific Northwest. "ThurstonTalk has evolved into 10 additional media groups across Washington State," says Jones. "We have a holding company named NorthAmericaTalk that operates and runs each of the media companies. During COVID we saw an increase in groups working with us across all the state to share information, updates, news and Coronavirus guidelines."
This large-scale digital footprint benefits his fellow EDC Board members and member businesses. "Having access to share with our readers, through the Talk platform, what the EDC is working on and what great assets are coming to our community is a fun contribution," he continues. "With that said the complexity of community takes time to understand and I am still networking and learning about economic development."
He also takes time to share the EDC's many classes, events and offerings with the businesses he encounters along the way. "I suggest business-focused individuals attend networking opportunities and join the EDC," says Jones. "There are not many places in a community you can address business-focused people in one spot."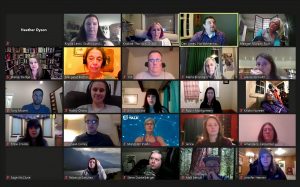 One of these places is the EDC's Center for Business & Innovation. They strive to be a one-stop hub focused on knowledgeable mentors with real-life experience. These provide resources for entrepreneurs just starting out or looking for ways to grow and expand an existing business. Through Trainings & Workshops, Government Contracting, One-on-one Business Counseling and the Thurston Investment Network (ThINk) there's something for everyone.
Upcoming EDC events include sessions for Black-owned businesses, learning common mistakes made by women business owners, and how to create small business marketing videos. There is even a training series and web portal geared towards resiliency and growth through the COVID-19 pandemic and its restrictions. This ScaleUp class is provided through funding from the Washington State Department of Commerce.
Likewise, the many @Talk platforms work to keep their area informed with news, closures, regulatory issues, vaccination sites and other important material. It also offers ways families in need can find help through COVID-19 and beyond.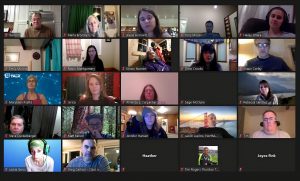 Business leaders stress the importance of using localized social media "to connect with friends, family and likeminded others for socialization and emotional support…Just like we have seen with other crises, people all over the world reach out to each other through social media to make sense of what is happening." The @Talk sites do just that in an approachable, neighborhood-friendly fashion.
You can read more about the EDC's latest news and events on Facebook or find out more by calling 360.754.6320. Have questions or want to learn more about joining? Simply email office@thurstonedc.com.
To expand your business reach through your local @Talk, contact them online or call 360.482.1671. They can provide local demographics on users and audience as well as ways to advertise, share and introduce (or reintroduce!) yourself to those around you.