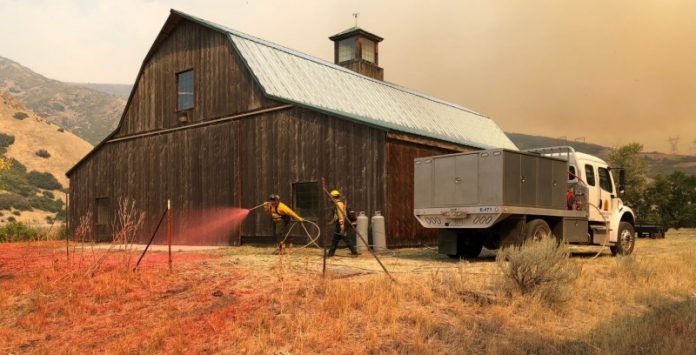 Few Washingtonians will forget the summer of 2020 when the skies turned gray and smoke from wildfires forced residents indoors for over a week. Widespread fires are something we're learning to live with, but for State Farm policyholders, a new service adds an additional layer of protection to ease homeowners' minds.
As of April 1, State Farm clients in Washington, California, Colorado, and Oregon are covered by a complimentary Wildfire Response service through Wildfire Defense Systems, Inc., the nation's largest wildfire protection company. If the company determines a home insured by State Farm is at risk during an active wildfire, they will deploy a team to take proactive countermeasures to protect a policyholder's property.
"They'll install temporary sprinkler systems, monitor and extinguish hotspots, and help to remove combustible materials around the house," says Melanie Bakala, State Farm Agent.  Those include pine needles, dry brush, and wooden furniture. The team will also cover vents and close doors and windows to keep sparks and embers out.
In one recent case in Arizona, a volunteer firefighter was out on a call when his own home was jeopardized by an approaching fire that advanced to within 450 feet of his property. The Wildfire Defense team suppressed flames and hotspots around the home and cold-trailed the property to ensure all residual heat was fully extinguished.
"This is a great benefit for State Farm customers so they can have a little more peace of mind," says Bakala, "but this emergency response doesn't replace the things that any homeowner can do to proactively protect their house. A lot of us have greenery around the house and even if it's not dry, it's combustible. Nothing replaces making sure your home is properly prepared if something like this happens."
Steps include:
Removing dead shrubs and dry grass
Keeping roof and gutters clear of debris
Keeping grass and weeds mowed
Filling five feet around the base of the structure with fire-resistant plants or materials like gravel
Learn more by visiting the Melanie Bakala State Farm website or calling 360.426.2428 (Shelton) or 360.972.7905 (Lacey).
Sponsored