Growing up can feel like a rollercoaster. You grow, change and decide who you want to be all while juggling friends, family and school. Emotions, hormones, drama and fads are hard enough to balance even without the burdens of hunger and homelessness. At All Kids Win, formerly Homeless Backpacks, organizers work to keep kids fed and support them through their journey. On Wednesday, May 26 people came out to Shop, Savor, Support their mission in stores and restaurants across our area.
This was the event's first year, explains the organization's Co-Founder and Principal Stephanie Hemphill. "Like all nonprofits, we have had to think outside the box for fundraisers and this is one of our out-of-the-box ideas! After such success, we are absolutely open to it being a multi-year event."
Participants simply shopped, dined and explored participating merchants and restaurants. And for those who were not quite ready to sit down for an indoor meal or go shopping, it was completely regulation friendly. "If you didn't want to dine-out you were able to still support the cause by picking up to-go food. If you didn't want to go shopping, you could still support us by doing curbside pick-up. We were able to raise funds and be safe at the same time," says Hemphill.
And getting folks back out and about is a win/win for everyone. "Small businesses and nonprofits have had such a hard time in this last year," acknowledges Hemphill. "Our vision was that by promoting a shop local event with a charitable benefit, everyone wins. Participating businesses got some extra media, promotion, attention, and customers, and All Kids Win did too."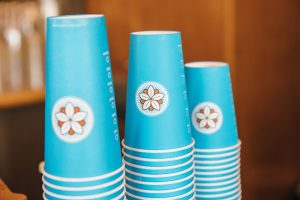 All Kids Win provides take-home meals for kids experiencing homelessness and food insecurity. Their vision includes supporting hungry and at-risk students, raising public awareness of homelessness, partnering with the community, and inspiring others to help where and how they can.
To do this, organizers recruit volunteers to help pack food bags for weekend meals and deliver them to school pick-up sites around our area. "Our volunteers and community are so amazing," says Hemphill. "We have volunteers from age three to some in their late 90s and it has been incredible to witness during these times."
Their hard work is a tremendous blessing. "To understand the impact our program has, I want to share a quote from a testimonial from a student who received weekend food from us," shares Hemphill. "Our program is completely anonymous and so is this quote: 'I was finally able to have a breakfast or a lunch, or even a simple dinner to keep me going. I never had to go two or three days without eating again.' I think that is a powerful message and it certainly drives me to keep raising funds for this program!"
All monies raised through this event or direct donation go directly into the program. Their team currently feeds 1,100 students at a cost of $8 per bag. Every dollar helps and is stretched as far as it can go.
If your small business or restaurant would like to participate in a fundraiser for All Kids Win simply reach out to events@allkidswin.org. Someone will be in touch with ways you can help, answer questions or with details on upcoming activities.
Businesses that participated in this year's event were: Linnea's at Hawks Prairie, Hops N'Drops, Batdorf & Bronson Downtown Olympia, Olympic Crest Coffee Roasters, Dirty Dave's Pizza Parlor, 507 Taproom and Filling Station, Sandstone Distillery, Merle Norman Cosmetics, Wigs and Day Spa, and South Bay Coffee Company.
If you didn't get to participate in the event, consider making a donation of needed non-perishable foods and supplies or putting together a bagging party of friends, family, colleagues and neighbors. All Kids Win also uses volunteers to shop, deliver and keep the organization running smoothly.
Studies show that "The number of students experiencing homelessness in Washington has almost doubled over the past 10 years." And others report that "as many as 13 million children in the United States live in 'food insecure' homes. That phrase may sound mild, but it means that those households don't have enough food for every family member to lead a healthy life."
Do your part, even if that means buying an extra can of tuna or box of granola bars at the store. Every little bit helps smooth out the rollercoaster of growing up hungry. And if you've got a little extra, round up the family and Sip, Savor and Support so All Kids Win.
Sponsored