Legal matters require attorneys who are skilled in the law, but who also understand how legal matters affect other parts of your life. The holistic approach at Olympia's Jensen Milner | Cap City Law allows clients to be heard, understood, and advised in a way that addresses the legal issue at hand, while also balancing other parts of the client's life that are impacted. There is focus on the person and his or her life in addition to the surrounding legal business. In this way, law partners Jessica Jensen and Nick Milner have intentionally set their practice apart from others. Their attention to making sure every client has valuable resources and supportive advice creates optimal outcomes mentally, emotionally and financially. By collaborating with a team of highly skilled professionals, they work to meet the goals and needs of their clients with integrity and clarity.
When Jessica opened her practice 18 years ago, the words holistic and lawyer were rarely used in the same sentence. Consequently, it was a stimulating way to engage in conversation with prospective clients and business associates. This idea of holism in law opened doorways for attorneys like Jessica, who had an inkling that going to court might not be the best first step. It also complimented her belief about the benefits of a positive attitude. There are greater dividends looking forward to what you want in life rather than looking back on what you don't want. It makes a difference for the soul as well as the wallet.
In 2015, Jessica met and hired a likeminded attorney, Nick Milner, who also understands that things like estate planning, business, and even real estate are often intertwined for his clients, and that taking a holistic approach provides more value in the long run.  Nick's outlook furthered Jessica's original goal of providing a more well-rounded approach to the "business of life".
"We genuinely care about our clients," says Jessica. "We look at the person and the nature of their personality and talk about broad goals." To get the best results, the firm brings a team approach, with accountants, insurance brokers, therapists, financial planners, real estate agents, other attorneys, and various professionals as part of their toolbox. This collective approach sets the table to effectively sort through the complicated details of any legal entanglement.
For example, business partners have been known to come to a point when they can no longer work together. Maybe one partner is working like crazy and the other is not. Perhaps the conversations have evolved into arguments, and one partner is ready to shut down and sue the other. "There are always two sides to every story," notes Jessica. While such situations are emotionally draining and expensive, "the focus should be on how to resolve a dispute, while keeping each person as whole as possible."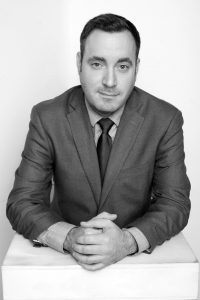 The attorneys at Cap City Law are wholly present for their client's needs and concerns. They gather information to understand the big picture, incorporating well respected professional accountants, tax, and business advisors to help them bring forward the best options for every client.  "We know that no one likes to lose," says Nick. "Collaborative problem solving helps bridge the gap between winner and loser.  We hope that both parties will come away somewhat whole, without the stress and cost of going to court."
That said, they are also prepared to take matters to court when necessary. Attorney David Sisk rounds out the team, and while his practice emphasizes a collaborative approach and workable out-of-court problem solving, when litigation is required, David's strong research, writing, and litigation skills bring success in court as well.
The attorneys at Cap City Law are willing to be frank with their clients offering decision-making points on ways to move forward. Sometimes staying embroiled in the past prevents moving forward into the future. Their focus is on guiding clients from the downward cycle of revenge to an upward trajectory of personal responsibility and accountability. Sometimes those are big steps, but years of practice and experience tells us that this type of support "allows our clients to move ahead with confidence and vision," says Jessica.
Working with families who have children with special needs is a niche for Nick. "It's a team approach," he says. The estate planning involves tax implications, protection of assets and funding sources. Clearly, the input from a family's accountant and financial planner are essential. Nick also consults with clients on a variety of other transactional needs, such as business, corporate and real estate practices.
Cap City law is also active in supporting various community nonprofit organizations with reduced or no-fee functional legal work. "We love serving," says Nick, who is a past board member of  Harlequin Productions. The firm has provided counsel for nonprofits including South of the Sound Community Farm Land Trust, Thurston Climate Action Team, Thurston Housing Land Trust, and Veterans' Ecological Trades Collective. Jessica serves on the Board of the Thurston County Economic Development Council and is past chair of the Thurston County Chamber of Commerce Board. She is president of the Center for Business and Innovation and vice president of the West Olympia Business Association.
Outside of the office, Jessica participates with her up-energy Celtic Band Curlew's Call and a classic rock trio Humor & Heart. Nick is a dog lover and owner who maximizes his time in the Northwest with many outdoor activities including mushroom foraging and clamming, and David also enjoys the great outdoors, spending his time birdwatching, organic gardening, kayaking and skiing. The holistic concept applies to the way they live their lives, too.
Throughout the course of our lives, help from attorneys is needed for varied reasons. It might be to terminate a relationship. It might be for an exciting or secured future for someone you love. Those conversations do not have to add stress. Cap City Law is ready to move ahead with you on your road of life with peace of mind and clarity of purpose.  Jensen Milner | Cap City Law is available to meet with you for the legal concerns of your family and business, and is offering both virtual and in person appointments. You can contact them at the Jensen Milner | Cap City Law website or by calling 360.705.1335.
Jensen Milner Cap City Law
2604 12th Court SW, Olympia
360.705.1335
Sponsored