This spring will be a spring like no other. Well, except for last spring, because that one was a doozie, right? With access to vaccines improving, and the promise of the return to normal and our area's slow march toward it, some businesses like Celebration's Event and Party Rentals are preparing for a booming spring and summer season.
About Celebrations
Celebrations has been our area's premier party and event rental outfitter for nearly four decades. This family-owned business serves customers from Tacoma to Chehalis and from Yelm to Ocean Shores. They rent all manner of things needed to host a memorable affair, from tents, tables and chairs, to linens, flatware and decor. Don't forget the unique add-ons like a digital DJ in a box, chocolate fountains, popcorn machines, photo booths and even leather couches. Their generous 72-hour rental period makes for a stress-free rental experience as well.
If you can dream it, Celebrations Manager Dave Light says they can likely bring that vision to life, and what's more is that they can even deliver and set up equipment. Things like overhead tents, a Pacific Northwest party must even in summer, range in size from 10 feet by 10 feet to 50 feet by 225 feet and require set up by the team at Celebrations. These large-scale erections require precision and product knowledge generally not possessed by the renter, and this commitment to safety, efficiency, and customer service is what has set Celebrations apart from the others all these years.
Renewed Optimism
It takes a team to deliver rentals and set up tents at events, and a team is what Celebrations is a little short on right now. "COVID has really thrown a wrench into our gears" says Light, "because a lot of the people that I normally would have working are on hiatus."
He says that with the beginning of slowly opening up, the calls are already starting to roll in for equipment rentals, "I have noticed a little shift this year," he says. "Around here people generally wait until April for their outdoor events, but every weekend lately I've had a few people popping up who are having a wedding, which is pretty unusual for this early in March."
It's been quite a year.
Join the Team
If there's one thing COVID has taught us, it's "make hay while the sun shines." In other words, make the most of a favorable situation while it lasts. With the number of infections trending downward and the horizon looking optimistic for small gatherings, Light is looking for a few more "haymakers" to add to his crew.
Light is looking to hire six to eight people to fill out his crew. His ideal candidates are folks who are ready to roll up their sleeves and get to work. "It's a heavy, physical job," he says. "They don't have to go to the gym after they've worked a day here in the summer, that's for sure!"
Light needs two to three more drivers, at least 21-years-old and with clean driving records. In addition, he'd like to hire four to five more driver helpers, aged 18 and up.
"No real experience is required," Light says, "just a hard worker. It's going to be a busy summer and my employees get a lot of overtime in the summer. I try not to, but summer is where I make my hay, if you will…"
Apply in Person
Light says applicants can apply online at the Celebrations website, but he prefers that folks turn up in person and grab an application the old-fashioned way.  "I'm an old guy," he jokes, "I don't particularly care for email. For me, email more often than not, just leads to another question. You know, we could have had that conversation and you would know all this stuff, and then we wouldn't have to be back and forth."
It's easy to see where the efficiency in rental set-up and business operations at Celebrations stems from. Light is cheerful and personable, yet his deep commitment to running the well-oiled machine is unwavering.
'It's a Fun Job'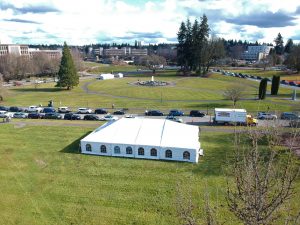 "It's a fun job, and I pay a pretty decent wage," Light repots. "Above minimum wage."
"When you're setting up for people to have a party, they're glad when you show up," he continues. "Once we get there that means the party is going to happen, so that part is kinda fun. You're in different places every day and it's not static. You're doing different things and more likely than not it's something that you've never even imagined."
COVID-Safe Rentals
The entire staff at Celebrations are trained in social distancing protocols and wear the proper protective equipment. They've created a system for their entire operation, even down to the returns where clients remain in the car and Celebrations staff unloads the returned rentals. Returned rentals then quarantine for a period of time before being professionally sanitized. To learn more about their COVID processes, check out, "Celebrations Events and Party Rentals has Pre-sanitized Equipment Available."
Celebrations, "The Party Store"
4614 Lacey Boulevard SE, Lacey
360.754.RENT (7368)
Sponsored