When Christine Forrey and her husband Tom first opened Forrey's Forza Coffee, she didn't know anything about the local business community. Although she'd been involved in different organizations in Lacey, she was still very much a private citizen. But before long, the cafe started hosting Lacey South Sound Chamber of Commerce events and became a favorite gathering place among professionals of all ages.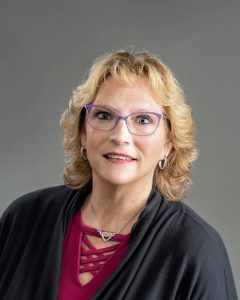 "When you don't own a business in a community, you're just living in a town and business owners may be your friends or neighbors but it's different," she explains. "There is a culture here that I never knew about until we opened Forza. They're an amazing group of people and they look out for each other."
She ought to know. Forrey is now the Lacey Chamber president, a role she took on several years after joining the board. "This area is really special for me because I've lived here since I was in the sixth grade," she says.  "I was always involved in the Thurston School District and other organizations, so it just seemed natural to be on the board. I have a strong feeling about giving back to the community."
Some of her favorite aspects of being a board member were either canceled or modified over the past year because of the pandemic. The annual board retreat is one of them. "I love the synergy that all 16 of us have when we get together," she says. "We spend eight hours planning the future of the chamber."
Forrey also enjoys the yearly South Sound Barbecue Festival, a popular celebration featuring dozens of vendors and a cook-off. "Putting on an event of that magnitude is wonderful," she says. "It's great seeing all our board members with our shirts on and using walkie-talkies, functioning as one unit. We see what it does for the community and how many people show up to support it." The event was canceled in 2020 and has been again in 2021, but she looks forward to the day it can safely return.
For now, all chamber forums are virtual, with Forrey presenting in front of a green screen rather than a live audience. She still loves handing out Business of the Month awards, regardless of the format. "Those are always special for me," she says. "I'm the lucky one that gets to present them." Despite the pandemic, eight new businesses have joined the chamber within the last month.
Forrey and her husband sold their Forza franchise in 2018 and now she is a real estate agent with Keller Williams South Sound Realty. She credits the coffee shop with introducing her to the larger community. "It got me out into the public and now people know me," she explains. "I think we ran a pretty good business and gave back to the community, and that's why people wanted to work with me." She attributes some of her current success in real estate to relationships she built during the Forza years, as well as the fact that chamber members often refer potential clients to each other's businesses.
Many of the skills she's learned through the chamber transfer to her professional life, and vice versa. "Being on the board has taught me confidence in speaking up and presenting in front of large groups," she says. "There's also the aspect of making decisions for your community and I don't take that lightly. In real estate, I'm making decisions for my clients with their best interests in mind."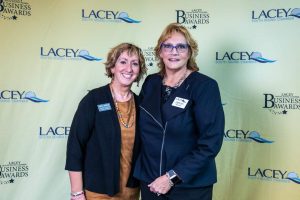 As 2021 unfolds amid a heightened level of uncertainty, her focus is on membership and spreading the word to shop local. "If there's one thing I tell everyone, it's shop local, because that's how we're going to get through this," she says. "If everyone supports local businesses, it will get us to the other side." Looking ahead, she's excited about the chamber's annual Golf Classic in May and she hopes that by September, circumstances will allow for their fall fundraiser.
It's been eight years since Forrey made the leap from private citizen to business owner and chamber member. The experience has given her a new perspective on what it means to serve in a position like board president. "It truly is an honor," she says. "I hope that when someone is asked to be on this board or the executive board, they see it as a chance to think about what they want to give to the community. I'm very grateful for the opportunities I've been given."
Learn more by visiting the Lacey South Sound Chamber of Commerce website.
Sponsored