With so much conflicting information available, navigating the world of diet and nutrition can be tricky. Keto, vegan and paleo diets are just one set of options. More recent trends include the pork fat keto diet, the carnivore diet and the croissant diet. (Yes, you heard that last one correctly. Bread lovers, rejoice!) Registered Dietitian Nutritionist (RDN) Laura Woodworth sees patients who are exploring them all and develops customized plans that work with their lifestyle, preferences, and recommendations from other Heart of Wellness practitioners.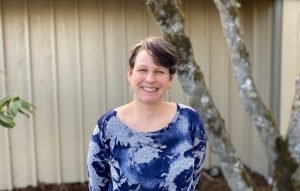 "It's about perspective and individual bodies," says Woodworth. "If someone comes to me on the Keto diet and their labs are excellent and their inflammation is down, I can see they've already made great changes. I would have to carefully consider whether to take them off that diet or to simply make small adjustments because it's working for them. I'm not here to judge anyone's path. I'm here to listen and try to help them go further on their road to health."
In addition to treating her own patients, Woodworth collaborates with her fellow clinicians at Heart of Wellness. They share ideas and examine lab results together to create integrated health plans. "It's pretty amazing to be on a team with naturopaths and Chinese medicine practitioners," she says. "If someone has a particular condition, we can discuss the best course of action and there are a lot of different modalities we can consider. Every single one of the clinicians here has a different perspective, so it's exciting."
Inflammation and gut issues are common reasons patients visit or are referred to Woodworth. Other patients are looking for diets that will help them achieve sustainable weight loss or lower blood sugar levels. Some want to reduce their LDL cholesterol levels while raising their HDL cholesterol levels. "One common symptom might be that they're not feeling very energetic," says Woodworth. "They're hoping that if they change some dietary habits and reduce their sugar intake, they'll feel better."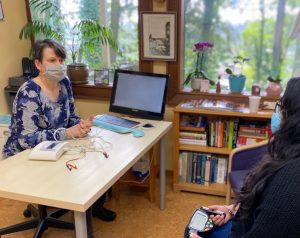 The treatment she prescribes depends on several factors. If the patient was referred by another practitioner who already has them on a dietary plan, she'll consider what supplements they're taking and whether the primary care provider would agree with her recommendations.
Another key issue is mindset. Although every patient theoretically wants a change, their readiness to form new habits or change old ones can vary widely. Woodworth wants to create wellness plans that are realistic for the people using them. "We have a conversation and I find out why they're here to see me," she explains. "If they don't seem too interested in making changes, I listen and then emphasize the things they said to me that inch them toward being more ready. Then I'll present options."
One way to identify possible problem areas for patients is through an elimination diet in which patients cut certain foods out of their regular meal plan. Some may want to remove only dairy or sugar, while others may want to take out multiple foods to see if they are contributing to their health issues. "We go through whatever option they choose, and they get a handout to record symptoms," says Woodworth. "Then we meet again after they've tried it and go through what happened."
If patients would like to have their body composition measured, the clinic has the equipment and it only takes a few minutes. The analysis provides data that gives them a place to start so they can see how far they've come as they continue along with their plan. Woodworth also participates in a Facebook group hosted by Heart of Wellness called Empowering a Healthier You where patients share recipes, tips, and ideas. "It's a community of people helping each other feel more supported," she says. "And it's just fun."
Whether they're attempting to lose weight or get a health issue under control, patients often struggle with feeling alone. Woodworth's approach alleviates that feeling, says Holly Reed, Patient Care Coordinator at the clinic. "Laura meets the patient where they're at and helps them to travel the path they want to go," she explains. "People with weight issues or health concerns they've had for a long time want to get to the bottom of those, not just treat the symptoms. When they have a team working for them, they feel like they're not on this journey by themselves anymore."
Woodworth recalls a woman in her early 40s who was overweight and suffering a lot of bodily aches and pains. As a mother of a large family, she found her health goals were constantly being challenged by her children's desire for foods like pizza and pasta. "She was really discouraged and feeling stuck," says Woodworth. "We talked a lot about not only what she should eat but what kinds of changes she could make that would make it possible to cook for everyone but also maintain this meal plan that she had. She was able to look at her life and find the squishy spots where she could shift a little bit to make room for herself."
The woman was able to talk with her husband and come up with a plan that worked. She came out of the experience feeling empowered. "That's what it's about," Woodworth says. "It's not my business to tell anyone what to do. I want to help inspire people to find their own path and make the changes that are going to be helpful for them."
For more information, visit the Heart of Wellness website or call 360. 570.0401.
Sponsored