Yelm High School senior Dylan Jemtegaard is already considered one of the state's premiere football players. A three-star recruit, the 6-foot-5-inch, 300-pound offensive lineman is an absolute road grader, spearheading the Tornados' powerful ground game with his physical style of play, making life far easier for Yelm ball carriers.

A first-team all-conference pick last year, Jemtegaard has already left his mark on the Yelm program as he has been an integral part in the Tornados' back-to-back state playoff appearances.
But just how good can he be at the next level? His coach has a pretty good idea.  "We are at the bottom of the skyscraper," said Yelm Coach Jason Ronquillo. "We can't even see the ceiling."
Jemtegaard, who currently lines up at left tackle for the Tornados, but has the versatility to play anywhere on the line, will look to reach his high ceiling at the University of California, Berkley after signing his letter of intent to become a Golden Bear in December.
Jemtegaard joins Cal's 19-member class, which is ranked 29th nationally and third among Pac-12 schools, trailing only Oregon (ranked No. 6) and USC (No. 8). Jemtegaard is one of three offensive linemen in the Golden Bears' recruiting class, joining Ryan Lange (6-7, 330) of Pittsburgh, California and Bastian Swinney (6-6, 290) of Minneapolis, Minnesota.
"Ultimately, no school ended up meeting all my needs across the board like Cal did," Jemtegaard said. "The COVID-19 pandemic added additional stress to recruits, and the idea of making a decision quickly and purposefully was incredibly difficult. When Cal showed legitimate interest in me as a student athlete, and I got to know more about the program and school, I knew it was the place I needed to be."
Jemtegaard picked Cal over Boise State, Utah State, Air Force and Fresno State, among other programs, including Washington State University, which appeared to be in the running early on, but interest lessened once Head Coach Mike Leach left the Cougars for Mississippi State. "WSU was likely the first program really ever to contact me," Jemtegaard said. "After the coaching staff change at WSU, the interest wasn't reciprocated, and my desire to stay in state faded. My mom attended UW, so naturally our family cheered purple and gold for much of my life, but I had no desire to go to college in Seattle, and not much came in the way of recruiting from them."
However, it may not had mattered what the in-state programs had done once Jemtegaard started to learn just how perfect a fit he was with the Golden Bears. "Under head coach Justin Wilcox, Cal has bred an unrivaled sense of winning attitude and culture that reminds me a lot of home," Jemtegaard said. "I love the emphasis on detail. Cal is receiving a versatile, blue-collar, hard-working offensive lineman. I feel my strengths lie in my size, physicality, and work ethic. I am excited to develop more elements of my technique, foot and hand placement, and athleticism at the next level."
Cal is coming off a 1-3 campaign that featured four cancelations due to the COVID pandemic with the Golden Bears' lone victory of the year being a 21-17 home win over No. 20 Oregon. However, prior to last season, Cal had posted back-to-back seasons with bowl appearances for the first time in a decade, highlighted by a win over Illinois in the Reebok Bowl in 2019.
According to Ronquillo, the Golden Bears are not only getting an incoming player with tremendous upside, but one with the right outlook who is always looking to improve.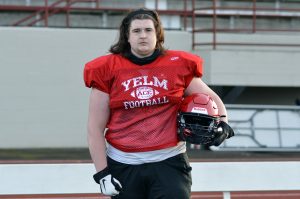 "He plays with the right mentality," Ronquillo said. "Pedal to the medal when the ball is snapped with violent intentions but such great sportsmanship. He plays the game correctly. Being a student of the game, he's always trying to master his craft. His technique gets better every year."
Yelm is in the midst of its greatest run in school history. The Tornados ended a 31-year state playoff drought during Jemtegaard's sophomore season in 2018. The squad made it consecutive state playoff berths for the first time in program history last year, eventually losing in the first round to state semifinalist Kennewick (35-34).
Behind the play of Jemtegaard and his fellow seniors, the Tornados have opened the season 2-0 and don't plan on slowing down.
"Our senior class really wants to keep the ball rolling and stick with the momentum these last couple of classes have." Jemtegaard said. "It puts a lot of pressure on us as a group to have such high standards, but high pressure breeds high results. We're excited to prove that Yelm football didn't leave with the class of '20."