The last few months kept us homebound a lot. But now that the weather's improving, vaccine distribution is on the horizon and spring fever beckons, it's hard to sit still. We're ready to go outside and change up our view from the same four walls we've stared at all year. Even if we can't intermingle, being downtown carries the energy of future festivals and beloved community events. Now the Olympia Bed Store, Holy Lamb Organics formerly Market District showroom changed up both name and location to be in the heart of the action.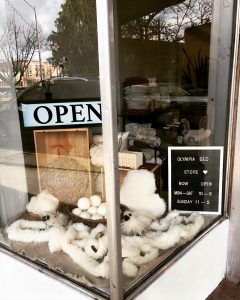 The Olympia Bed Store's new location is at 418 Washington Street SE, nestled between the Painted Plate and Ember Goods. While not too far from their previous location at the historic Steam Plant, owner Jason Schaefer explained that: "While we really enjoyed our time there, a lot has changed since we opened in 2017 and we'd like to be part of the downtown Olympia core of businesses. We immediately knew it was the spot for us because of its layout and fantastic neighbors."
The move took place in late February and staff hopes to offer a full grand opening celebration once COIVD guidelines allow. "Once we get settled, we hope to help downtown Olympia get through the rest of this pandemic and back on its feet," says Schaefer. "We are excited to get to know all of our neighbors better and spread awareness about natural and certified organic bedding, made just 30 minutes south of the showroom."
The Olympia Bed Store is our town's only source of organic and locally crafted bedding. Carrying the entire line of Holy Lamb Organics textiles, they maintain a commitment to green practices, hand-made products and the highest quality craftsmanship.
Like the name says, look for everything to do with beds. Their trademark wool and latex mattresses are built with a base of firm latex topped with a thin layer of soft latex surrounded by premium eco wool. This bedding sandwich is wrapped in organic cotton canvas for a mattress that's supportive with a cushioned top and the option to flip for a firmer night's sleep. Better yet, the queen and king sizes can be purchased as one piece or split down the middle allowing each side to have a slightly different experience.
Or opt for an all wool mattress that showcases the material's unique qualities. Unlike your favorite winter sweater, wool isn't just for keeping you toasty warm. Without using chemicals, their wool is fire retardant, breathable, temperature regulating and moisture wicking. It's hypoallergenic and resistant to dust-mites, molds and mildews.
And no, unlike your favorite sweater, Holy Lamb Organics wool won't smell like a wet dog if you spill your bedside glass of water. Their wool is blessedly scent-free all year round.
Have a mattress you love that just needs a pick-me-up? Consider a fleece, quilted or wool and latex mattress topper. The fleece topper, for example, is neither a stiff, heavy tanned hide or the consistency of a light spring jacket. It is premium wool woven into a natural cotton knit backing. While it looks and feels like sheepskin, it's warm in winter, cool in summer and provides pressure point relief all in one.
But more than just beds, they also offer comforters, pillows, blankets, sheets, duvet covers, towels, robes, sleepwear and baby goods. View a full inventory with sizes, colors, options and shipping details at the Olympia Bed Store website.
Or come browse their downtown showroom seven days a week. Doors are open from 10 a.m. until 6 p.m. Monday through Saturday and from 11 a.m. until 5 p.m. on Sunday. For grand opening details, updates and new product launches, follow them on Facebook or Instagram. Have questions? Give them a call at 360.819.4293 or email hello@olympiabedstore.com.
Albert Einstein once said that, "Nothing happens until something moves." After too many months of inactivity, it's almost time to start moving again (even if well-masked and socially distanced). Movement is progress, change and a new start. Now, thanks to the Olympia Bed Store and their fluffy inventory of Holy Lamb Organics textiles, at the end of a busy day you can relax and recharge for a new day in the lovely downtown sun.
Olympia Bed Store
418 Washington Street SE
360.819.4293
Sponsored