Sports may currently be on hold at South Puget Sound Community College (SPSCC), but that hasn't stopped Clipper student-athletes from excelling in the classroom.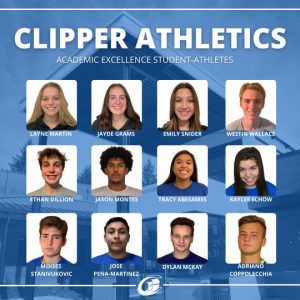 Twelve SPSCC student-athletes from the four Clipper athletic programs earned a grade point average of 3.6 or higher during Fall quarter 2020, which placed them on the academic honors list for the quarter. The South Puget Sound volleyball team earned the recognition of Clipper Athletics Academic Excellence Team Award for earning the highest team GPA for Fall quarter 2020, which included three student-athletes receiving academic honors.
"The pandemic has caused a lot of mental hardship on our student-athletes, so I am proud of all the effort they've put forth in this past year," said Vernell Willingham, SPSCC athletic director. "I have been impressed with our student-athletes' dedication to academic success and their desire to strive for the best. I am also proud that at least one student-athlete from each of our athletic programs made it onto the Vice President's or President's list. As the Athletic Department collaborates with other departments and network across campus, my hope is that we continue the academic success and our goal is one day, all of our student-athletes will receive honors distinction at least during one point of their academic career at SPSCC."
Six student-athletes, including two from both the volleyball and men's soccer programs, were placed on the President's List. Volleyball members Jayde Grams and Layne Martin were joined on the list by men's soccer team members Adriano Coppolechhia and Dylan McKay, as well as Tracy Abesamis of the women's basketball team and Westin Wallace of the men's basketball team.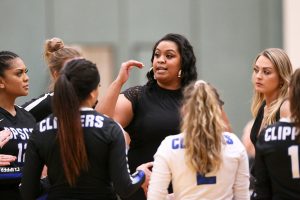 "Having student-athletes take care of business on and off the court is all part of the package of being a collegiate student-athlete," said Tusalava Kuaea, Clippers' volleyball coach, whose squad has not been on the court since November. "They understand being a student first is the number one priority in our volleyball program while being an athlete is second. Our coaching staff couldn't be prouder of our players and the hard work shown throughout the off season."
Grams, a defensive specialist/libero from Bonney Lake, appeared in 15 matches during her freshman season in 2019 and is expected to return next season, according to Kuaea. "Jayde Grams has been a hardworking student-athlete since the day she entered the volleyball program in August 2019," Kuaea said. "She has maintained a 4.0 GPA for the past three academic quarters and consistently leads by example putting in the work in the classroom. I truly believe she can continue this legacy. We are excited to have her one more season."
Freshman Martin, a two-time all-state player at Ocosta High School, was joined by her former high school teammate Emily Snider on the academic list as Snider was placed on the Vice President's List for earning a GPA between 3.60 and 3.99.
"Layne has started off her academic career at SPSCC with honors," Kuaea said. "She has utilized all resources that were offered fall quarter, and I am not surprised with the outcome of her grades. Layne continues to work hard off the court and is a natural leader in her freshman class. Emily has the potential to excel in anything you give her. She set a goal for herself to come into college and start-off strong academically, and she did just that. I am proud of her dedication and can't wait to watch her progress throughout these next two years."
Additional members on the Vice President's List include Ethan Dillon (men's basketball), Jason Montes (men's basketball), Jose Pena-Martinez (men's soccer), Moises Stanivukovic (men's soccer) and Kaylee Schow (women's basketball).
In December, the Northwest Athletic Conference (NWAC) Executive Board agreed that all sports scheduled to begin winter term will resume competition on March 1. However, the resumption of competition was dependent on the decision of each member college to participate as well as the approval of state and local health authorities.
South Puget Sound Community College, elected against returning to play for the 2020-2021 season, and instead will focus on the 2021-2022 athletic season. "While we are happy that the NWAC listed a return-to-play release for early December, our main concern is still the health and well-being of our student-athletes," Willingham said.
Sponsored