After a whirlwind holiday season, Bittersweet Chocolates is entering the new year with a new downtown Olympia location and a fresh mix of flavors just in time for Valentine's Day. From dark chocolate rosemary to passionfruit caramel, Bittersweet Chocolates helps create special memories and moments through their silky chocolate truffles. Encased in white brick and surrounded by picture windows, the new home of Bittersweet Chocolates invites a preview of these handcrafted treats.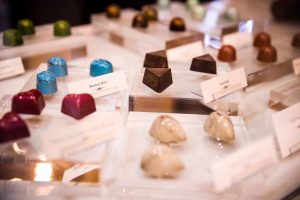 For Deb Smith and Cindy Uhrich, co-owners of Bittersweet Chocolates, plans for a new location were in place since before the COVID-19 pandemic. And although Cindy and Deb are moved in and operating out of their new storefront, it is currently closed to walk-in customers. For the time being, Bittersweet Chocolates is selling exclusively through their online shop. Customers can pick up their orders through curbside pickup, or local free delivery within the Olympia, Lacey and Tumwater.
"We love the new space," says Cindy. "It's great. Lots of light and the kitchen is a lot bigger. We haven't been open for walk in yet. Our hope is that mid to late spring we will be open to walk in traffic, but there's a lot a dependent upon whether or not that happens."
While making the move into their new Columbia Street location, it took special coordination to accommodate social distancing measures, while also preparing the new Bittersweet Chocolates kitchen for the upcoming holiday season. During the holidays, Cindy says Bittersweet Chocolates experienced an outpouring of online orders, leading to busy schedules for the co-owners, who both worked around the clock to produce fresh, handcrafted truffles for each customer.
"We can't stress enough how thankful we are for all the community support and customer support we've had," says Cindy. "It was huge. Huge. It also made for late nights and we had to actually restrict some of our online storefront, because we wanted to make sure that whatever orders we took, we'd be able to deliver on."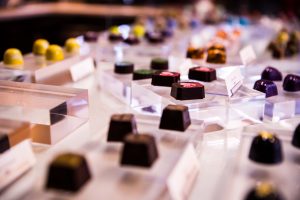 Settling into a new year and new location, Cindy and Deb have been back in the test kitchen, preparing new flavors in anticipation for Valentine's Day. And in the Bittersweet Chocolates fashion, Valentine's Days selections are housed in themed holiday boxes, fit for the season of love. Nestled within the conversation hearts box, four truffle flavors, including rich walnut caramel and caramelized milk, dark and white chocolates are all wrapped together in a Valentine's Day themed ribbon.
Housed in a deep red box, five seasonal truffles are sure to celebrate Valentine's Day, adorned with hearts and infused with fresh flavors, including white chocolate strawberry cheesecake, passion fruit caramel, dark chocolate rosemary, honey and orange, and the signature dark chocolate truffle. Complete with a ribbon bow, the decadent 12-piece box is filled with a mix of Valentine's Day flavors and classic truffle selections.
To accompany holiday truffles, Bittersweet Chocolates will also produce chocolate covered strawberries, a Valentine's Day tradition for many. Strawberries are available for pre-order and will be available for pickup or delivery one to two days before Valentine's Day.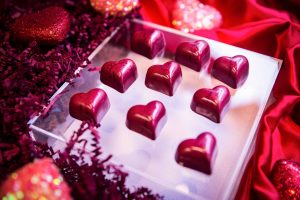 As winter transitions to spring, Cindy and Deb look forward to the possibility of opening their new storefront to walk-in customers, while also expanding the Bittersweet Chocolates menu. As a new take on their chocolate truffles, Cindy and Deb are collaborating with Olympic Mountain Ice Cream to develop new ice cream flavors that are inspired by the truffles at Bittersweet Chocolates. After starting with four different ice cream varieties, Cindy and Deb are excited to experiment and introduce new ice cream flavors throughout the year.
"We've got a roasted white chocolate," says Cindy. "A real, real dark rich chocolate. We're going to do a maple bourbon, pecan and caramel. And the last one is a combination of a white chocolate mint and a dark chocolate mint that will be swirled together. Those are the four we were going to start with for sure."
To learn more about the truffles available at Bittersweet Chocolates, including Valentine's flavors and special gift boxes, visit the Bittersweet Chocolates website.
Bittersweet Chocolates
203 Columbia Street NW, Olympia
360.489.1812
Sponsored