If you've spent any time at the Uptown Lounge, you've seen it. The server, balancing a tray with a mysterious concoction covered by a large, bell-shaped glass, weaves through tables to deliver it to the chosen customer.  In a moment that combines showmanship and culinary finesse, the cover is whisked off, a plume of smoke arises, and the mystery is revealed: a smoked old fashioned.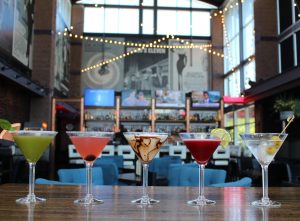 This signature drink is just one of many factors that make dining at Yelm's Uptown Lounge an experience rather than just another meal. Given the proximity of Yelm Cinemas and the Prairie Hotel, visitors from out of town can have an effective date night without walking more than a quarter mile.
"We have people who come from Tacoma and Seattle that stay at the hotel and have drinks or appetizers before a movie and dinner after," says Grace Duda, marketing manager for Prairie Park, the parent company of all three businesses. "It's all within walking distance of each other."
Other drinks at the Uptown Lounge include the cotton candy cosmo, which has pop rocks on the glass rim, and the drunken gummy bear, a mixture of rum, schnapps, lemon-lime soda and – you guessed it – gummy bears. "We like to play with our food and drinks," says Duda. "There's a lot of creativity that goes into the menu."
On the food front, the lounge offers homemade pickles and locally-sourced burgers from McKenna's Stewarts' Meat Market. "They do a special blend for us," says Duda. "You can't get it anywhere else."
When visitors move over to the movie theater, they'll find unlimited popcorn and soda refills, recliner seats and first-run movies along with classic films like "Toy Story."  "It's an opportunity to see some of our most beloved movies," Duda notes. "Having those two businesses in the same building makes it more of an experience."
Returning to the hotel, guests can enjoy spacious rooms with high ceilings and balconies. "We have one en suite that I stayed in which has a giant bathtub," says Duda. "You can open the doors and watch tv right from the tub." Pet-friendly rooms are available for those who want to bring their four-legged friends.
Like the theater and restaurant, the hotel is uniquely designed. "We're not a chain in any way," says Duda. "All three of these businesses are locally-owned and independently operated." For locals who want to enjoy a night out or out-of-town guests looking to celebrate a date night, Yelm's Prairie Park has all the bases covered.
Learn more by visiting the Yelm Cinemas, Uptown Lounge and Prairie Hotel websites.
Sponsored