It takes a committed, dedicated effort to keep culture alive in any community. Even in a city as progressive as Olympia, leaders are still needed to help encourage greater diversity in our neighborhoods and businesses. One such leader is Shawna Hawk, a longtime singer and dancer with a passion for culture and social issues. She is making great strides in enhancing and supporting diversity and inclusivity in Thurston county as the director of Media Island International and through her involvement in The Women of Color in Leadership Movement. Shawna is spearheading exceptional change in the community by pushing for new opportunities for people of all backgrounds to come together and connect.
Throughout her life, it is evident that culture and music have always been close to Shawna's heart. It was only a matter of time before she married the two and found ways to utilize music to encourage more cultural awareness. Growing up in a musical family fostered a lifelong artistic spirit in Shawna, and as a result she has spent most of her life singing and dancing. Even as an elementary school teacher she often infused music from a variety of cultures into her classroom, sometimes even bringing in local musical groups to perform for her students. It was through this experience that Shawna recognized how music can be used to expand cultural awareness and inclusivity. "Music is a tool for social justice," Shawna says. "It is a powerful tool that people can use to get the word out and start the conversation."
Shawna realized she wanted to be an even more integral part of the culture conversation, so she set out to continue her education to better support this goal. After earning her master's in Leadership & Education, Bicultural Development, and Social & Human Services from Pacific Oaks College, she decided to return to The Evergreen State College to earn her second bachelor's degree with a focus on Cultural Studies and Communications. This experience opened up opportunities for Shawna to study abroad in Guadeloupe, France, where she was able to connect with Afro-French women and attend the Afropunk Festival. "It was amazing to be able to go there, surrounded by a huge number of artists, to see the diversity and have these community conversations around social justice and change," Shawna says. The festival is put on by the organization Afropunk, which focuses on empowering Africans around the world through music, art and social justice activism.
While at Evergreen, Shawna also had the opportunity to participate in their radio station called Vibrational Rising. She adopted the name DJ Lady Hawk during this experience, playing primarily hip-hop, R&B, and soul music. After participating in the show, Shawna was approached by Media Island International to be on the board and manage their radio station, KOWA 106.5 FM Olympia, a daily show that starts at 5:00 a.m. on weekdays. "We bring on artists to talk about political issues and how they use their art to express themselves," Shawna says. She loves the cultural diversity of the artists that come in and wants to continue to empower these musicians by giving them a platform to share their perspectives and experiences with others.
Media Island International is a black-owned and black-run nonprofit cultural center that was founded by a fellow Evergreener around 30 years ago. The initial focus was environmental justice, but over the years it has transitioned to more social justice issues. Shawna especially propelled race and gender issues when she started there. She brings out guest speakers to discuss these issues and organizes events to help support artists and women of color in the area. "There is so much more to do around the arts," Shawna says, "so much movement and positive change that can be made using our art." She is always looking for ways to support local artists, which is why she has continued to organize the Artists of Color Reparations Fundraiser. The event gives artists of color a chance to set up tables to showcase their work, and features a stage for spoken word artists, comedians and rappers to perform.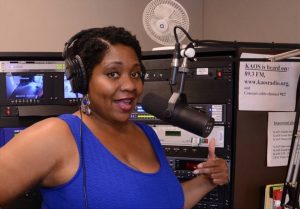 Shawna soon became involved in another local group called the Women of Color in Leadership Movement. This group features monthly meetings that place heavy emphasis on opening up dialogues surrounding the challenges and triumphs of minorities in the community. It gives women of color a safe space to talk about the struggles they face and discuss strategies to overcome these obstacles. "Depending on their background, women of color have different challenges, so we need to have those conversations about colorism and the differences that people experience," Shawna explains. Groups like these and nonprofits like the cultural center really help individuals come together to grow stronger as a community while maintaining cultural individualism.
Want to be part of the movement? Media Island International is always grateful for community support through donations, and with the projects Shawna has in mind, every dollar counts. Check out the Media Island International Facebook page to participate in Shawna's Giving Tuesday Fundraiser for Media Island International, or go to their website to become a sustaining member. With community support, the cultural center can continue to address social justice issues and give women of color even more opportunities to connect and grow. Through her commitment to diversity and inclusivity, Shawna is truly paving the way for greater representation of cultures in Thurston County.