Japan's attack on Pearl Harbor on December 7, 1941 plunged the United States into war just as the holiday season was getting into full swing and there was little organized response to the influx of soldiers visiting Olympia on leave. A number of people invited them into their homes for a holiday meal. Governor Arthur Langlie even had several soldiers share Christmas dinner with his family at the Governor's Mansion. The local newspaper noted an elderly woman who delivered a bag of fruit and a pot of coffee to a soldier guarding an Olympia street corner in the wind and rain on Christmas Eve.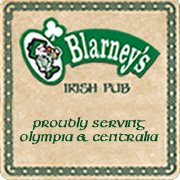 As the war progressed, the community's response became more organized. A USO Club was built in 1942 on East Fourth Avenue. It was destroyed by arson fire in December 1943, but soon rebuilt on the same site. Staffed by volunteers, the Club was a bustling center of activity. Soldiers could relax, grab a cup of coffee, read a book and sometimes catch a movie. Or they could join in the Club's many games, dances, and other activities.
In December 1942, Olympia's USO (United Service Organizations) Club was a hive of holiday activity. Through the generosity of local organizations and the many people who donated through "Yuletide cheer" boxes in businesses, the Elk's Jingle Club was able to raise hundreds of dollars to give soldiers a merry Christmas. They sent presents to patients at military hospitals at Fort Lewis and McChord Field (now JBLM) and sponsored a party at Olympia's USO Club.
At the party, soldiers could enjoy a buffet dinner and dancing with music from the Elks Orchestra and Fort Lewis musicians. Soldiers painted a stage scene of Santa Claus descending to the world in an army jeep rather than a sleigh. On Christmas Day the USO held an open house and connected soldiers with community members who invited them into their homes for Christmas dinner.
The USO hosted holiday parties and activities at their building every year for the rest of the war. In 1944, for example, soldiers and hostesses held a Christmas pageant showing the story of the Nativity. Ending with a scene of wartime Christmas, the audience joined in the song "Until the Lights Come on Again" holding candles. A jukebox dance completed the evening.
Many of these young soldiers were away from home for the first time in their lives. Long distance calls were expensive. One lucky winner at a card game tournament won a free call paid for by the Olympia Army Mothers Club. Staff Sergeant Earl Ferko was the winner. He chose to call his girlfriend back in Columbus, Ohio. Community members raised money through the Servicemen's Telephone Fund to pay for patients' phone calls at Fort Lewis and McChord Field's hospitals.
Olympians also found other ways to bring cheer to military hospital patients. The Elks Jingle Club raised money to send gifts and the Olympia Retail Board put out barrels in stores where people could deposit simple wrapped gifts with personal notes attached. These gifts were delivered to the hospitals by the Hospital Recreation Corps or "Gray Ladies."
In 1943, Olympia women's church and service organizations clocked in 1,400 hours to sew gift bags and 20 hours wrapping gifts. Through the Junior Red Cross school children collected chewing gum, cookies and tree decorations to include in the gift bags. The USO hostesses donated games for the bags. Local groups also helped decorate the hospital and sponsored entrainment groups.
The families of soldiers were not forgotten either. In 1944, for example, Olympia's American Legion Auxiliary organized a gift drive for the children of enlisted men at North Fort Lewis. The "Gray Ladies" distributed these gifts at a Christmas tree party.
Others tried to keep things normal and spirits up, using tradition to cope with everything going on. Harold W. Tupper continued his eight year tradition of dressing as Santa Claus and visiting stores, clubs, and schools, delighting children (and adults) alike. In 1944 he received 2,500 letters to Santa and planned to write back to the 600 who had left return addresses.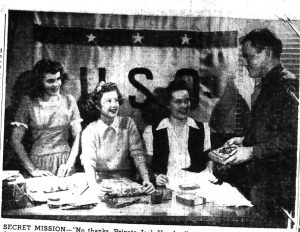 But the war was never far away. Besides missing and mourning relatives at the holidays, the war effort never rested. Rationing put a pinch in gift giving and even charity. The Salvation Army was forced to replace its usual food baskets with checks in 1943. War bonds sales continued during the season. And nothing could be normal for Olympia's Japanese American population, interned in Tule Lake, California.
With the war over, Christmas 1945 was a happy, if poignant occasion. Things began to get back to normal as soldiers started to come home and rationing and blackouts ended. Olympia held an outdoor Christmas tree and decoration contest and touted "Victory Bonds" as perfect last minute gifts. But more than that people celebrated the return of peace.