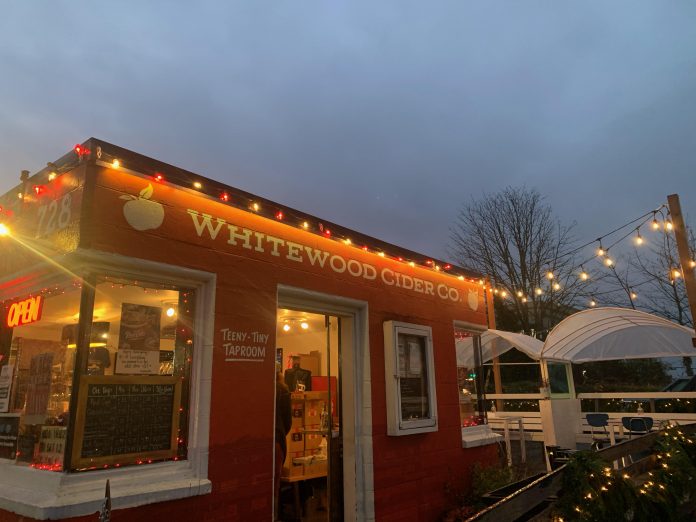 Nobody panic. Downtown Olympia's beloved Teeny Tiny Taproom is staying right where it is, but the good folks at one of Olympia's most popular cideries, Whitewood Cider, are relocating their production facilities from Rich Road in South Olympia to the corner of Sussex Avenue (Highway 507) and Hodgden Street in the heart of Tenino's historic downtown.

"We've outgrown the space on Rich Road," explains Heather Ringwood, co-owner and -founder of Whitewood Cider. "We knew it wasn't going to be our forever home because we've always known we'd want a place where we could also have a taproom and retail space attached to the cidery."
Heather and her husband David White have been shopping for new locations for a while. A few interesting options popped up in the greater Olympia area, but they kept coming back to Tenino thanks to a connection with Mayor Wayne Fournier. "I met David at a Port of Olympia Commission meeting about four years ago and it was obvious he was a master craftsman," Wayne explains. "After that meeting we became friends. Over the years it seemed more and more like Tenino would be a good fit for a new location so we worked on securing a spot and here we are today, close to Whitewood opening in Tenino."
Whitewood Cider has also done work with the Thurston Economic Development Council (EDC) over the years, where they got to know Aslan Meade, the EDC's director of strategic alliances. Aslan is a resident of Tenino and has been a huge champion of bringing their operations into town. "The Mayor and I were recruiting Whitewood to locate at the new Agricultural Business Park development here in Tenino. Heather and Dave fell in love with the town and while they couldn't wait for the Ag Park to open, I'm not complaining, as they will now be a block from my house!"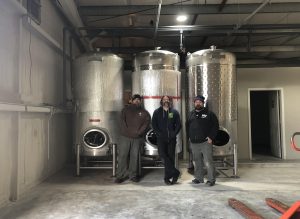 The biggest challenge Heather, Dave and their team are up against is the moving of the brewing equipment. "We have to time production so that we have enough premade cider ready to go," Heather explains. "Then we disassemble the tanks in the existing location, tip them onto a trailer, and drive them down to Tenino. It'll be a lot of our brewing friends and a few trailers moving back and forth between here and Tenino for several days."
Heather worked for Batdorf & Bronson coffee roasters for years and vividly remembers the day they relocated their production facilities. "I just keep thinking about seeing that huge roaster driving down Capitol Way on a forklift," she laughs. While their tank move won't be quite like that, there is a much greater distance to cover. Rest assured they'll be using backroads, not the interstate. They'll also need to move pallets stacked with bottled cider as well as "bag-in-the-boxes" or totes full of cider that is resting before it's ready to be bottled.
Heather very much hopes they'll have the cidery up and running in the new location sometime before the end of the year. They also plan to start selling bottles from a small retail area that Heather hopes will grow. Their ultimate vision should come to life in the first quarter of 2021 with the taproom attached to the cidery. Naturally, they plan to feature plenty of Whitewood Cider, but hope to host guest taps from other local breweries as well.  "We are all about fostering a strong community of Thurston County brewers," Heather explains.
The big move has been made possible thanks to help from their friends, including Rob Horn, owner and brewmaster at Triceratops Brewing Company and Pat Jansen, owner of Carbon Pop burgers and previously a beer brewer for both Matchless Brewing and Three Magnets. These two, along with Darin Heinemann, a Whitewood Cider team member and Dave's right-hand man, significantly lightened the load in terms of this exciting move.
One of the first ciders to be brewed in the new set up will most likely be their annual holiday offering, Merry & Bright. Heather says the move will be a great opportunity to evaluate their inventory and do a few special releases toward the end of the year. "Now is a great time for those ciders to be tasting really good," Heather says. "Our favorite apple to ferment and drink is called Kingston Black. Dave has a very small amount of those apples left so that might make a nice special release."
Follow Whitewood Cider on Facebook and Instagram and stay tuned for the big announcement. A jaunt to Tenino for a couple of bottles and a peek at the new space will be worth the drive for cider fans!