As holiday light displays illuminate local neighborhoods and storefronts adorn their windows with tinsel and ornaments, small businesses across Thurston County have the perfect present to put under the tree for every member of the family, including the pet! Whether in search of a gourmet treat, toy, or a special something for a pet parent, you can find what you need right here. Check out this list to shop local Thurston county for pet gifts this holiday season.
Mud Bay
704 Trosper Roadd SW, Tumwater
360-810-8580
2410 Harrison Avenue NW, Olympia
360-352-4700
5500 Corporate Center Lane SE, Lacey
360-810-8880
8909 Martin Way E, Lacey
360-459-9200
For over three decades, Mud Bay has been a one stop shop for pet supplies, food, and treats for local dog and cat families. Focused on the health and happiness of pets, Mud Bay offers nutritious pet treats, unique chew toys, and fashionable outfits for furry friends. Flexible shopping options include in store, online or through curbside pickup.
For canines who love meaty treats, Mud Bay Jerky for Dogs is packed full of protein and is available in beef, turkey, or chicken. For pups ready to play, chew toys abound in a variety of holiday and animal themes, including the stuffed Fluff & Tuff minty candy, Tux penguin or Bleu the narwhal. In the spirit of the holidays, Chilly Dog and PetRageous offer stylish pet sweaters in a range of prints, including Chilly Dog navy vail dog sweater and the PetRageous Designs salmon dog sweater. A quintessential cat toy, Goli Design nip-naps contain organic catnip grown in the United States.
Fluffy and Floyd
5211 Capitol Boulevard SE, Tumwater
360-584-9500
Within the Southgate Shopping Center in Tumwater, Fluffy and Floyd caters to a range of pet breeds, sizes and occupations. Featuring over two dozen varieties of pet food, Fluffy and Floyd also stocks treats, toys and pet accessories.
For dogs, Fluffy and Floyd carries both bulk and pre-packaged treats. To provide an afternoon of play followed by a cozy nap, Fluffy and Floyd offers engaging toys and plush beds for both dogs and cats. For the fashionable canine, there is also a selection of clothing and team gear for a variety of occasions.
Tack Room Too
201 Lee Street SW, Tumwater
360-357-4268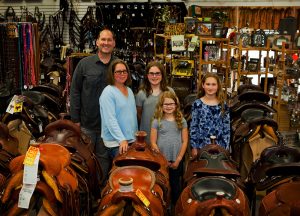 In the heart of Tumwater, Tack Room Too is a paradise for both the horses and horse lovers in life. Family owned, Tack Room Too has options for both western and english-style equestrians. Catering to a wide range of ages and experience levels, Tack Room Too carries equipment, apparel and accessories for the rider, in addition to products for horse care and maintenance.
Tim O'Brien, co-owner of Tack Room Too says that the utmost present for any horse owner would be a new saddle, with a range of styles in stock in-store and online. To accompany a saddle, Tack Room Too also carries accompanying accessories, including saddle pads, reins and stirrups. Not just for humans, Tack Room Too also stocks an array of treats and stocking stuffers for horses including grooming products for a healthy mane and coat. For the horse-lovers, there is also an extensive selection of equestrian, western and country-themed merchandize available at Tack Room Too, including Breyer collectible horse models, home goods, kitchen items and décor.
At Tack Room Too, there are multiple ways to shop, including in-store, online (they can ship anywhere!) and through curbside pickup. In store, friendly and knowledgeable staff can recommend the perfect gifts for the horse, horse owner, or horse lover in their life.
Crossed Paws Bakery
1524 State Avenue NE, Olympia
360-280-8475
For dogs who crave a special treat, Crossed Paws Bakery is in the business of gourmet cookies, biscuits and other treats made specifically with canines in mind. Sourcing a significant portion of ingredients from local farmers, Crossed Paws Bakery creates both sweet and savory treats, including apple bacon cheddar, apple & pumpkin and salmon flavored varieties. Local to Thurston County, there are multiple places around town to try a treat from Crossed Paws Bakery, including the Olympia Farmers Market, The Pet Works in downtown Olympia and shipped to your home through the new Crossed Paws Bakery website.
At the Olympia Farmers Market, Crossed Paws Bakery will have several holiday specials, where shoppers can pick up a festive deal for their furry friend. Their $10 fill up box will allow customers to fill up a takeout style box with holiday treats. Each box also comes with a free tennis ball repurposed from the Tumwater Valley Golf Club. Several treat varieties will include a holiday twist this year, including the double bacon pig treats that will be wrapped in a special holiday packaging.
Kiperts Korner Feed
8439 Old Highway 99 SE, Olympia
360-352-3309
For three decades, Kiperts Korner Feed has been home to a range of supplies for both animals and agriculture. With a diverse inventory, and a festive and friendly atmosphere, Kiperts Korner Feed carries potential holiday gifts for animals and humans, including winter hats, key chains and holiday candles. Gift cards can also be purchased for any pet owners on your holiday shopping list. For furry friends, Kiperts Korner Feed has chewy toys for dogs, in addition to ball toys for horses. Available to shop in store, or for curbside pickup, Kiperts Korner Feed also has treats for dogs and cats.
The Pet Works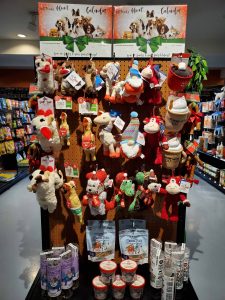 407 4th Avenue E, Olympia
360-489-0134
From a golden retriever, to a bearded dragon, The Pet Works is a downtown Olympia oasis for a wide range of pet owners. Family owned, The Pet Works carries supplies for pets of all forms, including, dogs, cats, reptiles and freshwater fish. A pet store and pet supply store, The Pet Works also is home to aquatic animals, reptiles and small mammals.
With a wide selection of toys and treats, dog parents can find special selections from Crossed Paws Bakery in addition to endcaps with holiday-themed toys. Not only for dogs and cats, though, The Pet Works also carries potential gifts and treats for birds, reptiles and aquatic animals.