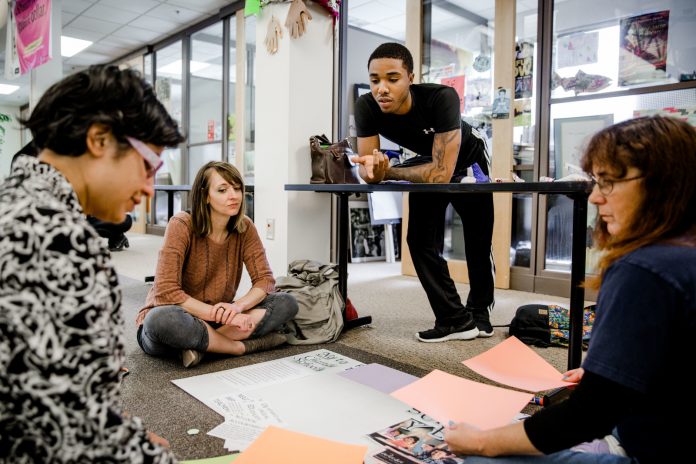 Submitted by The Evergreen State College
In 1972, Dr. Maxine Mimms began holding informal classes at her kitchen table in Tacoma's historically Black-owned Hilltop neighborhood. A faculty member at The Evergreen State College, Dr. Mimms made it her mission to bring the innovative Evergreen education out of the woods in Olympia to her own under-served urban community. These kitchen-table classes have evolved today into a powerful program where community members from all backgrounds earn their bachelor's degrees and set themselves up for a better future.
Staying true to the Evergreen format, the program has a pool of faculty members who work together to bring an interdisciplinary perspective to the whole learning community. They share their expertise in mathematics, sociology, filmmaking, law, history, biology, writing and more in a way that invites students make connections across disciplines and without the academic barriers of a traditional college education.
Each year, the program operates around a central theme with everyone contributing their knowledge and experiences for the entire community to learn from. This year, the program's theme is about the power of community and creating pathways to resourcefulness. Thanks to a nimble team of faculty and staff, the central theme each year is able to respond to current events in order to prepare students for the future.
"You learn a lot of skills that are highly adaptable wherever you go. Research, public speaking, collaboration, etc.—all things you can use in a variety of fields," says Natasha Lemke, a recent graduate of the program who now works as their student services coordinator. "A super-specific degree can actually narrow your choices."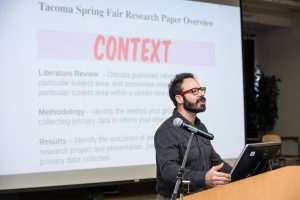 Like all Evergreen students, those in the Tacoma program don't select preset majors. Instead, you can develop your own academic pathway that best represents what you want to achieve after college. Among other disciplines, you can shape your education to prepare for careers and graduate studies in:
Community and organizational development
Law, justice and public policy
Public administration and management
Environmental studies and public health
Social and human services
Education and outreach
Communication and media literacy
While the program has typically only been open to transfer students with 90 credits or more under their belt, it recently opened its admissions to all, including first-year students. With flexible scheduling options, affordable tuition, and faculty trained in reducing learning anxiety, it remains an especially welcoming place for returning adult learners.
"There are a lot of burdens on the shoulders of adult learners," says Lemke. "Faculty work hard with our students to make sure they're supported."
That remains true in a COVID-19 learning environment. The task of moving classes temporarily online hasn't been easy for any college, but Evergreen's adaptability, innovative structure and compassionate foundation has helped to smooth the transition for students looking to start or finish their degree.
In times that have hindered our ability to connect with one another, Evergreen's Tacoma program offers a learning community that keeps a meaningful social space alive with the purpose of preparing for the future. With sturdy social justice roots that keep lessons and themes anchored in the real world, it's an exciting place to be during the monumental cultural and political shifts occurring in the world today.
The program is an affordable, quick, and flexible option for earning your bachelor's degree. During the pandemic, they are also waiving the $50 application fee. Applications for the next academic year open December 7.
Learn more about Evergreen's Tacoma program and apply here.