The North Thurston Public Schools (NTPS) in partnership with the City of Lacey and the Lacey South Sound Chamber of Commerce, has launched its fourth annual Compassionate Community Project in support of Lacey's Food Pantry. The main 5,500 square foot building is currently under construction and expects to be fully functional spring 2021. The Farm Stand was open during the past growing season, providing fresh produce from local sources and the therapeutic veteran gardens at the back of the property. This year's project is set to raise $100,000, which will help to pay for operational expenses such as freezers, refrigerators, shelving units and office furniture.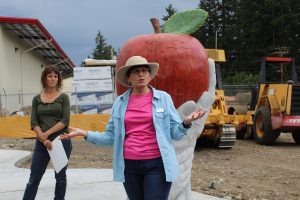 Lacey's Food Pantry is a $3.5-million project featuring a building comparable to the Thurston County Food Bank's downtown Olympia location. Conveniently located at 7027 Martin Way, it is on the bus line and is within walking distance of residential neighborhoods.
"The new Lacey Food Pantry will be a hub for services," says Judy Jones, development director at the Thurston County Food Bank. She expects there to be wrap-around support from various nonprofit organizations that help veterans, seniors, and families with information about housing, health care and employment.
"Because of COVID-19, the food bank has seen a 20% increase in people seeking resources," explains Jones. "Twenty-five percent are first time users and come from every economic level. We expect the numbers to rise." Lacey has been identified as an underserved area by the Food Bank. The site will be a welcomed destination for providing food and other services.
The Compassionate Community Project began with the NTPS Compassionate Community Initiative, credited to former Superintendent Raj Manhas. It is connected to an international movement called Charter for Compassion. Dr. Debra Clemens, current superintendent, attached an annual project to it, helping promote compassion throughout the Lacey area The 2018 project netted $27,000 from the students' "Make a Change" coin drive. This helped an early stage of the Lacey Food Bank, including the farm stand and the garden. "There's a lot of hunger out there, especially during COVID-19" say Courtney Schrieve, NTPS executive director public relations. All of the 22 NTPS schools participate in this project for the whole year.
"We are raising awareness," explains Schrieve, as well as raising funds. According to the Food Bank, 25% of food produced ends up as waste, usually in the landfill. The Food Bank is tireless in its efforts to rescue, redistribute and redirect food from grocery stores, farms and restaurants, all with a goal to get great food on people's tables. It is sobering to realize how many children, families and seniors are in need of food. Many students in the NTPS district receive free or reduced cost breakfast and lunches.
The NTPS district is proud to promote compassionate acts and recognize acts of compassion to others, our community and the earth. NTPS follows principles that recognize that "we treat each other with kindness, respect differences and make our district a place where everyone belongs and feels safe."
The Lacey South Sound Chamber of Commerce is an enthusiastic partner for the project. "I'm super excited," says Blake Knobloch, the Chamber's new executive director. "There is a real need right now to open a food bank in the City of Lacey." The Chamber's 350 members are encouraged to participate in "rounding up" receipts. That's when customers take their bill up to the next dollar, donating the change to the fund. "Our members and business folks are extremely giving," he adds. His connection with the Lacey community covers his whole life, growing up here and attending Timberline High School.
"What we do collectively is so much more powerful than by ourselves," says Jones. This speaks to the many contributions that will make the Lacey Food Pantry a reality. It also speaks to the power we have as individuals to work together to make our community a better place for all of us. The next time you pay your City of Lacey utility bill, either online or through mail, you can make a donation to the project. Employees of the City have payroll deduction options to support the Lacey Food Pantry as well as other projects.
"I am passionate about this project and continuing the fantastic partnerships that we've developed," says Jenny Bauersfeld, community relations specialist with Lacey's Public Affairs Department. She's participated since its inception and echoes the importance of having a facility in Lacey. The city has made a brief, informative video about the Compassionate Community Project.
World Food Day happened on October 16, 2020, but hunger and food insecurity continue. Last year our community food bank served over 57,000 individuals from babies to seniors. The bank helps feed meals to 1,000 children over weekends. It is estimated that more than 69,000 people need services from the food bank. We all need to eat every day, but getting adequate nutrition is certainly challenging for many.
We are a compassionate community! All donations make a difference. You can show your support today.
Sponsored