Whether a sculptor, painter, or throwing a bowl on a pottery wheel, Gallery Boom is working to foster a support network for artists to develop their own voice and platform. At Gallery Boom in Olympia, art isn't captured by one specific medium or style, but is instead an opportunity to nurture a community that celebrates creativity and a diverse means of expression.
"There are lots of ways we like to divide ourselves as artists," explains Christine Malek, owner of Gallery Boom. "And especially for artists, there aren't a lot of ways to build us together and to put us in community. We get chopped up in a million different ways. That's why I'm in this. I want to help people. I would rather help a lot of people sell art than just myself."
At a time when art can easily become commodified and is often underappreciated, Malek works with professional, student and hobbyist artists to hone their craft and grow as creatives in the local community.
"Art is still really important in our lives," says Malek. "And Gallery Boom has always been about valuing artists. We're here to help people and serve as a learning space and a growing space."
When Malek welcomes new artists to the Gallery Boom family, she likes to sit down with each artist, discussing their work and life as a creative. And in finding ways to build up local artists, the gallery became a staple of Olympia's downtown landscape, partnering with local civic groups and organizations to host art classes, live music and creative networking opportunities.
In the wake of the COVID-19 pandemic, though, Gallery Boom's tight-knit community has had to acclimate to the era of social distancing and Malek has had to discover alternative ways to elevate the work of fellow creatives. Hoping to cultivate a more personal experience for gallery visitors, Gallery Boom has shifted operations, including a move to a new location, and an expansion of Gallery Boom's online showroom.
Located on Wilson Street in Olympia's Eastside neighborhood, Gallery Boom's new space is a smaller square footage than its previous downtown location, but is now focusing on curated collections from each artist and a customized shopping experience for gallery visitors.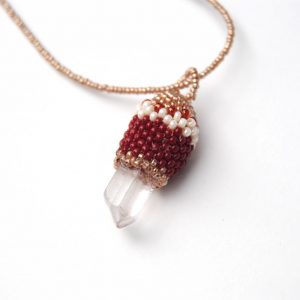 "I feel lucky that we are still really supported," says Malek. "I feel lucky that a lot of our artists made the move with us because I've had to change everything. The people, the company and the name are all the same but the way I run the business changed. I've had to adapt because the way Gallery Boom was built downtown was to be community based. Which is great, which is exactly the kind of gallery I want to run. But it's also exactly the most unsafe way to be during a pandemic."
Often working with many higher-risk groups, Malek says Gallery Boom's once-robust event schedule is postponed indefinitely to keep both artists and gallery visitors healthy. After COVID-19 restrictions are lifted and the community is once again allowed to congregate, Malek says she is looking forward to bringing artists and visitors together once again.
In the meantime, though, Gallery Boom is joining the online scene, highlighting local art through their virtual gallery. Honoring the over 90 artists featured throughout the gallery's space, Malek works to elevate not just the finished pieces that are seen online and on gallery shelves, but also the creator behind each piece.
"I want to make this like a local Etsy, or what it should be locally," says Malek. "I want this to be a place where people locally and people all over the world can come and see Western Washington artists. And have the gallery be more artist-based than thing-based. Because it's really easy to commodify and to forget that humans actually make the art. We've always been artist-based and to help artists and to keep art respected as a profession."
Combining a virtual showroom with a cozy living room atmosphere, Gallery Boom's new location allows for a more bespoke visit. In addition to the items displayed on store shelves, visitors can also look at an artist's full collection through an in-store touchscreen. Gallery staff can then retrieve any additional pieces of interest from the gallery's storeroom. In addition, Malek is taking several precautions to maintain social distancing and keep visitors healthy when inside the gallery.
"We take appointments because we want people to feel safe and to feel comfortable," says Malek. "Since it's a small space, we leave the door open and we have an air purifier to circulate the air. In such a small space, I allow only two or three people in at a time."
For online shoppers, Gallery Boom also offers home delivery within 25 miles of the gallery, in-store pick up and ships throughout the US.
To view the artists and collections available at Gallery Boom, visit the Gallery Boom website.
Gallery Boom
201 Wilson NE, Olympia
360-259-3412
Make appointment via email at galleryboomolympia@gmail.com
Sponsored