Of the 8 team members that make up Olympia Community Solar (OlySolar), 7 are under the age of 30. Motivated by the realities of the planet's changing climate, OlySolar is a nonprofit whose mission is to help every electric customer in Washington access clean energy.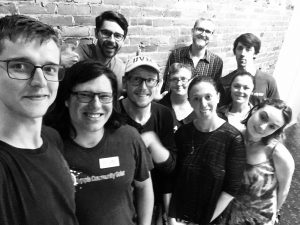 Mason Rolph and Ari Simmons are at the helm of this ambitious young team. Their paths crossed when Mason was working toward his bachelor's degree at The Evergreen State College and Ari was there earning her master's degree in Environmental Studies. "A lot of us have been called to the climate mission throughout our adolescence and our academic careers," says Ari, who serves as OlySolar's outreach director. "We understand the implications of not acting." Ari sees their work as an opportunity to forge stronger lines of communication between subgroups of our community. "We're not quite adults yet, but we're not youth. We see ourselves as liaisons between the adult decision makers and the youth demanding change," she explains. "It's our job to listen to both and mend the communication gaps between the two."
They reconnected after finishing their degrees and Ari brought Mason onto the team of activists working to pass ballot initiative 1631, the Washington Carbon Emissions Fee and Revenue Allocation Initiative.
While the ballot measure did not pass, momentum within the group of climate activists here in Olympia did not slow. Mason and Ari connected with officials and staff at the City of Olympia and it was clear there was still a local appetite for alternative energy efforts.
In particular, one highly visible organization had always envisioned installing solar panels and was looking for a way to fund it with a community-supported approach.
The Hands On Children's Museum became the focal point of OlySolar's first community-funded solar initiative. What is now known as The Hummingbird Project is an opportunity for anyone who loves The Hands On Children's Museum and wants to invest in renewable energy to contribute to the installation of solar panels at this beloved community hub.
The panels will produce more than $12,000 worth of electricity annually. The project is publicly available in the form of 800 solar units. Each solar unit will prevent the release of 150 pounds of carbon dioxide into the atmosphere every year for the duration of their 40 or more-year lifespans. You can purchase a solar unit, about one third of a solar panel, for $300.
Starting at the end of 2021, every participant will receive an annual check for the electricity their units produced that year. By the end of 18 years, each participant will have been paid back all $300 of their original contribution, and the system will be donated to the Children's Museum. Each participant will also be eligible for the Federal Income Tax Credit should they choose, with an estimated value of about $70 per solar unit.
Participants may elect to donate their kickback to one of a dozen local nonprofit organizations who have stepped forward in support of The Hummingbird Project and renewable energy. Should a participant choose this route, the nonprofit of their choice will receive their annual kickback check. Each donation is tax deductible.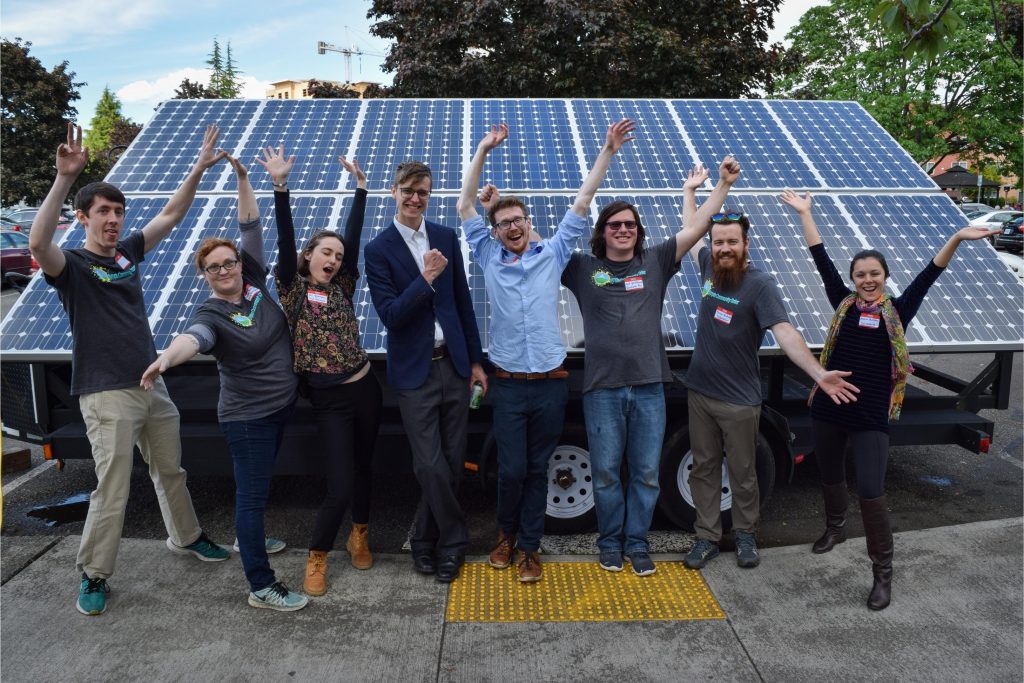 Education and Advocacy
OlySolar also prioritizes civic engagement to further their mission. Last year they partnered with State Representative Beth Doglio to introduce House Bill 2248 to "expand equitable access to the benefits of renewable energy through community solar projects." This bill passed the legislature with a super majority and would have our state's first piece of funding to make solar energy more accessible to low-income residents. Governor Inslee vetoed House Bill 2248 due to the budgetary impacts of the COVID-19 crisis.
The team of motivated changemakers that run OlySolar have come together in a remarkable way in the last two years. "The team is like a family to me," Ari explains. "I love and care about each individual person and I think everyone brings a certain specialty to the group. The bonds we share are so integral in making sure our team is successful."
Mason and Ari elaborate on the fact that OlySolar has become a support group of sorts. "A lot of people, especially young people, experience eco-grief of some form from impending doom based on the climate science we have," Mason explains. "This team has really helped me turn that fear and frustration with inaction into a positive, creational thing."
Mason and Ari are adamant that anyone, young or old, who might be experiencing negative emotions due to recent climate catastrophes like wildfires and hurricanes should consider participating in the Hummingbird Project as a form of positive climate action.
At the time of this writing, approximately 65 percent of the Hands On Children's Museum system has been funded. OlySolar would like the remaining 300 units to be enrolled prior to November 1 and they need community support to make this goal achievable. Visit their contribution page to become a part of Olympia's blooming community solar movement.
Sponsored