Your heart pounds. Your breathing is fast. Your legs feel weak. Give your body a good "scare" by joining in on the family friendly Haunted 5K, a virtual run benefiting Homeless Backpacks on October 30-31. This is your chance to put on your most ghostly, funny, silly or imaginative costume and do a bit of running (or walking!) scared for a great cause.
Homeless Backpacks is a nonprofit that is "committed to ending homelessness, by giving teens the help they need so they can focus on school, go on to graduate and become contributing citizens." They do this by providing weekend food bags to homeless teens in Thurston County. When COVID-19 hit, they expanded their services even further to meet the needs of the community.
"When schools and so many businesses closed, our board voted to expand our scope of services to include food insecure students rather than focusing solely on homeless students," shares Kelly Wilson, chair of Homeless Backpacks. "At that time, we were serving 600 students per week. The first week after expanding our scope, we were serving 1,200 students and within a few weeks that number grew to 2,400. We were operating purely on faith that funds would come in to support these increased numbers."
The 100% volunteer run organization had to adapt quickly to safety protocols as well as the higher demand of their services. Instead of purchasing food by the case, they now purchase by the pallet. Schools take assembled backpacks by the box as each school district is now taking hundreds. "Besides the increased demand for weekend food, we were faced with seeking out new teams of volunteers as our regular volunteer base is mostly in the age range where sheltering at home was the best choice for them," adds Kelly. "Personally, I was scared and wasn't sure how we would be able to move forward without this team that we not only depend on, but were actually an integral part of building and honing the Homeless Backpacks program. We are an all-volunteer program, therefore, the hearts and hands of the volunteers are the program. But, brilliant, gracious and powerful volunteers showed up and took on the work with a fierce and loving commitment."
Like many nonprofits, Homeless Backpacks relies on donations to continue their program, and a large percentage of those usually comes from large, in-person events that can no longer happen under Washington's Safe Start mandates. So, they had to come up with a plan for new events that would be just as fun as in-person for the attendees and would also secure the funds they need to continue to feed at risk youth in our community.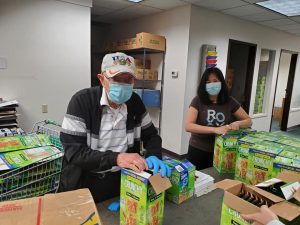 It was time to go virtual. "We are doing a virtual event every month to help with the loss of our annual fall auction," explains Stephanie Hemphill co-founder and principal of KESH Marketing. "Because of COVID restrictions, we cannot have our Bountiful Harvest Dinner and Auction so we did our Mystery Meals auction in September, the HBP Haunted 5k in October and we will be hosting a 12 Days of Christmas Auction in November!"
Dress Up and Run Wherever You Want
This Halloween it may feel like there will not be a lot of opportunities to dress up, and the kid in all of us may be throwing a silent tantrum. Presented by Kiley Juergens Wealth Management, the Haunted 5k for Homeless Backpacks is a wonderful excuse to put on a costume for a great cause. You can run your race anywhere in the world, at your own pace. Walk, skip, crawl, or dance your way to helping feed youth in Thurston County. Put a unicorn costume on the dog and have him walk too! The whole family can join in.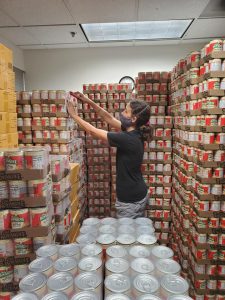 Sign up online for just $32 per adult, which provides weekend food for one student for a month. Kids under 12 can participate for $8, which provides a weekend worth of food for one student. You will receive a printable bib (emailed the week prior), a Haunted 5k drawstring backpack and a participation medal.
Then, on October 30, put on your costume, complete your 5k (3.1 miles) and share your time, photos and why you support Homeless Backpacks. Be sure to tag @homelessbackpacks and use #HBPHaunted5K on your posts. And because it's Halloween, you can be sure Homeless Backpacks has some treats and surprises coming your way. Follow Homeless Backpacks on Facebook for announcements, local 5k routes and tips.
We all need a little fun and frivolity right now, what's better than putting on a costume and taking a run (or spooky stroll if you prefer) for a good cause? Sounds like it's all treats and no tricks.