The COVID-19 pandemic has impacted every aspect of our life. It has also disrupted the food chain from farm to table making it difficult for everyone nationwide from growers to families. New and creative partnerships, like the Southwest Washington Food Hub, are responding to keep farmers in business and Washingtonians fed.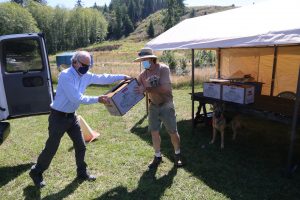 Feeding America reports that "As closures and social distancing orders meant to limit spread of the novel Coronavirus (COVID-19) sweep across the country, the impact is being felt in communities large and small. While changes taking place are disrupting the lives of nearly everyone in some way, food-insecure individuals—who numbered 37 million in 2018—will face particular challenges, and the number of people who experience food insecurity is expected to grow."
Farms, too, are struggling. With restaurants, schools and farmers markets closed or at limited capacity, farmers are reacting quickly to locate new buyers and find innovative ways to get their products delivered.
In our area, an impressive partnership has established the Southwest Washington Food Hub. Led by the Thurston Economic Development Council (EDC), Thurston WSU Extension, and Northwest Agriculture Business Center utilizing funding provided by Community Foundation South Puget Sound and a USDA Local Food Promotion Program grant.
"The Food Hub," explains Aslan Meade, the Thurston EDC's Director of Strategic Alliances, "is one of several efforts by the partner organizations to coordinate agriculture development on a regional level.  The pandemic has clearly exposed gaps in our food systems and has invigorated efforts to build a more resilient regional food supply chain."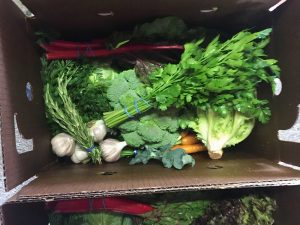 The Food Hub distributes products from the newly formed Southwest Washington Growers Cooperative, which includes farms from Thurston, Lewis, Grays Harbor, Pierce, and Mason counties through a distribution warehouse hosted by the Port of Olympia located in Tumwater. The Port's lease is an in-kind contribution to the Hub in continued, dedicated support of regional agriculture economic development.
"Supporting our local farmers and agriculture community helps build a stronger economy both locally and regionally," says Executive Director Sam Gibboney. "The Port has been supportive of agricultural projects for many years, and we are pleased this project allows farmers to bring their produce to a wider market, thus strengthening our economy."
Business Development and Real Estate Director Allyn Roe was happy to facilitate use of the space. "The Port is excited to find a fit for one of our facilities and support local agriculture which is vital to healthy economic development in our community."
Also joining the partnership will be both full- and part-time employees funded via the Pacific Mountain Workforce Development Council's Department of Labor Economic Disaster Recovery Grant through the Employment Security Department.
"The Food Security Project was started as a response to the COVID-19 pandemic," explains Kelly Fujimoto of Pacific Mountain Workforce Development Council. "COVID upended both the employment and food system landscape, creating ripples of food insecurity throughout the region."
In addition to fresh ingredients, their program's main focus is to train individuals for careers in kitchens everywhere. "In partnership with the Food Hub and WSU SNAP-ed, a project quickly developed to respond to the upheaval by focusing on providing food-system related training programs and connecting dislocated workers to the food system through work-based learning opportunities," says Fujimoto. "Serving 100 participants throughout the 5 county region, this program is intended to bolster the food system and increase food security by providing training and connecting dislocated workers to employment opportunities within the food system."
Local chefs are brought in to create training videos (with seriously yummy recipes) that are recorded in GRuB kitchen by the innovative MadCap Marketing + Creative.
Recipient Rebekah has really enjoyed the produce: "Oh thank you! I love cooking a lot, I just can't stand on my feet long enough to be a chef. These boxes have been a godsend, especially as we are usually struggling to make food ends meet at the end of a month. Our food stamps ran out last week, without the box we wouldn't have had most of these meals. It's a wonderful thing you guys are doing."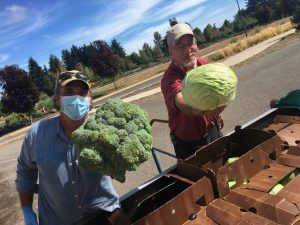 Want to try some of these recipes at home yourself? Consider signing up for the Multi-Farm Produce Box, an eight-week program that delivers fresh food once a week from October 28 through December 16. The price is $35 a box, which feeds a family of four, and can be purchased by subscription or as a one-time weekly sale. Try your hand at cooking early winter treats like beets, cabbage, carrots, cilantro, turnips, rutabaga, parsnips, leeks, Brussel sprouts, winter squash, onions, garlic, shallots, potatoes, dill, arugula, spinach, salad greens, braising mixes, chard, kale, head lettuce and collards.
Email info@swwafoodhub.com to sign up or learn more.
Figuring things out takes a little longer these days. Money and schedules are tight, jobs and the future are uncertain. But thanks to community projects like the Southwest Washington Food Hub, at least our dinner plates can be colorful, varied and delicious. The hard work of the Port of Olympia, EDC, WSU Extension, NABC, Pacific Mountain Workforce Development Council, farmers and families shows that when it comes to success, it's the partnerships that really count.
Sponsored