Just when we thought there was no way we could possibly increase the amount of time we spend sitting and staring at screens, COVID-19 hit. Now even our children are facing spending hours more a day in front of an electronic device as an alternative to in-person education environments. All this screen and sitting time, coupled with bad posture, can cause issues in our bodies, which in turn creates pain. Drs. George and Stefanie Olar, owners of 360 Chiropractic in Lacey, say that upper crossed syndrome (UCS) is something everyone should be aware of as we spend more time sitting in front of screens.
"Upper crossed syndrome is, in most cases, caused by bad posture when standing or sitting," explains Dr. George. "People are working from home more than ever and they may not have an ergonomically correct desk set up. They may not even be sitting at a desk, but at the kitchen table or slouched over on the couch. Kids sit with laptops on their beds. All of these positions encourage poor posture, with the shoulders hunched and the head transitioned forward."
The rounded shoulders and head pushed forward are outward signs of inward trouble. The back muscles in the neck and shoulders (upper trapezius and levator scapula) become overactive and tighten while surrounding muscles, including the cervical flexor muscles in the front of the neck and the rhomboid and lower trapezius muscles in the shoulders, are underused and become weak. This causes the chest muscles (major and minor pectoralis muscles) to then shorten and become tight.
"Looking down for a long period of time causes upper crossed syndrome," explains Dr. George. "for instance, looking down to read, bike or drive, but even more so looking down at laptop, tablet, computer screen or phone. The majority of people I see are looking down at their phone, I've even caught myself doing it! We need to remember to take breaks and think about the position our body is in."
Symptoms of Upper Crossed Syndrome
The strain on your muscles brought on by USC also affects your joints and bones. Symptoms patients often experience include:
Neck, upper back and shoulder pain
Headache
Tightness and pain in chest, including the pectoralis muscles
Jaw pain
Fatigue
Restricted movement in the neck and shoulders
Pain, numbness and tingling in upper arms
Pain in ribs, including front, back and sides.
Reduced movement in ribs
As I write this, I am pretty sure I have all those symptoms – often! And I've probably reminded myself to straighten up, drop my shoulders, engage my core and adjust my eye-level gaze about half a dozen times. How many times a day do you tell yourself to stop slouching?
Preventing Upper Crossed Syndrome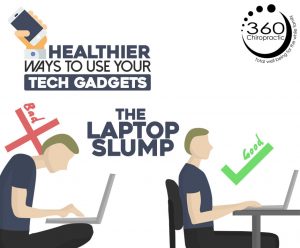 Want to prevent upper crossed syndrome? "Take breaks, stretch and move around!" says Drs. George and Stefanie. "Good posture and taking frequent breaks is the only way to prevent upper crossed syndrome. Think about how you are sitting. Get a real desk where your screen can be at eye level and an ergonomic chair. Then, set timers for breaks."
Preventing upper crossed syndrome with excellent posture all the time would be amazing, but let's face it, we all get comfy in our seats or involved in what we are doing and end up having not-so-good posture.
Treating Upper Crossed Syndrome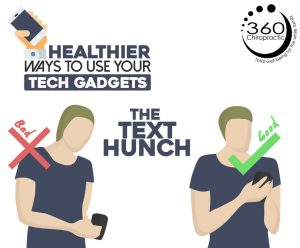 If you start experiencing any of the above symptoms—or maybe like me you already are—it's time to get some help to treat it. A chiropractor can assess your current body state and look for the characteristic signs of UCS. "Patients with UCS will have anterior head carriage, shoulders that roll forward and an upper humped back (an increased kyphotic curvature)," shares Dr. Stefanie.
If you do have upper crossed syndrome, there are several ways to treat it including chiropractic care, massage therapy, cold laser therapy, stretches and exercises. Using a combination of these treatments will be the most effective.
"The overactive muscles caused by UCS pull your joints out of alignment," shares Dr. George. "A Chiropractor cannot only diagnose UCS, but can help relieve some of the pain associated with it by realigning those joints." 360 Chiropractic can help you with more than just an adjustment, they also have cold laser therapy, massage therapy and even teach you stretches and exercises to help correct this syndrome, allowing you to get all the treatments under one roof.
"Chiropractic adjustments and cold laser therapy with neck traction can really help alleviate the symptoms of upper crossed syndrome and help to get the neck back in its proper position," Dr. Stefanie shares, "while massage therapy can work on getting those muscles to loosen."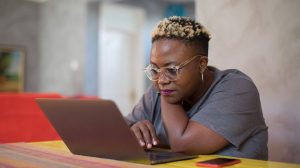 Drs. George and Stefanie will suggest exercises that work for your individual body, taking into account your whole health. One easy stretch is to stand upright and clasp your hands together behind your back. Then press your hands down and away, retracting the shoulder blades. Raise the chest and lift the chin. This stretch can be held for 15-30 seconds. Make sure to breath into the stretch. "There are a wide range of stretches and exercises we can suggest to help you start to feel pain free again," says Dr. Stefanie.
To help elevate the trigger points in the upper trap/ posterior upper shoulders, use a tennis ball or lacrosse ball placed between your neck and shoulders in those tight spots. Stand against a wall or lay flat on the floor with the knees bent.  Gently lean back into the ball to create pressure against those tight muscles. Take slow relaxed breaths to relieve tension.
To get help with all your symptoms of upper crossed syndrome or any other ache or pain you may have, contact Drs. George and Stefanie through the 360 Chiropractic website or call 360-923-0360.
Sponsored