Submitted by Timberland Regional Library
Timberland Regional Library branches continue to offer Library Takeout, a unique curbside service of book, audiobook, CD, DVD and magazine pickup and return that is meant to keep patrons reading while preserving the highest level of safety for patrons and staff.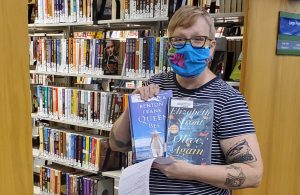 "Libraries and the services we provide are important to our communities," said Timberland Regional Library Executive Director Cheryl Heywood. "We want to continue to provide access to as many services as possible while keeping staff and patrons safe."
Patrons can get their favorite materials with Library Takeout by placing holds online or calling their local branch. They will be notified by email or phone when their hold is ready.
Once they arrive at the library, they can notify staff by calling from the comfort of their vehicle or by walking up to the service area. They will be given direction on how to safely pick up their materials.
"We were so excited when we were able to start the service and see our patrons again," said Lacey Library Manager Holly Paxton. "It's been incredibly rewarding to see how happy everyone is to get materials and engage with the library in this new way. We love having a few moments to talk with our patrons while distributing their items through Library Takeout."
Patrons should have their library card ready when they arrive at the library, and they must wear a mask and maintain social distancing to receive service. Times and dates for Library Takeout vary by location so it is important that patrons visit their library's webpage at TRL.org or call before heading to the library.
Timberland buildings are closed at this time and all Timberland materials are put through a quarantine process after each use before they are again made available to patrons.
"Maintaining the health and safety of our patrons and staff is our top priority," Heywood said.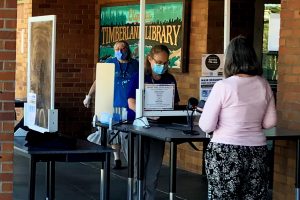 Though some businesses and services moved into Phase 3 of Gov. Jay Inslee's reopening plan, Timberland has stayed at Phase 2 while awaiting guidelines specific for libraries to reopen. With cases of COVID-19 on the rise in Washington State and a pause on statewide reopening, Timberland will stay at Phase 2 for the near future.
"We would not want to move forward without specific guidelines from the state," Heywood said. "We don't want to risk putting anyone's health and safety in jeopardy."
Timberland quarantines returned items for four days before being recirculated. Quarantine practices are based on state mandates and recommendations from the Reopening Archives, Libraries, and Museums (REALM) Project and OCLC Research.
While Timberland's cleaning and quarantine practices are important to keep staff and patrons safe, the practices affect service hours and extend the length of time it takes to receive materials.
"We understand patrons may be frustrated with the process and the additional time it takes for them to receive their holds, but it is necessary so that Timberland can meet the highest level of safety standards possible," said Timberland Regional Library Deputy Director Kendra Jones.
Patrons who would like to get materials a little quicker and are willing to try something new can request a personalized Library Grab Bag. Based on a patron's interests, library staff will choose four or five items for them to try. Patrons can go online or call their local library to make the request and must follow holds guidelines for pick up.
With cold and rainy weather in mind, Timberland facilities staff are working to install covered takeout windows – walk up or drive up – at many of the library branches so that the service can continue into the fall and winter months as needed. Go to TRL.org to stay updated on the latest information about takeout windows.
In addition to Library Takeout, patrons have access to a wide variety of online resources on the Timberland Regional Library website. For K-12 students, Timberland offers MyTRL, a program that is a partnership between Timberland, local school districts and Capital Region ESD 113.
MyTRL enables students to access Timberland's vast electronic resources, including homework help, books and apps, language learning, STEM programs, social sciences, and job and career information.
Special MyTRL accounts allow students to log in to TRL.org from school or home on any computer or device all without needing a physical card. If the student already has a regular library card, the student will be able to use it as before and the MyTRL login will serve as a second library account with online-only privileges.
Parents and legal guardians should contact their school district for information on whether the program is offered at their child's school.
"It is always important to Timberland to support our local schools and educators, but that is especially true now," Heywood said. "We want to help them provide children and teens the best education possible."
To check out a book, head to the Timberland Regional Library's take out website.
Sponsored