Jackie Robinson heard it from more than one person after taking over as the head coach of The Evergreen State College women's basketball coach.
"They told me I wasn't going to win a game there," Robinson said.

Robinson has already proven them wrong and appears on the cusp of something special at Evergreen with the addition of his new recruiting class.
After winning just two games during the 2018-2019 season, the Geoducks saw a four-game improvement during Robinson's first year with the program as Evergreen posted a record of 6-17.
Now, Robinson and the Geoducks will turn to some local talent as they look to continue their upward trend.
In his second season with the Geoducks, Robinson is bringing in a stellar recruiting class that includes local stars in River Ridge graduate Caitlin Yenne, Black Hills' graduates Lindsey Nurmi and Mia Flores, and Elma grad Jayln Sackrider.
"Bringing in local players was definitely something we wanted to focus on. I think the area has been, for whatever reason, overlooked in regard to basketball talent," Robinson said. "There is a lot of talent here. I always believed if you could just get one local star to stay and play for you, it would open the gates for other local players."
And that appears to be the case with this class.
Yenne and Nurmi will be incoming juniors as both played at Centralia College, helping the Blazers to a conference championship last season, while Flores and Sackrider are freshman.
"It all kind of began with Caitlin," Robinson said about the formation of the class. "Once she was onboard the dominos started to fall."
Yenne averaged a team-high 14.1 points per game last year as Centralia finished with a spotless 14-0 record in conference play and went 21-7 overall to earn a top seed into the Northwest Athletic Conference tournament.
The 5-foot-8 guard also averaged 4.3 rebounds and 2.2 assists per contest, while earning West Region Defensive Player of the Year honors during the 2019-2020 season after ranking fourth in the NWAC in steals (73).
"She is just such a versatile player," said Robinson, who coached Yenne during her freshman season at River Ridge before he took the Olympia High School heading coaching position. "I knew heading into recruiting there were a couple players I needed to have, and Caitlin was one of them."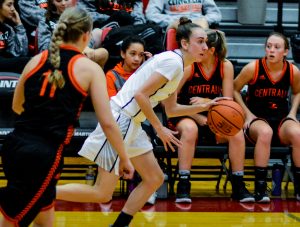 Yenne capped her high school career in 2018 by being named the 2A South Puget Sound MVP and was a NWAC first-team All-Region pick last year. She was joined on the NWAC first team with backcourt teammate Nurmi, who averaged 11.8 points, 3.6 rebounds and 2.9 assists per game at Centralia.
"Lindsey brings this toughness to the team," Robinson said. "She's going to do whatever needs to be done to win, and she brings leadership. She's another one of those players you put anywhere and she's going to get the job done."
Nurmi, a four-year starter at Black Hills, put together one of the best careers in program history, leading the Wolves to three state trophies, including a fourth-place finish during her senior year. A two-time all-conference selection, the 5-7 guard became just the second player in Black Hills history to score more than 1,000 points during her career with several of those points coming against teams coached by Robinson.
Yenne and Nurmi are joined in the class by fellow Centralia College alumni Megan Cash, a graduate of White River who was a second-team all-conference player for the Blazers last year, averaging 9.2 points, 6.2 rebounds and 4.1 assists a contest.
"It's a group that has played a lot of basketball together," Robinson said. "They are very familiar with each other, and that should really help us this season.
Flores, a 5-foot-5 guard, was a first-team all-conference guard for Black Hills last season, helping the Wolves to the 2A state tournament.
"Mia is just a tenacious defender," Robinson said. "We don't have a lot of height, so we're going to have to make the game fast, and Mia will help us do that."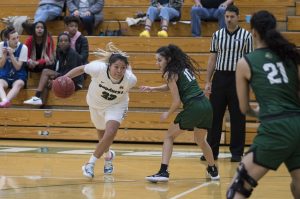 The 6-3 Sackrider was a two-time 1A Evergreen League MVP for the Eagles, averaging 17.1 points a game. She was also a two-time all-state selection in basketball, finishing her high school career with 1,160 points, and an all-state volleyball selection her senior season.
Rounding out the group of incoming freshmen will be Todd Beamer graduate Sharay Trotter. The 5-9 guard led the Titans to the 4A state tournament last year.
In addition to the new recruits, the Geoducks welcome back their top two scorers from last year in seniors Trinity Betoney (20.1 points per game) and Jerri Maluyo (11.9).
"I think we're bringing in some great players. They all love to compete," Robinson said. "We're very optimistic about the upcoming season."