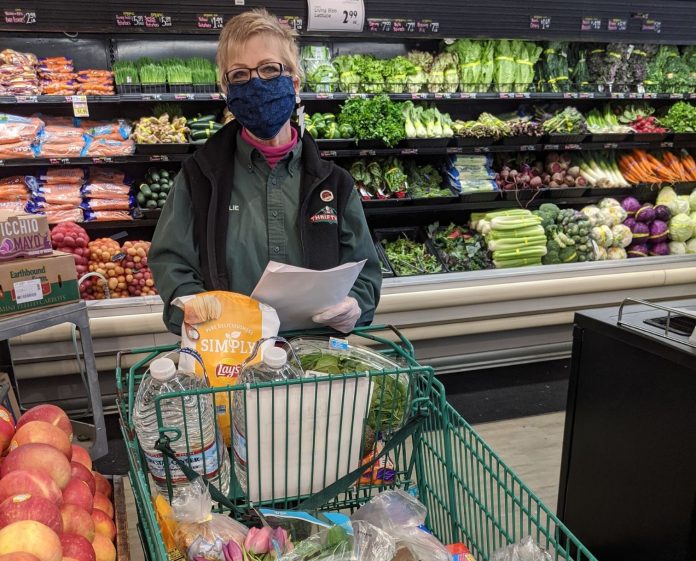 For over 75 years, the Stormans family of Olympia has gone out of their way to use their independent grocery stores as a way to support local producers. When the COVID-19 pandemic closed businesses across Thurston County in March 2020, buyers for Ralph's Thriftway and Bayview Thriftway leveraged their unique position as essential businesses to help bolster sales for local producers.
"As an independent grocer, we have the flexibility to buy items from neighbors and sell them in our stores a lot more easily than big box chains," explains Carly Brettmann, marketing manager at Stormans. "We have the freedom to buy from a family making products in commercial kitchens or farmers in our own backyard." Numerous local producers contributed to, and were helped by, the efforts of the team at Stormans during the onset of the pandemic.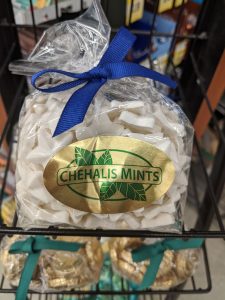 Chehalis Mints
"All of the gift shops we normally sell to were shut down," explains Jennifer Kassel of Chehalis Mints. Stormans was able to continue placing big wholesale orders with them, and it made the difference between weathering the downturn and folding the business. Kassel and her family have been selling their handmade candies at Stormans locations for nearly 20 years. "The staff there have always been so easy to work with," Jennifer says. "It's just a nice group of people. We're grateful they are here to help producers of our size."
Ellis Creek Farm
Joel Baranick and his wife Ann Petricola are the owners and sole operators of Ellis Creek Farm. Typically, 50 percent of their business comes from sales at grocers like Stormans and 50 percent of their business comes from local restaurants. When the pandemic shut down restaurants, they were nervous. Fortunately, buyers at Stormans committed to continue stocking as many greens as they could sell, and grocery sales did go up. "More people were cooking at home because restaurants were closed," Joel explains.
"We love working with Stormans," Joel continues. "They've been great supporters of local farms and we're super pleased to be in a local grocery store of their size." Joel and Ann have been selling bags of their certified organic salad mixes and packaged microgreens at Stormans locations since 2017.
Claddagh Coldbrew
"Stormans has historically been very supportive of local producers," says Scott Ensign, owner and operator at Claddagh Coldbrew. He has been selling bottles of cold brew concentrate and offering cold brew on tap at Stormans grocery locations since 2016. "Shutting down cafes that use our concentrates in their drinks or sell our ready-to-drink beverages significantly impacted our business, as did the drop in the economy across the board," Scott explains. Stormans had to close the self-serve cold brew taps at their grocery stores as well.
Scott knew his business could be in jeopardy, so he made the proactive decision to reach out to Kevin Stormans, the president of one of his most reliable wholesale accounts. Kevin invited Scott in for a meeting to brainstorm ways to boost Claddagh Coldbrew sales at Stormans stores. They developed a plan to refresh the cold brew tap stations at Bayview and Ralph's and get them operating as soon as possible. They started planning a new month on-month off price drop to encourage sales, as well as new marketing tactics to increase brand awareness among customers.
Now that COVID-related restrictions have been eased in Thurston County, Claddagh Coldbrew is back on tap at Bayview Thriftway and Ralph's Thriftway. Patrons can pour their own drink in provided disposable cups and the station is sanitized regularly. While you're there, you might as pour a tall glass of Rainbow Cloud Kombucha, because they're back on tap, too!
Alaffia
In the health and beauty department, Alaffia of Tumwater was fast to respond to soap shortages. They prepared a huge batch of hand soap as quickly as they could at the start of the pandemic and sold it to Stormans at a low wholesale price so that Stormans could lower the price for customers. "We love that Alaffia is right down the road, offering amazing products and doing amazing things," Carly explains.
Food Fair Postponed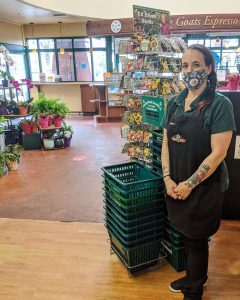 In the months before the pandemic struck, Vice President Greg Stormans had been planning a Food Fair, where the company intended to invite hyper-local food and beverage producers who perhaps aren't on their shelves yet to come and showcase their goods. Prospective vendors would get the chance to meet the Stormans buyers and forge a new connection or kick off their business. Carly hopes that such an event can happen in the future. "We still have a very strong dedication to our community partners," Carly says. "We want to maintain space where we can highlight the amazing talent in our community. Our doors have always been open to those producers and that's what we've been all about."
If you are a local producer looking to sell your offerings in a grocery store setting, consider reaching out to Stormans. You can get in touch with their management directly through the Contact Us page at olythriftway.com. Choose "Products" when selecting a topic, then describe what you would like to sell.
Visit Bayview Thriftway or Ralph's Thriftway to get your hands on all kinds of incredible local products and help our local economy pull through!
Sponsored