Drop by any grocery store in Yelm around 5:30 p.m. and you'll see them – active duty men and women on their way home from Joint Base Lewis McChord, dressed in camouflage and sporting accents that range from Alabama drawls to Boston twangs. Even out of uniform, you can often spot our military neighbors by their upright bearing and tendency to respond to questions with "Sir" or "Ma'am."
While the uniformed soldiers are the most obvious connection to JBLM, the relationship goes deeper, according to Yelm Mayor JW Foster. "One in six people who live in this area are associated with JBLM in some way," he explains. "It might be that they're retired, or they did their service to the country and then decided they would like to stay here. They may have a family member who works at JBLM as part of the support structure."
Yelm's connection with the U.S. Military is long standing and has only grown deeper over the years. In 2017, it became the fourth city in Washington State to proclaim itself a Purple Heart City. Already, the 1st Special Forces Group (Airborne) based at JBLM had chosen Yelm as its Community Connector city as part of a program developed in 2000. Regionally, the South Sound has been recognized as a Great American Defense Community, one with an exceptional commitment to improving the lives of service members, veterans and their families.
As a former U.S. marine, Foster is familiar with the challenges and sacrifices of enlisted life. "There's a different mindset when you're a military family," he says. "We ask them to separate from one another on deployments that last many months and they miss graduations, birthdays, weddings and funerals. In this community, we look for opportunities to help service members feel more secure about doing their jobs, knowing that their families are cared for back home."
That support makes a difference, according to Colonel Owen Ray, commander, 1st SFG (Airborne). "It's critical that we maintain close connections to our civilian population, especially within our local communities where we live and raise our families," he says. "From the care they give our families during deployments to the assistance for our soldiers as they transition out of the military, the City of Yelm plays a significant role."
In recognition of the relationship, Mayor Foster and other city personnel attend military events ranging from changes of command to important holidays such as Veterans Day and Memorial Day ceremonies. "I go to every single one of those to make sure we're represented as a community," says Foster.
One ceremony that stands out in his mind was more personal. Foster and his wife Nicki were part of a mentoring group for military families at Ridgeline Middle School in 2019. "We got to know several of these students and became close to them," he says. "Then, after the program ended, it turned out that one of those student's father had been killed in action. We went to the base for his memorial. Being part of that was so important." Sergeant First Class Jeremy Griffin lost his life while stationed in Afghanistan.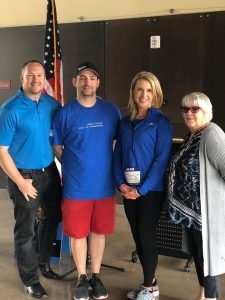 Many service members stationed at JBLM opt to move to Yelm when they transition out of the military, a fact Foster attributes to the warm reception they have received. "They decide that Yelm has been so welcoming and comfortable for them and their families that they've stayed here," he says. "There's an opportunity to know people from these different places and expand our horizons, which makes us more diverse and accepting. We're a better, stronger community because of it."
In recent years, the city has added more structural supports and recognition for military families. Yelm's annual Memorial Day weekend 5K for the Fallen is a self-paced run, bike or walk along the Yelm-Tenino Trail in remembrance of all who lost their lives in the line of duty. Throughout downtown, military banners hung from light poles honor those who serve. The local Veterans of Foreign Wars (VFW) use the Yelm Community Center for meetings at no charge. Once City Hall re-opens fully, progress on creating an 'honor wall' to recognize the special connection with 1st FSG will continue.
"Yelm is a special community with small-town character and there is no surprise that many of our soldiers choose to make Yelm home and eventually retire there," says Colonel Ray. "The community has always welcomed our service members with open arms, no matter how long they are able to stay and has always been an outstanding partner, supporting our soldiers who are transitioning out of the military."
Learn more by visiting the City of Yelm's website.
Sponsored