As spring's green gives winter's gray a little shove, there is another type of green waiting for you at the Olympia Farmers Market: the microgreen. Be it small, it is definitely mighty, so don't be fooled by its tiny stature when the nutrients alone pack quite a punch. As the popularity of the microgreen moves to the fore, the Market boasts several vendors serving up the freshest, most delicate and delicious tendrils to green our spring tables.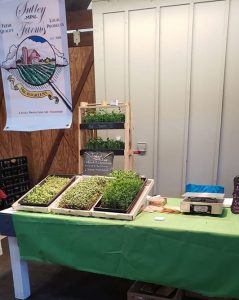 Microgreens are harvested between the cotyledon stage and first true leaf. You may have seen them posing as garnishes, but they are certainly deserved of a larger place at the table. They come in many varieties like sunflower, pea, radish, a spicy mix, wheatgrass, carrot, beet, and more. They can contain up to 40 times the concentration of nutrition in the mature plant and possess the same strength of culinary versatility.
Sutley Mini Farms is a new vendor for 2020. They're selling every Saturday and bring a nice selection of microgreens to market. Their greens are grown using a method called Korean Natural Farming, which focuses on soil health and making the best nutrient-rich soil possible without the use of pesticides or herbicides.
Sutley offers up greens to customers via a cut-to-order method and sells greens by weight. They are packaged in paper bags for a lighter environmental footprint, because in addition to soil health, Sutley, and all of the vendors at the Olympia Farmers Market value the health of the planet, too.
Another great option is skipping over to Skipping Stone Garden, who are returning to the Market for their second season. Sarah Baisan shares that she and her husband Gabriel, are excited about the 2020 Market season. They'll be around every weekend offering new varieties and a new way to package their greens as well: in biodegradable, plant-based clamshells.
If ditching plastic is a goal of yours, the Olympia Farmers Market is the perfect place to achieve it. Grab your market bag or basket and set out to do your freshest shopping. The return of the light signals the return of produce varieties, and the strawberries will be here before you know it…
P.S. Strawberries and microgreens make a great salad!
Visit the Olympia Farmers Market at 700 Capital Way North, Olympia. Parking is always free. For more details about vendors or events, visit the Olympia Farmers Market website or call the office at 360-352-9096.
Sponsored