Olympia music icon Gretchen Christopher was in her element on Saturday, February 29, as she celebrated her 20th leap year birthday and turned 80-years-old. Gretchen is the founding member of Olympia's first chart-topping band, The Fleetwoods. With her daughter Kimari Helmer taking care of the logistics, Gretchen filled the performance space behind the Octapas Café in downtown Olympia with family and friends. The event was not publicized, but ThurstonTalk did get a special invitation for which this author is grateful.
"I think she invited about 200 people," Kimari tells me when we chat shortly after I arrive. She has no idea how many people will show up. Gretchen's son, Christopher Matzen, and two out of three of their siblings are there. Her brother Ian made the short drive from Panorama in Lacey, and her sister Sonja traveled from Walnut Creek, California, as a surprise. Sister-in-law Gina Christopher, niece Sharon Naranjo and grand-nephew Ian Naranjo traveled from New Mexico. Friends of all generations crowd the room and greet each other with hugs and handshakes.
The Fleetwoods' gold records gleam from the wall beside me as I stand next to Chris Cole, who works with Kimari at an Olympia School District preschool. Chris and her wife brought their son and daughter to enjoy the afternoon of music and memories. Although this is technically a "private" event, it's clear a community that extends well beyond her relatives is here to celebrate Gretchen.
"I thought I should do a performance for the momentous occasion of leaving my teenage years behind," Gretchen says with a laugh from the stage as the show starts. She's dressed in a snug black jumpsuit that glitters from the bust up and a jacket that somehow sparkles even more. At least 60 chairs are full and the walls are packed all the way to the back.
She opens her set with an original called "Autumn Gold," a song, she tells us, "about those we've loved and lost or perhaps those we've only lost track of." Her voice is strong, clear and sweet. Her face and her gestures are expressive and warm. She is clearly at home on the stage and you can feel the love from the audience radiating back to her.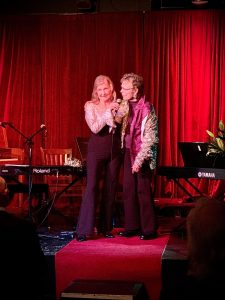 During our interview a few days prior, Gretchen shared with me something her beloved late mother Helen told her when she was about 92: "She said, 'I never felt old until I was 80.' And that struck me. I'm going to be 80. I can't believe it." More than a few times, our conversation turned to individuals who shaped Gretchen's life, but are no longer with us.
The name Bonnie Guitar came up several times, including when I asked what propelled Gretchen to perform at a birthday event. Bonnie co-produced and played guitar on The Fleetwoods' debut hit single, "Come Softly to Me." Bonnie performed publicly well into her 80s and Gretchen is grateful to have visited her near her home in Soap Lake, Washington, before she passed away in 2019. Bonnie's energy and enthusiasm continue to be a source of inspiration and motivation for Gretchen.
For most of the first set, Gretchen sings along to tracks from her debut solo album, a 2007 Billboard Critics' Pick for 10 Best Albums of the Year: Gretchen's SWEET SIXTEEN (Suite 16). Partway through the set, she sits down at a keyboard for a medley of hits by The Fleetwoods she's arranged. She calls close friend Elsa Dorian to the stage to share the bench and sing the harmonies. The medley starts and ends with "(He's) the Great Imposter" and includes "Runaround" and "Tragedy," among others. She closes her first set by bringing her older sister Sonja to the stage, wrapping her in the sparkling jacket, and bursting into a downright heart-melting duet of "Sisters."
After an intermission, tuxedoed pianist Kim Ralphs of Portland, Oregon, joins Gretchen for live accompaniment on a few classics from The Great American Songbook. Gretchen's jumpsuit glitters as she taps, kicks, hustles and twirls through crowd favorites like "Sunny Side of the Street," "Ain't Misbehavin'/Don't Get Around Much Anymore" and "Blue Moon." The audience snaps and sings along.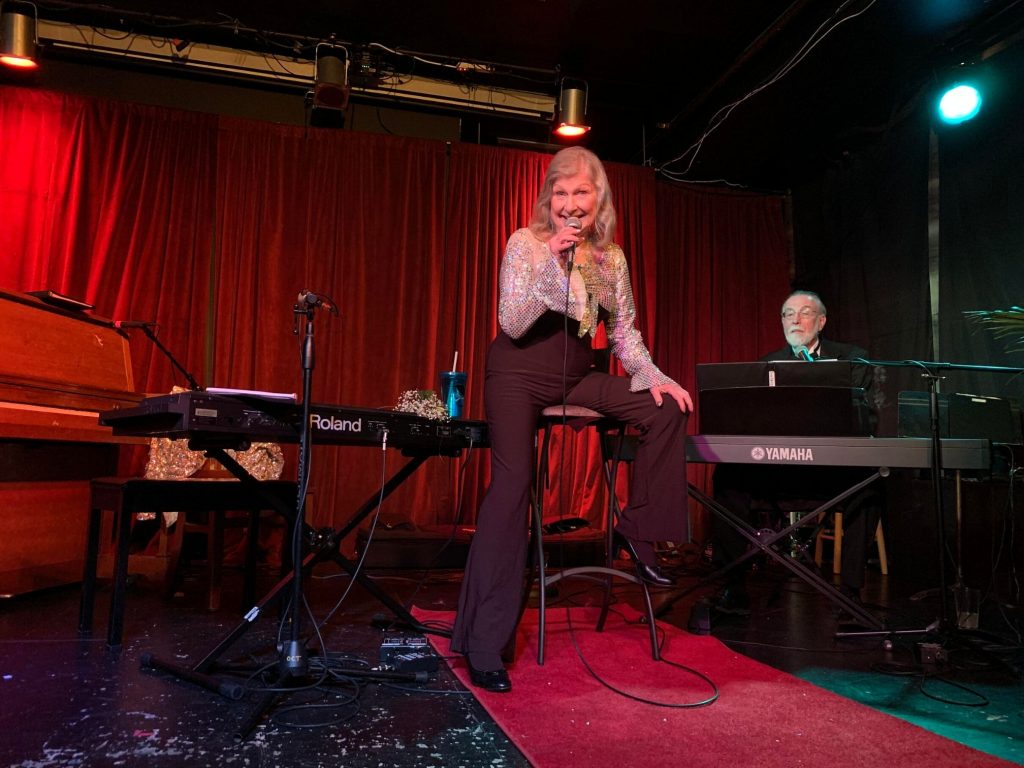 During our interview, Gretchen shared that when she sent out the email invitation for this event, she kept the email addresses of some deceased family members included. This may sound dark, but Gretchen explains: "When people look over the list, I want them to remember that person. Somebody just quoted to me the other day … 'If you are remembered, you're not dead.' I want people to remember our relatives."
The audience sings the final song of the afternoon as two sheet cakes ablaze with candles are brought from behind the stage. We croon "Happy Birthday" as Gretchen beams. It is clear that here today, Gretchen Christopher has forged a memory her community will never forget.