Thurston County is home to the world champion of line dancing, Maddie Bee. But she doesn't just want to conquer the line dancing world. Though she is new to the dancing scene, she wants others to see that they too can jump into line dancing and unlock talents they didn't know where there. I was able to spend some time speaking with her about her journey, win and plans to get more people involved and educated about what line dancing is all about, because it's not all country two-steps and dosey-dos.
What got you into line dancing?
Line dancing, in general, started for me back in the early 1990s. I loved country music. They had classes I took at local bars on teen nights. Over 20 years later, I went to a local bar, and got back into it.
How did you first hear about the country dancing competitions?
One night in March of 2017, I started thinking about my next goal. My last child would be going to college, and my husband was on his way to becoming a full-time writer. I Googled line dance competition on a whim and found the United Country Western Dance Council. I immersed myself for the next hour in their website in all things line dance, then turned to my husband and said, I think I am going to try to compete in line dancing. There is an event in Portland in July. The rest is history.
How did you get all the way to becoming a world champion in such a short period of time?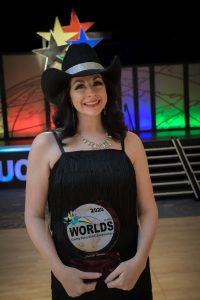 It sounds cliché, but passion, hard work, dedication and humor! My first competition was eye opening. My love for line dancing wasn't enough. Competition line dance is based on ballroom dances. We are judged on timing, technique, motion and character. My biggest challenge was using arms while line dancing. Since I am more than an hour away from any coach, I watched a lot of videos for inspiration and drills. I took private lessons at every regional event, practiced every day in some aspect, and traveled to take lessons whenever possible. Regardless of all that, I believe it is my love for line dance that is the main reason I was successful.
What did it feel like winning first place at the competition?
Immediate shock, then so many wonderful emotions. If I had to use two words, it felt 'absolutely marvelous!'
What was your inspiration behind starting a line dancing group of your own and giving it such a fun name?
My second year competing, a dance friend of mine began competing in line dance. She felt nervous being at an event not knowing other line dancers. While in a gift shop, I found two stuffed dragons. I gave her one and told her we could keep connected through social media with them. As line dance is a "solo" sport, it is easy to feel alone at competitions. She joked that the dragon was dancing, and I said it's a dancing dragon! We both stopped, looked at each other, and it was that quick and that final.
What does the future hold for you as a dancer?
More growth, happiness, education and challenges.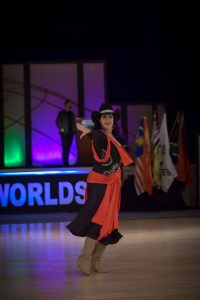 What does the future hold for your team?
I look forward to finding out! It is the inaugural year for both the local performance team and the competition team. I am very excited for all the opportunities to come!
If people wanted to get involved with Dancing Dragons how would they go about doing so?
The can send us an email or like our page on Facebook and direct message us.
If someone is interested in line dancing, what's a great way for them to get started?
If they want to do it socially, I recommend hitting up a local bar when they give a free lesson or attending a local event that gives free lessons like the Sweetheart Jamboree in February. If they are interested in competition, I can direct them to proper resources; they can email me.
What's the one thing you want people to know about line dancing?
It's not just country anymore! It has grown out of the bars, and ranges across all genres of music and dance. There are weekend line dance conventions, day workshops, and weekly line dance classes, all over the world.