It was the mid-1990s. Kim and Sherri Mcquilkin were working at the Rib Eye – yet hoping for a bullseye. Sherri was a graveyard food server. Kim was a dishwasher. Over 20 years, they both had worked their way up to the top to become managers, proving themselves proficient restaurateurs. They were ready for a restaurant to call their own.
"It was our oldest granddaughter's tenth birthday," Kim says.
"1995," says Sherri. "We opened the Shipwreck Café on February 9."
They finish each other's sentences with the ease of a husband and wife who have lived and worked together for many years. Looking back with them, it was obvious that they made a great team, and that just may have been the secret sauce to their restaurant's success over the past 24 years.
They saw an ad in the business opportunities section of the newspaper, and purchased a run-down old restaurant named the Shipwreck Café for $5,000 or $7,000 – they can't decide on which it was. Regardless, it was an inexpensive "in" to a restaurant they could call their own.
The building was in Hawk's Prairie. You know the one – top of Nisqually Hill, next to Cedar Inn Tavern. But what you may not know is that back then, this building used to house a restaurant called Howard's Tank and Tummy. The Mcquilkins report that it was a gas station and a restaurant on the old Highway 99.
"The building was from the '40s, maybe even '30s," Kim says.
"There was a downstairs where they used to gamble," Sherri continues. "It was illegal gambling, and there were two-way mirrors in the kitchen so you could see who was coming in. And there was a buzzer in the kitchen used to notify the downstairs that the cops were here…"
But that is a far cry from how Kim and Sherri ran their incarnation of the restaurant. After purchasing it and its sparse contents, they had no working capital. "We had a reputation from being at the Rib Eye for 20 years," Sherri says, "so businesses were willing to extend us credit."
It was just the small, local ones, Kim shares. The larger ones like Sysco, and U.S. Foods, and Food Services of America wouldn't have anything to do with them. "They wouldn't even deliver to us!" he says.
Kim and Sherri used to take the money they made in a day and head to Cash and Carry to buy food for the next. "This is how it rolled for a long time," Sherri says.
"Not a long time," says Kim. "About a year. Because it did better than we both thought it would that first year."
Maybe it was luck, but it was probably their reputation as solid, kind, hard-working people that brought the community out in droves when they first opened. Kim tells about how there wasn't a proper kitchen, and the stove was worse than one you'd find in a house. The dining furniture was shoddy old picnic tables and there wasn't even an ice box. They used a Coleman cooler.
But opening day was still packed, and Kim and Sherri were in the weeds so badly that their former co-workers from the Rib Eye who had come to see the new place jumped in to help, waiting tables and cooking.
"That first day was a disaster," Kim says. "A couple of people really bailed us out." They didn't have the luxury of a soft opening. They just went for it and jumped into the icy waters feet first – like in a real shipwreck.
Both Kim and Sherri speak fondly and graciously of their former boss at the Rib Eye, BJ Reeves, one of their biggest supporters from the beginning. Reeves would encourage customers to patronize them, gave them restaurant equipment to replace the picnic tables, and loaned them his maintenance man and bookkeeper.
"We owe a lot to the Reeves Family that owned the Rib Eye," Sherri says. "A lot."
Soon business was going swimmingly, and their ship – no longer a wreck – was starting to turn a profit. Kim and Sherri smile when they talk about how they had finally made enough money to tear down the original sign and replace it with a fancier version of the name they did not pick. That name came with the place, and in the beginning there wasn't enough money to change it.
Steady growth over the years had warranted several expansions in the in Hawk's Prairie space, but buying the building outright wasn't an option. By 2009, Kim and Sherri were ready to expand again and wanted a building they could take full ownership of. They found the perfect place, literally named The Place out in Mud Bay. The Place was a Westside institution, frequented by Greeners and had Olympia-famous baked potatoes.
The Mcquilkins purchased the building and opened a second Shipwreck Café location out in Mud Bay. Kim and Sherri were running both of the restaurants themselves, and it was running them ragged. In 2011, they made the decision to close the Lacey location and just focus on the Westside restaurant.
The fare they serve is old fashioned, American diner food. Renowned for their all-day breakfasts and mighty tasty fried chicken, Kim and Sherri worked hard over the years to please their customers, but also their employees. They share that they've had several children of previous employees come back and work for them over the years, and one of their employees, Dickie, joked that she'd been with the Mcquilkins longer than she's been in any relationship.
Kim and Sherri have albums full of photos taken over the years of employee costume contests, special occasions, and photos that previous employees had sent them throughout the years of school proms and other memorable moments. The Mcquilkins ran a tight ship, but it was one that everyone was happy to be aboard.
There were many memorable moments over the years, but perhaps the most memorable for Kim and Sherri occurred in October 2019. The Mcquilkins turned the lock on the Shipwreck for the last time, and the next day new captains, Aaron and Roni Sue Phyllis, stepped up to steer the ship.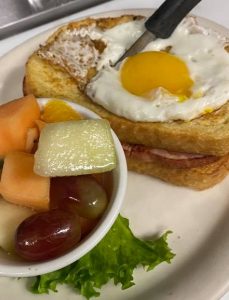 After 24 long, yet amazing years, Kim and Sherri sold their business, (blood, sweat and tears included) to an eager couple ready to carry on the legacy of the Shipwreck.
Aaron says they've kept much of the menu the same, but have embellished the Shipwreck theme. There are now 30-40 pictures hanging in the restaurant of shipwrecks around the world.
The Phyllises have added gluten free and vegan options, and will soon be rounding out the menu with fresh options like wraps and hearty salads.
The Phyllises recently met with Sylvia, the former owner of The Place, who is now in her 80s. They shared a booth in the restaurant she once owned, too, and in addition to sharing her tidbits of restaurant wisdom, she gave the Phyllises another gift: her menu.
Aaron was excited to announce that he and Roni Sue will occasionally be offering some throwbacks from The Place's old menu, (baked potato boats, anyone?), and that they were really looking forward to honoring the history of the two restaurants while complementing it with some secret sauce of their own.
The Shipwreck Café is located at 244 Madrona Beach Road NW. You can call them at 360-866-4788, or check them out on Facebook or visit their website for more information.