Before filling stations, gasoline was acquired in cans from unlikely places like pharmacies and blacksmith shops. Those needing to fuel their vehicle did so wherever they found themselves: roadsides, parking lots and hopefully not mid-traffic. By the time Henry Ford automated the assembly line and began producing automobiles that the American middle class could afford, the need for fuel had skyrocketed. Purpose-built gas stations began popping up in cities nationwide, from Portland, Maine to Portland, Oregon and of course, in Olympia. Nowadays, we have the luxury of fueling up anywhere in town, and with gas stations like Fast Fuel carrying all different types of fuels, we even get to be choosy.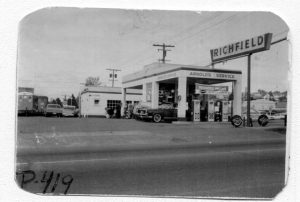 The first purpose-built gas station was located in St. Louis, Missouri. The year was 1905. By 1907, Seattle boasted the second, in an area that is now Pier 32. The station was built by Standard Oil of California, a company that is now known as Chevron. By 1913, the first full-service fuel station was born, and this new concept for purchasing gasoline and diesel became a one-stop shop offering air, water and more for hard-working automobiles.
Over a century later, the Smithsonian Magazine surmised that "Drive-in gas stations weren't just about fuel: 'They helped create American driving culture.'"
Driving culture in early Olympia was booming too. At the dawn of the automotive age, around 1916, "Part of Fourth Avenue, down to Capitol Way through Olympia was designated part of the Pacific Highway, the main thoroughfare connecting cities in Washington State," says the Olympia Historical Society. "The route was re-designated U.S. Route 99 in 1926."
In 1920, John Harbst, a German immigrant, built a service station in downtown Olympia on the corner of today's streets of Plum and Fourth Avenue. Harbst Service Station served the thousands of vehicles that passed through the heart of the city before Interstate 5 was built to bypass downtown.
Just five years later, in 1925, another fuel business popped up. Around the corner, on State Avenue was Acme Fuel Company. Both historic buildings still stand; Harbst's is now an espresso drive-thru aptly renamed, The Filling Station, and Acme is still the same quality business in the same quality building. They have been our region's favorite supplier of all types of fuels since 1925.
For nearly a century, Acme has been providing propane and heating oil to our community, and they are known for their exceptional service. In the mid-1980s they began offering another kind of service: the service station.
Acme added gas stations to their portfolio as a way to diversify. It made sense. Already purveyors of other types of fuels, service stations were a natural complement. Acme could fuel your home and your car.
The Acme Fuel of Today
Today they have two different gas stations to do so. They've dubbed them Fast Fuel and there's a location on Lilly Road, and the other is in downtown Olympia.
In fact, Acme's gas stations might just be the "secret stations" of Olympia, because a common myth is that their Fast Fuel stations are members-only. This couldn't be farther from the truth, and though the Fast Fuel stations have an excellent discount program for members, the stations are 100 percent open-to-the-public and accept debit and credit cards.
There are only four gas stations in downtown Olympia, and if you're looking for the cheapest one, it's almost always Acme's Fast Fuel station. Allison Dumas, manager of Fast Fuel, is quick to remind us though, that cheap does not equal sub-par, because Fast Fuel stations offer Top Tier-certified gasoline.
She goes on to say that the Fast Fuel stations are unique because they offer many different types of fuels at their two unattended, self-serve stations. In addition to regular gasoline, they also have non-ethanol gasoline, (also known as pure gas or clear gas), which is great for any small engine, boat or high-performance engine.
Premium diesel is also available, and there are high-volume diesel pumps for large trucks that need a faster rate of flow to get them back on the road quicker. Air and water are also available by credit card.
The stations are clean and well-lit, and the downtown station has off road diesel fuel available for vehicles that aren't licensed to drive on public roads. This is for the vehicles that may not have shaped the American road, but helped build them (or made their own!).
And for the newest diesel engines requiring diesel exhaust fluid, (DEF), the downtown Fast Fuel station has it available. DEF is a new additive that helps control emissions. Though not a lot is needed at once, it can still be quite expensive to buy. Acme buys it in bulk and passes the savings on, so getting your DEF from a Fast Fuel station is one of the most affordable ways to buy it in town! DEF is still hard to find at most gas stations, and fortunately, the downtown station is centrally located.
The Lilly Road station will be closing for remodeling this Spring and will reopen with new pumps, 3 grades of Non-Ethanol Gasoline, 3 grades of E10 Gasoline, Premium On Road Diesel, Off Road Diesel and DEF.
It's worth repeating that both the Lilly Road and the downtown Fast Fuel stations are 100 percent open-to-the-public. But the stations are members of the CFN, or Commercial Fueling Network. By belonging to this, or having the Fast Fuel (or Voyager card), members receive an additional 10 cents off per gallon. There are a few other ways to save, too, and those who are really savvy can save up to 18 cents per gallon on an already very competitive price. Contact Acme or check out their website to learn more. Commercial customers should contact "Fast Fuel Sherry" Milczewski who is happy to work with business fleets of all sizes and get them set up with the right fuel card program. You can contact Sherry at 360-943-1133.
It's been estimated that there are approximately 221 million licensed drivers in the U.S., and each one uses about 656 gallons of gas per year. Filling stations play a crucial role in car culture, and the demand is greater than ever before. Unlike the stations of yesteryear, Acme's Fast Fuel stations are open all day, 365 days a year. These fully-modern fuel stations still help to shape American roads as they continue to meet the needs of today's drivers and provide the fuel to propel them into the future.
Fast Fuel Stations
Downtown Olympia
303 Thurston Ave NE, Olympia
Lilly Road
501 Lilly Road SE, Olympia
Acme Fuel Company Office
416 State Ave NE, Olympia
360-943-1133
Sponsored