Nothing pairs better than kids and animals. At Black Dawg Farm and Sanctuary, an animal sanctuary in Rainier, your children can tour the farm, learning about animal care and welfare, or take part in their amazing programs. This is an activity the entire family will remember long after your trip is over—you might event decide to come back and volunteer.

You are probably thinking "it all started with a black dog…" but actually the beginning of Tom and Kelly Lapham's endeavor started with two horses in 2015. Kelly went to a rescue to look at a horse named Sterling, a beautiful dapple grey saved from the kill buyers by a rescue organization that is no longer in operation. At the same rescue was another horse. "Naturally, a horse should have a buddy" says Kelly, "and Trooper was also at the rescue. They both were adopted and the idea was to for my husband and I to ride them." But Trooper had a hard life as a Mexican tripping horse before coming to the rescue and it was soon apparent that he was not going to be ridable. "He was only 7-years-old when we retired him from ever being ridden."
That was the start. That same rescue called Kelly and Tom just two weeks after. "We received a phone call from that same sanctuary asking us if we would be interested in two newborn baby goats that were going to be put down, as they were extremely ill due to overbreeding/illness running through the goats at a creamery that the FDA has shut down," Kelly shares. "Tom went into the grocery store to grab some milk and when he came back out, I told him that we were getting two baby goats!"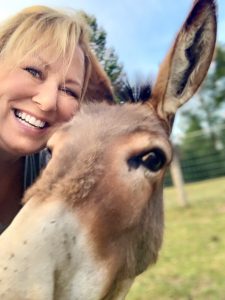 Enter the black dog. Yes, there is a black dog. Two years into their work they received a black lab-pit bull mix. With an amazing temperament, only one name would do: "Sweetie." Sweetie has become an ambassador of sorts to the farm, greeting everyone she meets and being a symbol, not only for black dogs and cats, among the hardest animals to get adopted, but also for pit bulls. It is for her, and all animals like her, that Tom and Kelly decided to name their place Black Dawg Farm and Sanctuary.
Visiting Black Dawg Farm and Sanctuary
By 2019, they had over 100 animals at their sanctuary. Anyone can email the farm to schedule a tour during weekdays. Minimum suggested donation for the tours are $10 per adult and $5 per child. Since the sanctuary is a registered nonprofit, these donations are tax deductible.
Your family will be treated to a wide range of animals that call the sanctuary home, including dogs, horses, donkeys, alpaca, ducks, goats, pigs and more. You will get to visit these animals in their home environment, which means there will be dirt, possibly mud, and yes, poop. It's a good idea to dress like you were going to spend the day at a barn (because you are!) so closed toed sturdy shoes, pants, and a t-shirt or long-sleeved shirt/sweatshirt.
Tours run about an hour in length. During the tour you will get to hear the stories of these animals, while visiting them in their pastures and yards. As an educational nonprofit, the team at Black Dawg Farm and Sanctuary will share the facts of modern animal agriculture, which can sometimes be shocking to younger children. Be aware they will discuss where the animals came from and where they were headed before being rescued – whether that's the kill buyer's pen or the slaughterhouse to become bacon. No graphic photos are shown, however, and everything is explained in an educational way, not for shock factor.  You and your child will also get plenty of time to ask questions and pet the animals that are in the mood for some attention.
 A More In-Depth Experience
For those kids that are interested in more after experiencing the tour, Black Dawg Farm and Sanctuary is now offering kids classes in the summer. They have programs for children pre-kindergarten through high school. These programs focus on age appropriate learning and activities, from animal husbandry and horticulture to equine education including barn management training. These classes are sure to give any animal-loving kid a summer they will not forget.
Older kids and parents can also become volunteers at Black Dawg Farm and Sanctuary. Volunteers help take care of the animals on the property, including feeding and cleaning up after them. They also have group volunteering opportunities, a great idea for an older child's birthday, class project or a family reunion! Get together and do some good by helping with landscaping and gardening, painting, holiday decorating and event support. Group volunteers must be at least 14-years-old.
Part of a military Family? Black Dog Farm and Sanctuary just merged with Solace Equine Academy, to provide Professional Association of Therapeutic Horsemanship (PATH) certified programs for Active Duty, Veterans, First Responders and Gold Star Families.
To arrange a tour, email info@blackdawg.org. To learn more about other programs and how you can help through volunteering or donations, visit the Black Dawg Farm and Sanctuary website.