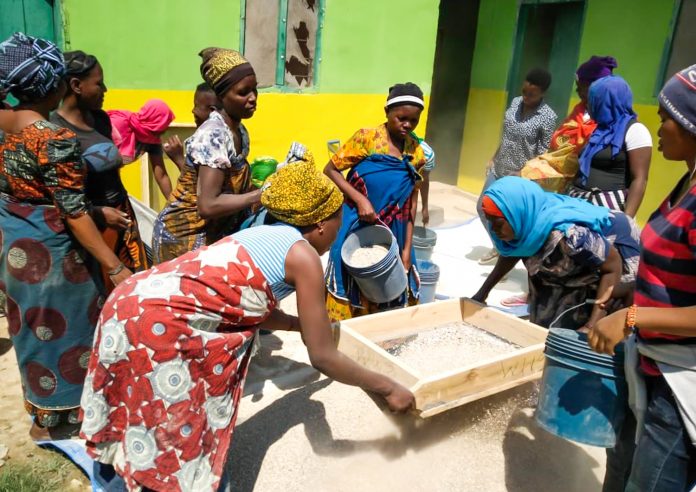 The simplicity is evident. People must have safe water in order to live. "Clean water is at the top of list of our needs," remarked Debbie Reintzell, board member and volunteer with Friendly Water for the World. "To me it's a no brainer," she added. However, the cascading ramifications are profound. Those without clean water security can be exposed to multiple water-borne illnesses causing sickness and death, especially with children. Work and school are missed while limited funds are spent on medicine. The negative consequences drag families downward. On the contrary, when there is access to safe water illnesses diminish, school and work are attended, and money can go other places. The quality of living for families and communities increases.
Friendly Water for the World maintains a mission to "expand global access to low-cost clean water technologies and information" while recently extending their platform to include more of the basic building blocks that developing communities seek like improved sanitation, safe cooking and adequate shelter. But it starts with clean water, and empowering communities abroad to become self-reliant.
Volunteers are the heart of this global, non-profit organization that happens to have its world headquarters in Olympia, Washington. Friendly Water celebrates the many ways people show up to support this work and appreciates the people who donate their time and talents.
Will Forester, who leads marketing and communications, explains that volunteers typically contribute their time in one of three ways. Some help with promotions and events, which could include hosting a table at local fair. Others support business operations. And a few people work on field operations such as traveling abroad to assist or lead projects.
Let's meet three volunteers.
Debbie Reintzell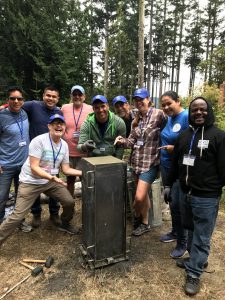 You may know Debbie through her business Top Dog Daycare. She and her husband, Ken Mettler, attended Friendly Water's There's No Such Things as a Free Lunch Free Lunch event, which will be happening again on March 21 from 12:00 p.m. – 2:00 p.m. at the Olympia Center.
"What really grabbed my attention was how much the water filters helped with such little cost." The couple signed up for the annual five-day training in Anacortes and learned how to make the filters and teach others. In 2018, Debbie went with other members to Africa where she made connections with people in different villages making and using the bio-sand water filters. She sees value in the projects that require participants to take ownership by investing their time and resources, which creates more lasting results. Debbie is on the finance committee and likes to assist wherever there is need. "Listen to your heart," suggested Debbie, when considering how and where to volunteer "We gain so much personally," she said and emphasizes that even the smallest amount of time can produce amazing results.
Nancy Nelson
Half of the year Nancy and her husband Dan Fender are tending to the creation of their bird paradise on 3.5 acres in Costa Rica. What was once part of a coffee plantation is now their winter home. You'll find them back in Olympia when the days are longer and warmer. The enthusiastic volunteer at the Friendly Water's Harbor Day's booth impressed Nancy with genuine passion. She agreed to be contacted about volunteering.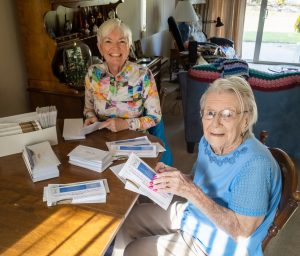 Nancy's career as a financial planner and being savvy with a computer allowed her to update and repair the organization's database, even though she was far away. The appeal of working on a project with a clear beginning and end was ideal for Nancy. She has little interest in regular meetings or committees, so the quiet, at-home task was perfect. During one of their times in Olympia, Nancy and her 100-year-old mother-in-law stuffed envelopes for a fund raiser. They had fun together while providing a needed service. Nancy likes Friendly Water's willingness to find optimal, personalized avenues for volunteering. She suggests getting clarity about your motivation for volunteering and find the right fit for you.
Ibrahim Dembele
Ibrahim is originally from Mali, West Africa. His mother is an activist there and has a training center for impoverished women and younger girls. Her hope is to work with Friendly Water to develop income generating activities like soap making where women start their own small businesses. Like other volunteers, Ibrahim was taken with co-founder David Albert's commitment to the work of Friendly Water. Ibrahim attends meetings and mailing parties and feels that his voice is a welcome contribution to the conversations. Ibrahim encourages those who want communities across the globe to thrive to get in touch with the dynamic and cheerful folks at Friendly Water for the World.
Friendly Water for the World would love to have the opportunity to talk about their worldwide projects and ways you can participate. You can visit the Friendly Water website or give them a call at 360-214-3145. If you would like to attend the No Such Thing As A Free Lunch, Free Lunch, please email info@friendlywater.org.
Sponsored