Until recently, Nikolai Hammer never thought much about diapers. As the Marketing Brand Manager for Olympia Orthopaedics Associates (OOA), he focused on community outreach and looking for ways the company could contribute to local causes.
But in September with the birth of his first daughter, Hammer's professional and personal lives coalesced. Around the same time OOA, along with Melanie Bakala State Farm and Charlie's Safari, signed on to sponsor a Halloween fundraiser and donation drive for Dry Tikes & Wet Wipes (DTWW), an Olympia non-profit designed to supplement the diaper needs of low-income families. "Now I can relate to this cause on a personal level," says Hammer.
On October 31, Charlie's Safari in Lacey will be hosting the event from 6:30 p.m. to 8:30 p.m. During that period, all $5 per child and $10 per multiple children entry fees will be donated to Dry Tikes & Wet Wipes. Alternatively, guests can donate a pack of disposable diapers. OOA will supply candy and Melanie Bakala State Farm will provide volunteers to help with collections.  There will also be six super heroes and princesses from Part of Your World Princesses, LLC interacting with the children.    The idea for the event originated at the Gateway Rotary Club, whose members including people from all participating businesses.
Troy Kirby, store manager of Charlie's Safari, says the fundraiser makes sense for their clientele. "Having a need for clean diapers is something every one of our customers has experienced while raising their child," he notes. "This is a great way to secure children's health."
Parents can receive an emergency supply of diapers up to twice a month through the non-profit. Packages of sizes three through seven include 15 diapers, and sizes newborn to two include 20 diapers. Sizes five and six are always particularly in demand.  In 2017 the group provided 13,615 diapers to over 2,200 families. "It helps people get by in between paychecks," says DTWW Board President Karen Chang Barr.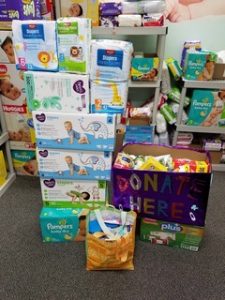 Barr has seen the need the organization fulfills firsthand. Although initially the non-profit was focused on Thurston County, parents have come from Lewis, Mason, Pierce and even Grays Harbor Counties for diapers. One story stands out in her mind. "There was a woman who had caught the bus from Aberdeen, bringing along her daughter and her stroller," says Barr. "She was so thankful. Since we're located in the Family Education Support Services office now, she was able to get some other things she needed as well – and then she was going to catch the bus back to Aberdeen."
DTWW Board Member Crystal Zabala hopes that the Halloween event will serve to raise awareness about the non-profit. "We're excited about the dual impact that this event will have," she says, "not only in raising much-needed funds and supplies to keep the Diaper Bank open but also to spread the word to those who haven't heard of this resource in our community."
Learn more at the Dry Tikes & Wet Wipes website or visit sponsors Melanie Bakala State Farm, Charlie's Safari, and Olympia Orthopaedics Associates.
Sponsored